Coworking & Meeting Space in Sandy Springs
At over 17,000 square feet, Roam Dunwoody serves as one of our largest professional workspaces. Just outside The Perimeter of Atlanta, this coworking space hosts a vibrant community of business professionals from varying companies and industries. With an array of work environments available throughout the space, you can choose the setup that best complements your day and work style preferences. For collaborative work sessions, the comforts of the casual Nook lounge and wood booths feel like you are working in your favorite coffee shop. And for those heads-down workdays, find additional privacy in the Library and enclosed phone booths. Along with these spaces, Roam offers private offices, dedicated desks, meeting room rentals, event space, and more! 
Our meeting rooms feature custom design finishes, like sliding barn doors and unique décor, that set the stage for creativity. These flexible workspaces create an environment that goes beyond the home office. From meeting with your project team to a new business prospect, our variety of meeting rooms will fuel your conversations with energy and creativity.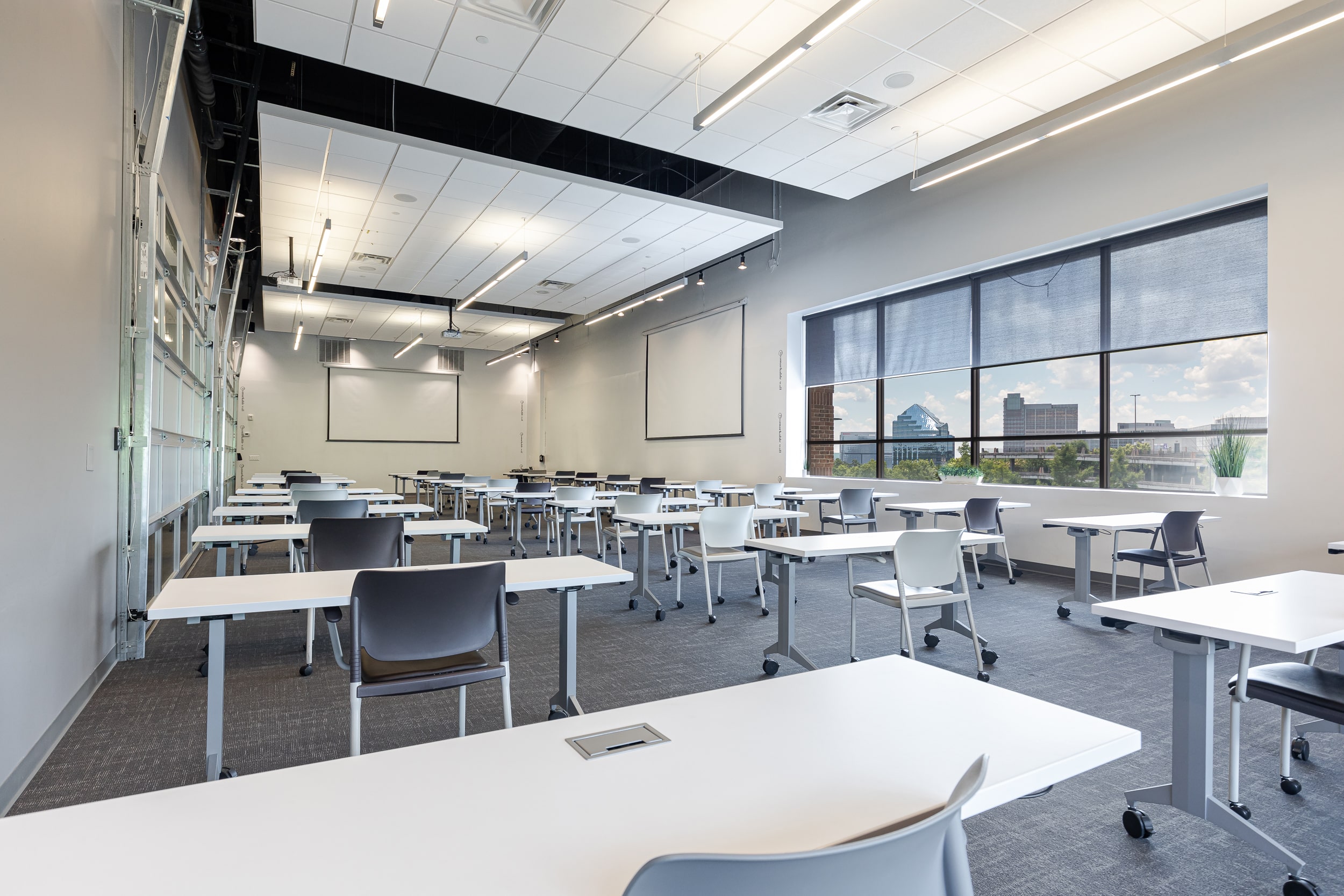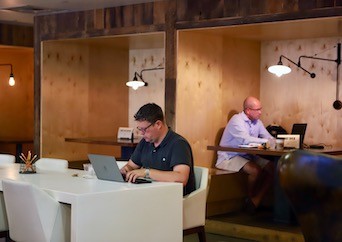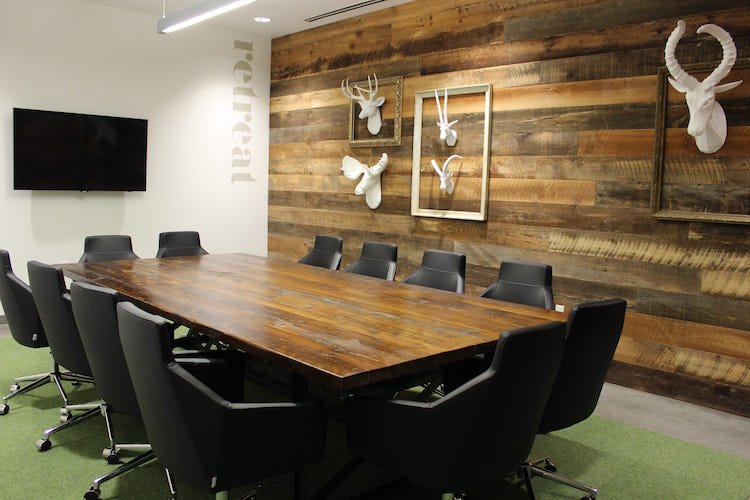 Workplace Offerings in Dunwoody & Sandy Springs
COWORKING SPACE MEMBERSHIP
Month-to-month flexible memberships give you access to our state-of-the-art coworking environments in the Dunwoody area. These physical spaces help you work productively, meet with clients, and scale your business. And for large organizations of 10+ people, we'll work with you and your company to create a custom corporate membership to meet your workspace needs. Plus, with your Roam membership, you'll have easy access to not just our Dunwoody office but all Roam locations within our growing network.
MEETING SPACE
From one-on-one client consultations to large training workshops, we've got just the meeting space to complement your corporate gathering. Room reservation is simple and our all-inclusive meeting experiences make for stress-free planning - including complimentary A/V, full-service catering, high-speed internet, and an assortment of enhancement packages! Learn more about hosting a meeting at Roam Dunwoody and browse our inventory of luxury meeting spaces and conference rooms.
OFFICE SPACE
Enjoy a private office with the monthly benefits of a Roam membership. Our office space is the perfect place for small business owners and growing teams in search of productive, inspiring, and cost-effective alternatives to traditional office settings. Contact the Roam team to learn more about our private office space rentals!
DAY PASS
Looking for a change of scenery? A Roam Day Pass is perfect for remote workers looking for a new workspace - for just the day. Purchase a Day Pass for $50 and experience working in Roam's coworking space common areas - we think you'll like it!
See What Our Members Are Saying
"Great place to meet, grab coffee, and be productive! This location is near the Sandy Springs Marta station with plenty of parking and easy access to 400 northbound or southbound. I found the space to be welcoming, well-lit, and good vibes. Met up with a few folks to stream a conference and talk shop. It was a great place for a meeting, so find your way to Roam for your next offsite or collaboration." - Gregory Cabrera
"Earlier this year, I was looking for a shared office space in the Atlanta area to collaborate on a project with a friend. We looked at 5-6 different options in town and ultimately decided on Roam and started working at the Dunwoody location (a really great spot). I can't say enough about the amazing staff there: professional, responsive, knowledgeable, and super friendly. Highly recommended!" - Hubert Kang
"Roam is my favorite coworking space in Atlanta by far. Having been to several around the greater Atlanta area, this is the one I have decided to frequent. My first time there, I made a reservation on "Work From Roam" day where I was greeted with a personalized name placard and an amazing cappuccino. Plenty of sun and open workspace around the area. Truly an energizing place to work!" - Humaid Juned
"What an incredible space! Amazing amenities, service, and location. We met here while in town for strategic planning. The meeting rooms were clean, organized, with all the tech necessary to meet with colleagues in person and virtually. Every request was met with a smile and accommodations were made." - Rachael Johnson
"Roam is a great place to think, work and meet with people. I've used their facilities and meeting rooms several times over the last year for group meetings as well as one-on-one meetings. The staff is very friendly and always looking for ways to make your visit - and your guests' visit - more pleasant." - Russ Thornton
"Great place to get work done. Welcoming environment. Quiet enough to focus; but it's not a library, so it's comfortable to have conversations and talk on the phone. Plenty of conference space available for everything from quick huddles to large multi-day training sessions." - Tom Smith
Meeting or Working in the Dunwoody-Sandy Springs Area? Visit Us!
Perimeter Pointe Shopping Center

Georgia 400; Mt Vernon Highway NE and Perimeter Center W

Sandy Springs MARTA Station, Red Line
1155 Mt Vernon Hwy NE
Suite 800 (2nd Floor)
Atlanta, GA 30338
770.648.2921
Monday - Friday, 8am - 6pm
Rubbing shoulders with the King and Queen towers just outside the Perimeter, Roam Dunwoody is easily accessed from anywhere in the city, making it some of the best real estate in Atlanta!
Roam Dunwoody is an expansive workspace situated just off GA-400 and the Sandy Springs MARTA station. Find us at the intersection of Mt Vernon Highway NE and Perimeter Center W in the Perimeter Pointe Shopping Center. Free parking is available in front of the building. Roam Dunwoody is located on the 2nd floor and is accessible by stairs or elevator.
Frequently Asked Questions