MEMBERSHIP TERMS OF SERVICE
Updated: May 23, 2017
1. Agreement. In consideration of your payment in advance of the cost of the Membership Package you selected, The following membership terms of service agreement ("Terms of Service") is a binding agreement between you ("you" or "your") and VantagePoint Centers, L.L.C., d/b/a Roam ("Roam", "we", "us" or "our"). Please read these Terms of Service carefully before you start to use our Services or the Platform. By clicking to accept or agree to the Terms of Service, or by using the Services or the Platform, you represent and warrant that you are at least 18 years of age and you have read and accept and agree to be bound and abide by these Terms of Service and our privacy policy, attached hereto and found at www.meetatroam.com/termsofserviceandprivacypolicy (and which may be updated from time to time) ("Privacy Policy"). If you do not want to agree to these Terms of Service or the Privacy Policy, you must not access or use the Platform.
A. Subject to applicable law, Roam reserves the right to deny, suspend or terminate your membership in its sole discretion. You also agree that Roam may from time to time adopt content policies regarding content, advertising and on-premises behavior. These policies will be available in our Privacy Policy website and at www.meetatroam.com/privacy_policy_roam_virutal, as updated from time to time.
B. These policies are intended to complement our family friendly business environment. You agree Roam does not allow behavior that threatens or puts in danger other members, guests or Roam's employees. You further agree that Roam demands the use of respectful behavior from our members, and we prohibit sexually explicit, hateful and violent content that we believe impacts the Roam name or business. Members are responsible for damages to Roam property. Your failure to comply with these policies may result in termination of your membership.
C. By clicking on the "Place Order" button, you hereby authorize Roam to initiate a charge to your credit card in the amount indicated below plus an activation fee of $35. Additional members that are added to Platinum Group Memberships will require a $10 activation fee per person. Your initial order is for two months, which will be charged in two monthly amounts, and will be automatically renewed thereafter on a monthly basis until terminated by you or Roam. Your order includes our automatic renewal service. This means you authorize Roam to automatically charge the then-current monthly renewal fee to the credit card stored with your account before your subscription expires.
D. You understand that you control your payments, and if at any time you decide to stop or suspend this automatic renewal service, you will notify Roam in writing by at least the 25th of the month, upon receipt of which your membership will be terminated. No charges other than your monthly membership will be automatically charged to your credit card. If your credit card is cancelled or a charge is declined, failure to update the card information by the 10th of the current month may result in termination of your access and/or your account. You agree that you will not dispute any valid charges unless you have already made an effort in good faith to rectify the situation directly, and those efforts have failed. You represent and warrant you are the legal cardholder for this credit card, and that you are legally authorized to enter into this recurring agreement with Roam. All amounts are in U.S. dollars.
2. The Roam Platform and Services. Roam Virtual™ is a web-based platform (the "Platform") for providing networking, marketplace, e-learning and other business-related services on a subscription basis to its members who have established an account and whose account is in good standing.
3. Definitions.
A. "Services" means, together, (i) the services provided at the facility for which you have signed up, and (ii) the networking, marketplace, e-learning and other business-related services offered via the Platform.
B. "Software" means the online software (including source code, object code and executable code), platform and websites which you can access via the RV Platform and your account that are hosted and maintained by Roam.
4. Access. Subject to your continued compliance with the terms of this Terms of Service, including timely payment of all Fees (as described herein), Roam grants you a personal, limited, terminable, non-exclusive, non-transferable right to access the Platform and the Services in accordance with this Terms of Service and the terms of your subscription with us.
5. Restrictions on Service.
A. You will not, and will not attempt to:
i. modify, translate, adapt or otherwise create derivative works or improvements, of the Software or any content;
ii. reverse engineer, disassemble, decompile, decode or otherwise attempt to derive or gain access to the source code of the Platform or any part thereof;
iii. rent, lease, lend, sell, sublicense, assign, distribute, publish, publicly perform or display, transfer or otherwise make available the Platform or any features or functionality of the Platform, to any third party for any reason, including by making the Platform available on a network where it is capable of being accessed by more than one device at any time;
iv. remove, disable, circumvent or otherwise create or implement any workaround to any copy protection, rights management or security features in or protecting the Platform;
v. upload or introduce any virus or malware to the Platform;
vi. interfere with the operation or availability of the Platform, or the hardware, software and network(s) used to operate the Platform;
vii. sublicense or transfer any of your rights under this Terms of Service or otherwise use the Services for the benefit of a third party, to operate a service bureau or for resale of the Services;
viii. create or access member's user accounts using any automated means or under false pretenses;
ix. frame or mirror the Platform or reformat it in any way or use deep links;
x. introduce any keystroke logging or any other monitoring code into the Platform; or,
xi. otherwise use the Services or the Platform in any manner that exceeds the scope of the access right described above.
B. You may not use the Platform to do any of the following:
i. Harass or advocate harassment of another person or entity;
ii. Perform any activities that violate any state, local, federal, or international laws or regulations;
iii. Impersonate any person or entity or misrepresent in any way your affiliation with a person or entity;
iv. Transmit unsolicited mass mailings, or "spam;"
v. Attempt to collect or use personal information about users or third parties without their consent;
vi. Collect or store any information about other users or members, other than in the normal course of using the Platform for its intended purpose of facilitating voluntary communication among users;
vii. Transmit or introduce any virus, worm, defect, Trojan horse, time bombs, date bombs, adware, spyware, or similar destructive or harmful item;
viii. Interfere with security-related features of the Platform, including by (i) disabling or circumventing features that prevent or limit use or copying of any content, or (ii) reverse engineering or otherwise attempting to discover the source code of the Platform or any part thereof except to the extent that such activity is expressly permitted by applicable law; or
ix. Take any action that imposes or may impose (in our sole discretion) an unreasonable or disproportionately large load on our infrastructure.
6. User Accounts.
A. You agree to (i) provide truthful and accurate registration information as requested by us; (ii) promptly inform us of any changes to your registration information, including, but not limited to, your address and email address; (iii) take all reasonable precautions to safeguard access to your password and to prevent unauthorized access to or use of the Services; (iv) promptly report to us any unauthorized use of your login information or the Services of which you become aware; and, (v) ensure that you log out from your account at the end of each session.
B. Unauthorized Use of Your Account. You are responsible for keeping your account login credentials (user name and password) confidential and not sharing them with unauthorized users. If you disclose your login credentials to someone, you are responsible for any use, disclosure, additions, deletions and modifications of your information.
7. The Services. You may purchase Services on a monthly subscription fee basis ("Subscription Fee") which subscription entitles you (provided you are in compliance with this Terms of Service to the Network, Marketplace, and University services as described on our website and/or on the Platform.
8. Fees and Payment.
A. You agree to be responsible for payment of the subscription fee, ("Fee") when due. All Fees are as quoted on the Platform on our website or our pricing material. We may revise our Fees from time to time as we determined in our discretion. We will provide you notice of any increase in the Fee by email or by posting on the Platform.
B. You agree to keep your credit card information current. If the credit card you use for the Fees becomes invalid or declined, we will contact you by email so that you can update the card information. Failure to update the card information within ten days of our sending you notice may result in termination of your access and/or your account.
C. Your credit card will be charged monthly at the beginning of the month for the Subscription Fee by means of pre-authorization.
9. Feedback You Give Us and Content You Provide.
A. By your submitting, posting, or displaying content of any kind ("User Content"), you (i) represent and warrant that you are the creator and owner of, or have the necessary licenses, rights, consents, and permissions to use and to authorize us and other users to use and distribute your User Content as necessary to exercise the licenses granted by you in this Terms of Service and in the manner contemplated by us and this Terms of Service, and (ii) give us, our affiliated companies, sublicensees and successors and assigns a perpetual, irrevocable, worldwide, royalty-free, nonexclusive license to reproduce, adapt, modify, translate, publish, publicly perform, publicly display, distribute, reproduce, edit, reformat, and create derivative works from any User Content that you submit, post, or display on or through the Platform, our blog, our related websites or by other means. You acknowledge and agree that this license includes a right for us to make such User Content available to other companies, organizations, or individuals with whom we have relationships, and to use such User Content in connection with the provision of those Services and that all User Content you submit to us, including, but not limited to, feedback data, such as questions, comments, suggestions and any other response (other than protected health information) is deemed to be nonconfidential.
B. Content you post or contribute may appear on our Platform, on mobile device apps, in newsletters, or elsewhere. You are responsible for all content that you post. You may not post content that: Is not your own original creation or that you do not have permission to use (keep in mind that just because something on the internet does not have a copyright notice on it doesn't mean you can use it without permission); Infringes the copyright, trademark, patent right, or other proprietary right of any person or that is used without the permission of the owner; you know to be inaccurate; is pornographic, sexually explicit, or obscene; exploits children or minors; violates the rights of privacy or publicity of any person; is harassing, libelous, slanderous, or defamatory; contains any personally identifying information about any person without their consent or about any person who is a minor; may be deemed generally offensive to the community, including blatant expressions of bigotry, prejudice, racism, hatred, profanity or religious or political radicalism; includes advertisements, promotions, solicitations, spam, or offers to sell any goods or services for any commercial purpose; is off topic; is intended to provide professional advice, including but not limited to, the provision of medical treatment, or legal, financial or investment advice; is intended to solicit, recommend, endorse, or offer to buy or sell any securities or other financial instruments, tout stocks, or recommend that any particular security, portfolio of securities, transaction, or investment strategy is suitable for you or any specific person; violates any local, state, federal, and/or international laws or regulations; promotes or provides instructional information about illegal or illicit activities; contains software viruses or any other computer code, files, or programs designed to destroy, interrupt, or otherwise limit the functionality of any computer software, computer hardware, or other equipment; or, is intended to overwhelm, cause technical disruptions of or denial of service to our servers.
10. Service of Your Information.
A. We will maintain and use your information according to our Privacy Policy. Your continued use of the Platform or the Services after any published update to our Privacy Policy indicates that you agree with the updated Privacy Policy.
11. Assignment and Transfer.
A. You shall not assign, transfer or convey (whether by contract, merger or operation of law) this Terms of Service or any obligations thereunder without our prior written consent. Any assignment, transfer or conveyance by you in violation of this Terms of Service shall be of no power or effect.
B. By agreeing to this Terms of Service, you consent to the storing and processing of your personal information, including sensitive information, in the United States and countries outside of the country you live in. We use a range of measures to safeguard information but these countries may have laws that are different from those of your country of residence. You also consent to your personal information, including sensitive information, being transferred in the event of a business transition such as, but not limited to, a merger, sale, asset or stock acquisition by another company, or other transaction or proceeding.
12. Intellectual Property Rights.
A. Ownership. Ownership of all intellectual property and other rights in the Platform, including, but not limited to, the software, design, layout, content, links, and the like shall remain with us and our licensors, as applicable. You do not acquire any ownership interest in the Platform under this Terms of Service or any other rights thereto other than to use the Platform in accordance with the terms, conditions and restrictions under this Terms of Service. All Platform content is protected by copyright and is owned by us or used with permission. We reserve all rights not specifically granted in this Terms of Service.
B. Trademarks. Roam, Roam Virtual, the

 and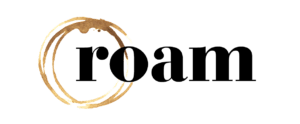 designs, as well as other trademarks we use are trademarks or registered trademarks of VantagePoint Centers, L.L.C. Elements of the Platform are protected by trademark, trade dress, unfair competition, and other state and federal laws and may not be copied or imitated in whole or in part by any means, including but not limited to, the use of framing or mirrors. None of the content for our Platform may be retransmitted without our express written consent.
13. Third Party Materials. The Platform may display, include or make available third-party content (including data, information, applications and other products services and/or materials) or provide links to third-party websites or services, including through third-party advertising ("Third Party Materials"). You acknowledge and agree that we are not responsible for Third Party Materials, including their accuracy, completeness, timeliness, validity, copyright compliance, legality, decency, quality or any other aspect thereof. We do not assume and will not have any liability or responsibility to you or any other person or entity for any Third Party Materials. Third Party Materials and links thereto are provided solely as a convenience to you and you access and use them at entirely at your own risk and subject to such third parties' terms and conditions
14. Disclaimer of Warranties.
A. THE PLATFORM AND SERVICES ARE PROVIDED TO YOU "AS IS, AS AVAILABLE" AND WITH ALL FAULTS AND DEFECTS WITHOUT WARRANTY OF ANY KIND. TO THE MAXIMUM EXTENT PERMITTED UNDER APPLICABLE LAW, WE, ON OUR OWN BEHALF AND ON BEHALF OF OUR AFFILIATES, PARTNERS, LICENSEES, FRANCHISEES (WHEN AND WERE APPLICABLE) AND OUR RESPECTIVE LICENSORS AND SERVICE PROVIDERS, EXPRESSLY DISCLAIM ALL WARRANTIES, WHETHER EXPRESS, IMPLIED, STATUTORY OR OTHERWISE, WITH RESPECT TO THE PLATFORM AND THE SERVICES, INCLUDING, BUT NOT LIMITED TO, ALL IMPLIED WARRANTIES OF MERCHANTABILITY, FITNESS FOR A PARTICULAR PURPOSE, TITLE AND NON-INFRINGEMENT, AND WARRANTIES THAT MAY ARISE OUT OF COURSE OF DEALING, COURSE OF PERFORMANCE, USAGE OR TRADE PRACTICE. WITHOUT LIMITATION TO THE FOREGOING, WE PROVIDE NO WARRANTY AND MAKES NO REPRESENTATION OF ANY KIND THAT THE PLATFORM OR SERVICES WILL MEET YOUR REQUIREMENTS OR ACHIEVE ANY INTENDED RESULTS.
B. SOME JURISDICTIONS DO NOT ALLOW CERTAIN LIMITATIONS OF LIABILITY SO SOME OR ALL OF THE ABOVE LIMITATIONS OF LIABILITY MAY NOT APPLY TO YOU.
C. WE DO NOT GUARANTEE THE CONTINUOUS, UNINTERRUPTED OR SECURE ACCESS TO THE PLATFORM OR THE SERVICES, OR ANY RELATED SERVICES. THE OPERATION OF PLATFORM MAY BE INTERFERED WITH BY NUMEROUS FACTORS OUTSIDE OUR CONTROL.
D. WITHOUT LIMITING THE FOREGOING, NEITHER WE NOR ANY OF OUR PROVIDERS, PARTNERS, AFFILIATES, PARTNERS, LICENSEES, FRANCHISEES (WHEN AND WERE APPLICABLE) MAKE ANY REPRESENTATION OR WARRANTY OF ANY KIND, EXPRESS OR IMPLIED: (I) AS TO THE OPERATION OR AVAILABILITY OF THE PLATFORM, OR THE INFORMATION, CONTENT INCLUDED THEREON; (II) THAT THE PLATFORM OR SERVICES WILL BE UNINTERRUPTED OR ERROR-FREE; (III) AS TO THE ACCURACY, RELIABILITY, OR CURRENCY OF ANY INFORMATION OR CONTENT PROVIDED THROUGH THE PLATFORM; OR (IV) THAT THE PLATFORM, OUR (AND OUR SERVICE PROVIDERS') SERVERS, THE CONTENT, OR COMMUNICATIONS SENT FROM OR ON BEHALF OF US ARE FREE OF VIRUSES, SCRIPTS, TROJAN HORSES, WORMS, MALWARE, TIME BOMBS OR OTHER HARMFUL COMPONENTS.
E. SOME JURISDICTIONS DO NOT ALLOW THE EXCLUSION OF OR LIMITATIONS ON IMPLIED WARRANTIES OR THE LIMITATIONS ON THE APPLICABLE STATUTORY RIGHTS OF A CONSUMER, SO SOME OR ALL OF THE ABOVE EXCLUSIONS AND LIMITATIONS MAY NOT APPLY TO YOU.
F. You agree that we assume no responsibility for any User Content you submit, upload, create or make available through the Platform.
15. Limitation of Liability.
A. TO THE FULLEST EXTENT PERMITTED BY APPLICABLE LAW, IN NO EVENT WILL WE OR OUR AFFILIATES, PARTNERS, LICENSEES, FRANCHISEES (WHEN AND WERE APPLICABLE), OR ANY OF OUR RESPECTIVE LICENSORS OR SERVICE PROVIDERS, HAVE ANY LIABILITY ARISING FROM OR RELATED TO YOUR USE OF OR INABILITY TO USE THE PLATFORM OR THE SERVICES FOR:
i. PERSONAL INJURY, PROPERTY DAMAGE, LOST PROFITS, COST OF SUBSTITUTE GOODS OR SERVICES, LOSS OR CORRUPTION DATA, LOSS OF GOODWILL, BUSINESS INTERRUPTION, COMPUTER FAILURE OR MALFUNCTION OR ANY OTHER CONSEQUENTIAL, INCIDENTAL, INDIRECT, EXEMPLARY, SPECIAL OR PUNITIVE DAMAGES;
ii. ANY ACTION YOU TAKE BASED ON THE INFORMATION YOU RECEIVE IN THROUGH OR FROM THE SERVICES;
iii. YOUR FAILURE TO KEEP YOUR PASSWORD OR ACCOUNT DETAILS SECURE AND CONFIDENTIAL;
iv. THE COST OF PROCUREMENT OF SUBSTITUTE GOODS AND SERVICES RESULTING FROM ANY GOODS, DATA, INFORMATION, OR SERVICES PURCHASED OR OBTAINED OR MESSAGES RECEIVED OR TRANSACTIONS ENTERED INTO THROUGH OR FROM THE SERVICES;
v. THE IMPROPER AUTHORIZATION FOR THE SERVICES BY SOMEONE CLAIMING SUCH AUTHORITY;
vi. STATEMENTS OR CONDUCT OF ANY THIRD PARTY ON THE SERVICES;
vii. DIRECT DAMAGES IN AMOUNTS THAT IN THE AGGREGATE EXCEED THE GREATER OF (i) THE AMOUNT ACTUALLY PAID BY YOU FOR THE SERVICES AND (ii) ONE HUNDRED DOLLARS (US$100.00). THE FOREGOING LIMITATIONS WILL APPLY WHETHER SUCH DAMAGES ARISE OUT OF BREACH OF CONTRACT, TORT (INCLUDING NEGLIGENCE) OR ANY OTHER THEORY OR CAUSE OF ACTION AND REGARDLESS OF WHETHER SUCH DAMAGES WERE FORESEEABLE OR WE WERE ADVISED OF THE POSSIBILITY OF SUCH DAMAGES.
B. UNDER NO CIRCUMSTANCES SHALL WE BE LIABLE FOR ANY DAMAGES THAT RESULT FROM THE USE OF OR INABILITY TO USE THE PLATFORM, INCLUDING BUT NOT LIMITED TO RELIANCE BY YOU ON ANY INFORMATION OBTAINED FROM THE PLATFORM OR THAT RESULT FROM MISTAKES, OMISSIONS, INTERRUPTIONS, DELETION OF FILES OR E-MAIL, ERRORS, DEFECTS, VIRUSES, DELAYS IN OPERATION OR TRANSMISSION, OR ANY FAILURE OF PERFORMANCE, WHETHER OR NOT RESULTING FROM ACTS OF GOD, COMMUNICATIONS FAILURE, THEFT, DESTRUCTION, OR UNAUTHORIZED ACCESS TO OUR RECORDS, PROGRAMS, OR SERVICES. YOU HEREBY ACKNOWLEDGE THAT THIS PARAGRAPH SHALL APPLY TO ALL CONTENT, DATA, AND INFORMATION SUBMITTED TO THE PLATFORM.
C. IF YOU ARE A CALIFORNIA RESIDENT, YOU WAIVE CALIFORNIA CIVIL CODE §1542, WHICH SAYS: A GENERAL RELEASE DOES NOT EXTEND TO CLAIMS WHICH THE CREDITOR DOES NOT KNOW OR SUSPECT TO EXIST IN HIS OR HER FAVOR AT THE TIME OF EXECUTING THE RELEASE, WHICH IF KNOWN BY HIM OR HER MUST HAVE MATERIALLY AFFECTED HIS OR HER SETTLEMENT WITH THE DEBTOR. IF YOU ARE A RESIDENT OF A STATE WITH PROTECTIONS SIMILAR TO CALIFORNIA CIVIL CODE §1542, YOU HEREBY WAIVE SUCH PROVISIONS OR PROTECTIONS.
16. Indemnification.
A. You agree to indemnify, defend and hold us and our officers, directors, employees, agents, affiliates, service providers, successors and assigns harmless from and against any and all losses, damages, liabilities, deficiencies, claims, actions, judgments, settlements, interest, awards, penalties, fines, costs, or expenses of whatever kind, including reasonable attorneys' fees and costs, arising from or relating to (i) your use or misuse of the Platform; (ii) your breach of this Terms of Service; (iii) any user content you submit, post to or transmit through the Platform or the Service; or, (iv) your violation of any third party's rights, including, but not limited to, intellectual property rights, right of privacy, right of publicity and confidentiality.
17. Dispute Resolution. In the event of any dispute, claim, question or disagreement arising from or relating to this Terms of Service, or the relationship that results from this agreement (a "Dispute"), the parties hereto shall use their best efforts to settle the Dispute. To this effect, the parties shall consult and negotiate with each other in good faith and, recognizing their mutual interests, attempt to reach a just and equitable solution satisfactory to both parties. If the parties do not reach such solution within a period of thirty (30) days, then the Dispute shall be resolved by binding arbitration in Fulton County, Georgia, in accordance with the Commercial Arbitration Rules of the American Arbitration Association (the "AAA"), subject to the limitations of this section. This agreement to arbitrate will be specifically enforceable under the prevailing law of any court having jurisdiction. Notice of a demand for arbitration shall be filed in writing with the other party hereto and with the AAA. The demand for arbitration shall be made within the time provided in Section 20(B) hereof, and in no event shall any such demand be made after the date when institution of legal or equitable proceedings based on such Dispute would be barred by the applicable statute of limitations. The parties agree that one (1) arbitrator shall arbitrate the Dispute. The arbitrator shall be selected by the joint agreement of the parties, but if they do not so agree within twenty (20) days after the date of the notice of a demand for arbitration referred to above, the selection shall be made pursuant to the Commercial Arbitration Rules of the AAA from the panels of business arbitrators maintained by the AAA. The decision of the arbitrator shall be made in writing, shall be final, judgment may be entered upon it in any court having jurisdiction thereof, and the decision shall not be subject to vacation, modification or appeal, except to the extent permitted by sections 10 and 11 of the Federal Arbitration Act, the terms of which sections the parties agree shall apply. The expenses of arbitration, including reasonable attorneys' fees and the fees and expenses of the arbitrator, shall be shared equally by the parties.
18. Governing Law. All disputes arising out of or relating to the Terms of Service shall be governed by Georgia law regardless of your country of origin or where you access the Platform or the Services, and notwithstanding of any conflicts of law principles and the United Nations Convention for the International Sale of Goods.
19. Equitable Relief. Notwithstanding anything herein to the contrary, either party may bring a claim related to intellectual property rights, or seek temporary and preliminary specific performance and injunctive relief, in any court of competent jurisdiction, without the posting of bond or other security.
20. Geographic Restrictions. The owner of the Platform is based in the United States. We provide this Platform for use only by persons located in the United States. We make no claims or representations that the Platform or any of its content is accessible or appropriate outside of the United States. Access to the Platform may not be legal by certain persons or in certain countries. If you access the Platform from outside the United States, you do so on your own initiative and are responsible for compliance with local laws. Certain companies affiliated with us may provide services and operate websites which may be linked to from our Platform and which are governed by their own terms of use and not these Terms of Service, and may be subject to laws of other local or international jurisdictions.
21. Miscellaneous.
A. Class Action Waiver. Any proceedings to resolve or litigate any dispute in any forum will be conducted solely on an individual basis. Neither you nor we will seek to have any dispute heard as a class action or in any other proceeding in which either party acts or proposes to act in a representative capacity, and each party hereby waives any right to assert consolidated claims with respect to any disputes subject to arbitration under this Terms of Service or any disputes between the parties. No arbitration or proceeding will be combined with another without the prior written consent of all parties to all affected arbitrations or proceedings.
B. Limitation of Time to File Claims. Any action, claim or dispute you have against us must be filed within one year. To the extent permitted by law, any claim or dispute under this Terms of Service must be filed within one year in an arbitration proceeding. The one-year period begins when the claim or notice of dispute first could be filed. If a claim or dispute is not filed within one year, it is permanently barred.
C. Notices. You agree that we may provide you with notices, including those regarding changes to this agreement, by email to the address you provided at the time of registration or as changed in your profile on the Platform.
D. Independent Contractors. The parties intend that an independent contractor relationship will be created by this Terms of Service, and that no additional partnership, joint venture, employee, employer or other relationship is intended. You agree not to hold yourself out as in any way sponsored by, affiliated with, endorsed by, in partnership or venture with, nor as an employee or employer of us, any of our affiliates or service providers.
E. Entire Agreement. This Terms of Service constitutes the entire agreement between you and us with respect to the Platform and the Services and supersede all prior or contemporaneous understandings and agreements, whether written or oral, with respect thereto. No failure to exercise, and no delay in exercising, on the part of either party, any right or any power hereunder shall operate as a waiver thereof, nor shall any single or partial exercise of any right or power hereunder preclude further exercise of that or any other right hereunder. In the event of a conflict between this Terms of Service and any applicable purchase or other terms, the terms of this Terms of Service shall govern. If any provision of this Terms of Service is illegal or unenforceable under applicable law, the remainder of the provision will be amended to achieve as closely as possible the effect of the original term and all other provisions of this Terms of Service will continue in full force and effect. The headings of sections and paragraphs in this Terms of Service are for convenience only and shall not affect its interpretation.