Coworking & Meeting Space in Buckhead Across from Phipps Plaza
Exposed brick, custom light fixtures, and a European train station-inspired Vestaboard characterize the shared workspace environment at Roam Lenox. Here, business professionals from different companies converge to experience a renewed sense of energy and productivity. Perfect for remote workers, our coworking environment caters to those looking to increase social interaction, enhance productivity, and find a change of scenery from their home office setting. Along with ample coworking space, Roam offers private offices, dedicated desks, meeting room rentals, event space, and more! Whether you prefer to meet with a client by our double-sided fireplace or work from the comforts of a padded booth, you'll find yourself working alongside a vibrant community of like-minded professionals, all benefiting from a range of work environments designed to enhance productivity.
With its unique design elements and creative technology, Roam's expansive work environments and luxury meeting spaces are more than just places to work and meet; it's designed to inspire creativity, enhance collaboration, and engage your meeting attendees for productive offsite meetings. From chic wooded walls and sound wave installations to video mapping projection and customizable tile boards, Roam's luxury boardrooms and premier training spaces offer new and impressive concepts that are sure to wow your team. Full-service catering, complimentary technology, and free onsite parking complete the Roam experience for your next offsite meeting in Buckhead.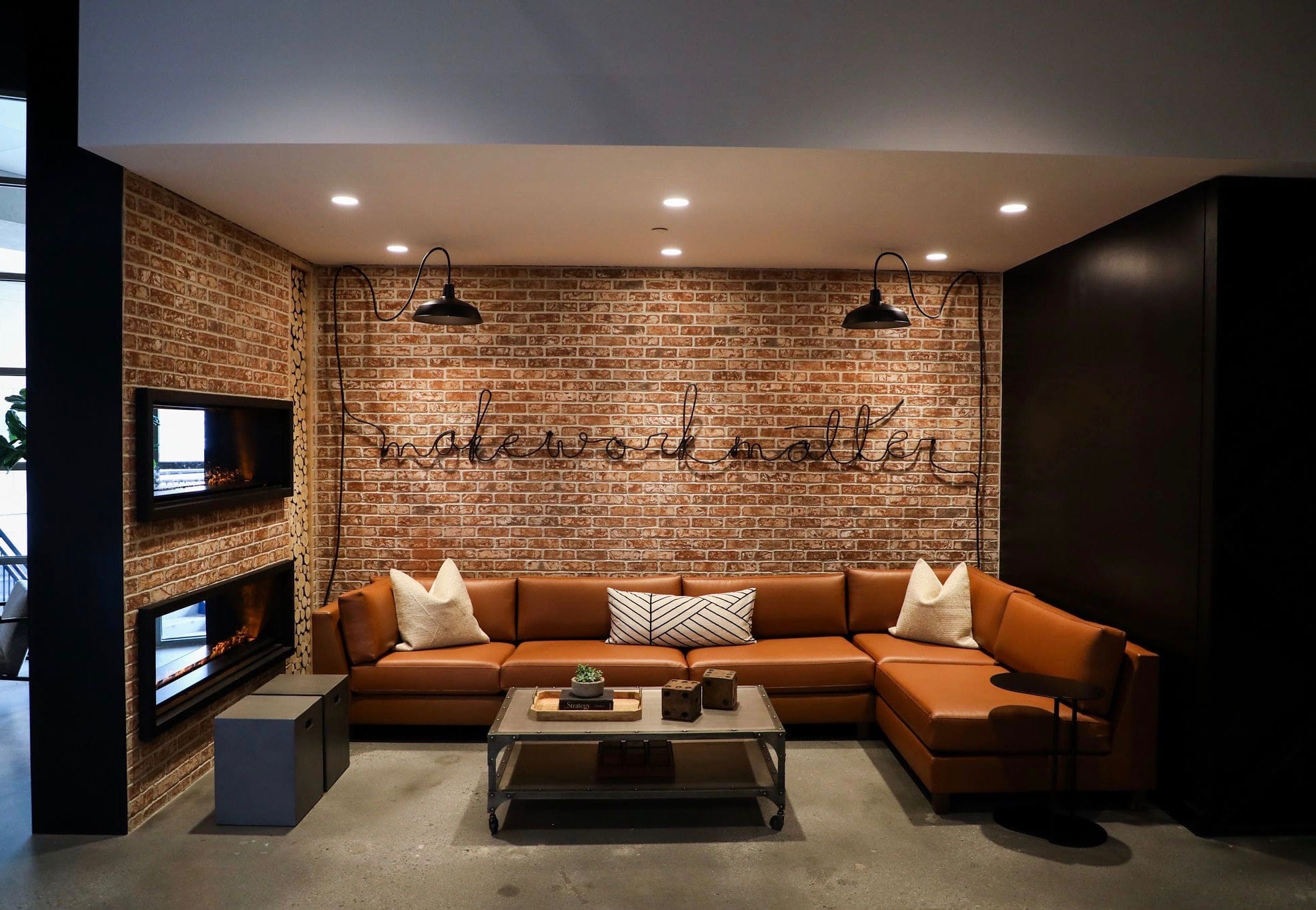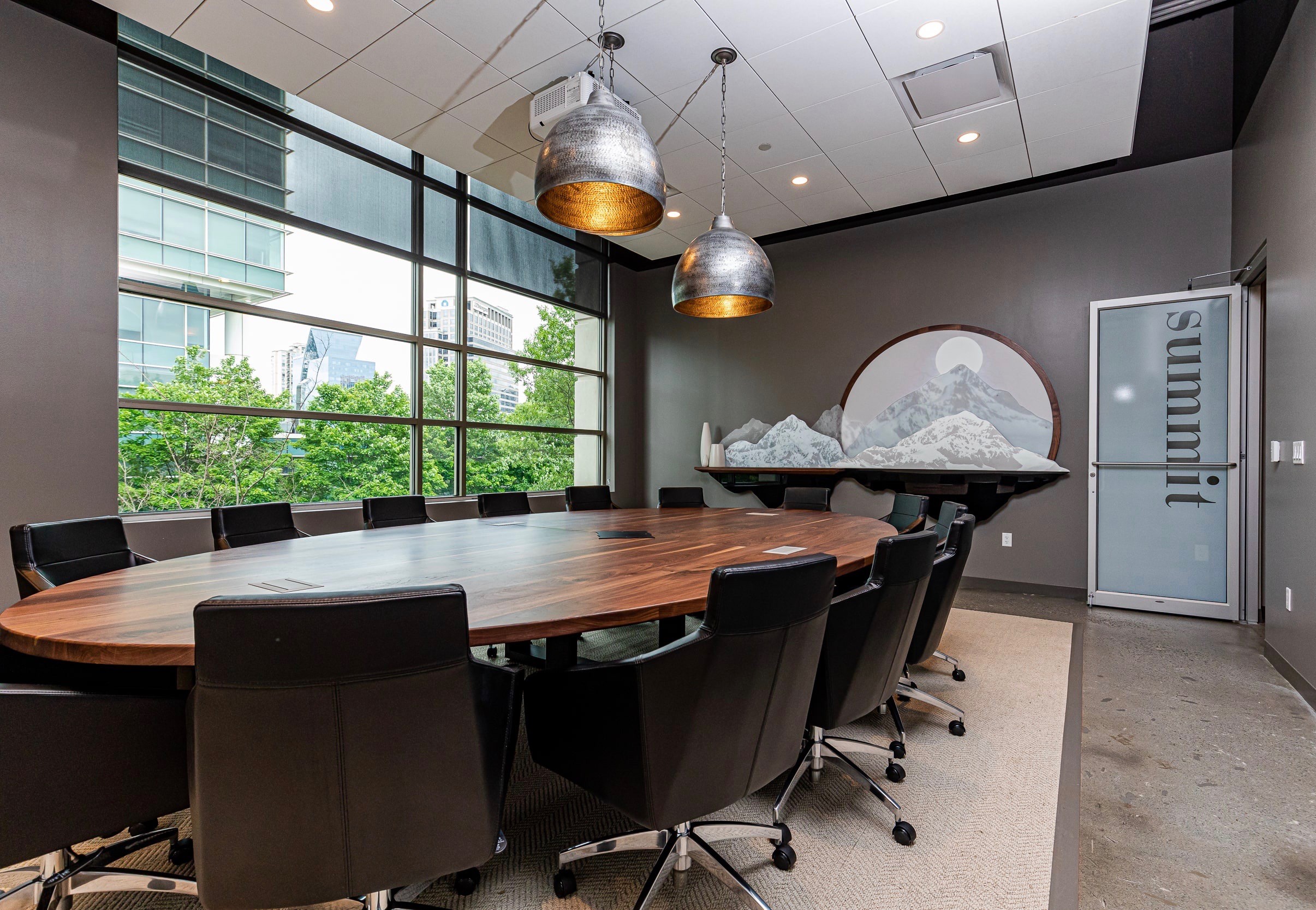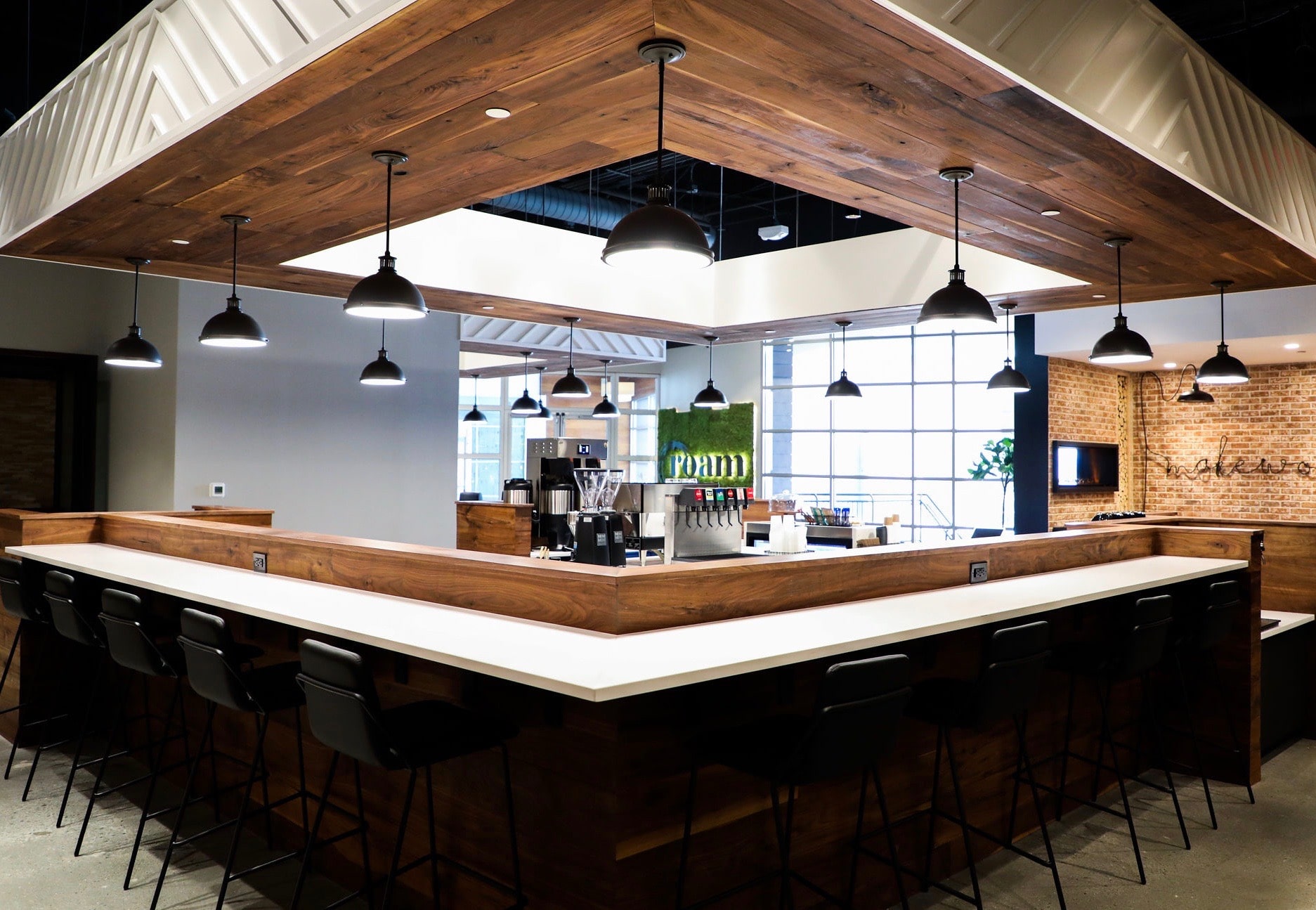 Workplace Offerings by Phipps in Buckhead
COWORKING SPACE MEMBERSHIP
Month-to-month flexible memberships give members access to design-enhanced coworking spaces that help you work productively, meet with clients, network with like-minded professionals, and scale your business. Take a seat in the shared workspace and enjoy a handcrafted beverage from our onsite Coffee Bar to power you through the workday. Or enjoy the convenience and privacy of our phone booths if you need to jump on a quick call. You'll even gain access to Roam's growing network of workplaces allowing you to work with flexibility and on the go. For large organizations of 10+ people, we'll work with you and your company to create a custom corporate membership to meet your shared office space needs.
MEETING SPACE & EVENT SPACE
From unique design concepts and complimentary A/V to full-service catering and onsite support,t our luxury meeting spaces and conference rooms offer everything you'll need for a productive meeting. Learn more about Roam's all-inclusive meeting experience when you browse our meeting rooms, sample catering menu, and add-on enhancement packages! Beyond the workspace, Roam enhances the experience with full-service catering, complimentary technology, add-on experience packages, and free parking, making it the ideal setting for your next offsite meeting.
OFFICE SPACE
Enjoy the privacy of a dedicated office space complemented by the flexibility and amenities of membership at Roam. Our luxury office spaces are perfect for small business owners or remote workers looking for a private workspace to boost productivity while still prioritizing cost savings and flexibility. We work with you to create the best plan, whether that's a long-term lease or something more flexible. Experience these benefits and more without the commitment of a traditional office lease.
DEDICATED DESKS
Roam's individual desks offer you a private and productive single-person office for professionals who need a personal hideaway. Pre-furnished with an ergonomic chair and table, Roam's desks offer a convenient and turnkey office solution with flexible, month-to-month terms. Amenities include unlimited drip coffee, 24/7 access, monthly meeting room hours, and more!
DAY PASS
Purchase a Day Pass for $50 and experience a new kind of workday in Roam's unique and innovative shared workspace. Try out our coworking community - we think you'll like it.
See What Our Members Are Saying
"First impressions are lasting impressions. Roam Lenox really sets the bar from the moment you enter the facility. The decor is very warm and inviting. Now, let me tell you the reason for my review. The staff is phenomenal!!!!! They make me feel like family. They go the extra mile to ensure my needs and wants are met." - Erika Blue
"I can not say enough good things about the service we received from Roam staff for our board meeting. They were friendly, helpful, and thoughtful. Highly recommended using Roam for hosting your meeting or event." - Chelsie Noel
"Roam Lenox is the best place to work in Atlanta! The staff here are awesome and are always willing to help. The facilities are modern and provide a great working environment where you can be productive while also working with others. Highly recommend using this space!" - Caleb Borders
"The staff at Roam Lenox are extremely catering and always willing to help. They go out of their way to make our lives easier. Rooms are typically available and co working space is large." - Brooke Etheridge
"Great staff and awesome location!! Easy place to get work done and accommodating team members on staff. Roam excels at finding great workers." - Wendy Day
"If you're looking for co-working space or a private office, go to Roam. At Roam they treat you like family. The customer service is outstanding. We began with 5 people in our private office space. The team at Roam has been so helpful as we've expanded our team beyond that." - Connor Dunaway
Lenox Marketplace Shopping Center

Georgia 400, I-85, I-75; Peachtree Road and Wieuca Road

Buckhead MARTA Station, Red Line
3535 Peachtree Road NE
Suite 320
Atlanta, GA 30326
404.984.2880
Neighboring Phipps Plaza and Lenox Square Mall, Roam is nestled in the heart of bustling Buckhead.
Just off Peachtree Road NE between Oak Valley Road NE and Wieuca Road NE, Roam is located on the top floor of the Lenox Marketplace shopping center. Roam's entrance can be accessed from the top level of the Lenox Marketplace parking deck, and ample free parking is available onsite. Roam offices and meeting spaces are located in close proximity to Buckhead's premier dining and shopping destinations.
Frequently Asked Questions