The transition from quarantine life into a "new normal" has been undeniably challenging for all of us. The CDC and government leaders have provided guidelines for the transition period we find ourselves in, yet so much is left to personal preference and interpretation. At Roam, we've identified a common obstacle that is true both inside our workplaces and beyond– an inability to easily communicate our risk level and willingness to interact with those around us.
We believe that in order to ensure a healthy and comfortable transition back into the workplace, it is critical to first understand one another's willingness to engage and interact. To help us achieve this, Roam is proud to announce that we have partnered with Safe Hands, the company behind an innovative visual communication system that establishes an easy way to inform others of one's risk and comfort levels in this COVID era. The system uses colors to communicate the following:
Comfortable Interacting (Green)
Seeking Space (Blue)
Home At-Risk (Orange)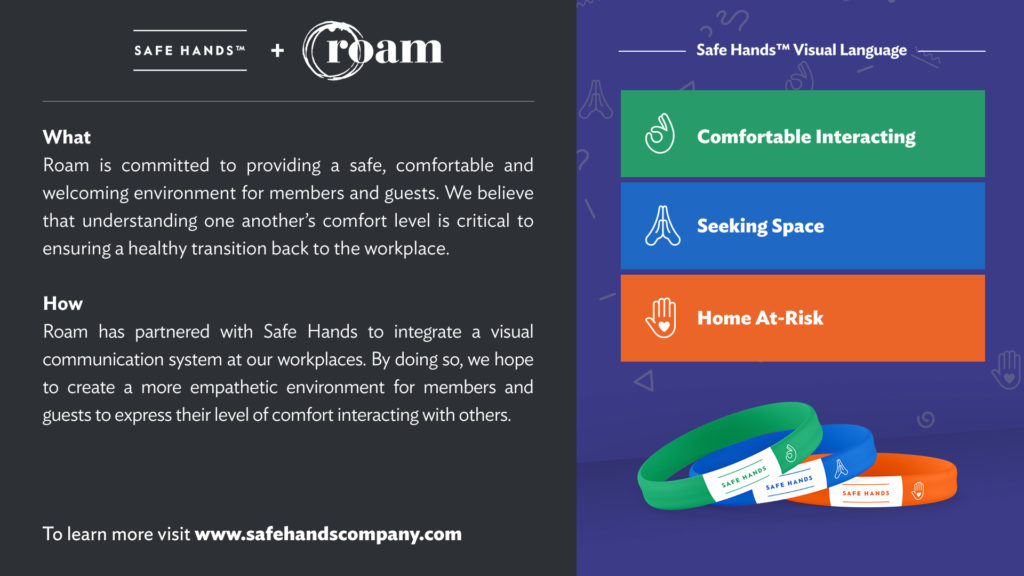 Beginning Monday, June 15, all Roam Workplaces will provide Safe Hands wristbands for the convenience of members and guests. By doing so, we hope to create a more empathetic environment for members and guests to express their level of comfort interacting with others. For more information about Safe Hands, please call the front desk at any Roam location or visit www.safehandscompany.com.