Resinspiring work and meetings in North Dallas, Texas
Whether you prefer the comforts of lounge seating, collaborative communal tables, or private booths for independent work, the flexible shared workspace at Roam Grandscape offers a variety of inspirational settings for you to imagine, create and accomplish your best work. To keep productivity flowing, our baristas will handcraft your beverage of choice at our full-service Coffee Bar. Need fresh air and a change of scenery? Enjoy the Texas sunshine on our first-ever covered outdoor terrace overlooking the Great Lawn.
Unexpected design elements, innovative technology features and purposefully crafted meeting spaces are sure to impress your colleagues and clients. Whether you are hosting a meeting for 2 people or 200 people, each luxury meeting room offers HD display + projection, whiteboard space, customizable seating arrangements, and a unique theme to engage your attendees. A Texas-inspired training room will boost creativity and encourage innovation while honoring our first workplace in Dallas, Texas. Reminiscent of speakeasy times, a secret entry to the Library creates a fun meeting environment for offsite gatherings, collaboration and team building. From natural light and decor to projection and audio visual, Roam's boardrooms and premier training spaces are designed to create elevated experiences when hosting meetings in person, hybrid, and even completely virtual.
Keep your attendees fueled with full-service catering from preferred local vendors and engaged with one-of-a-kind experiences ranging from elevated meeting packages to team bonding activities. From personalized setup to custom experiences, your personal Roam meeting coordinator will sweat the details and execution, giving you the freedom and flexibility to stay focused on what's most important - your work.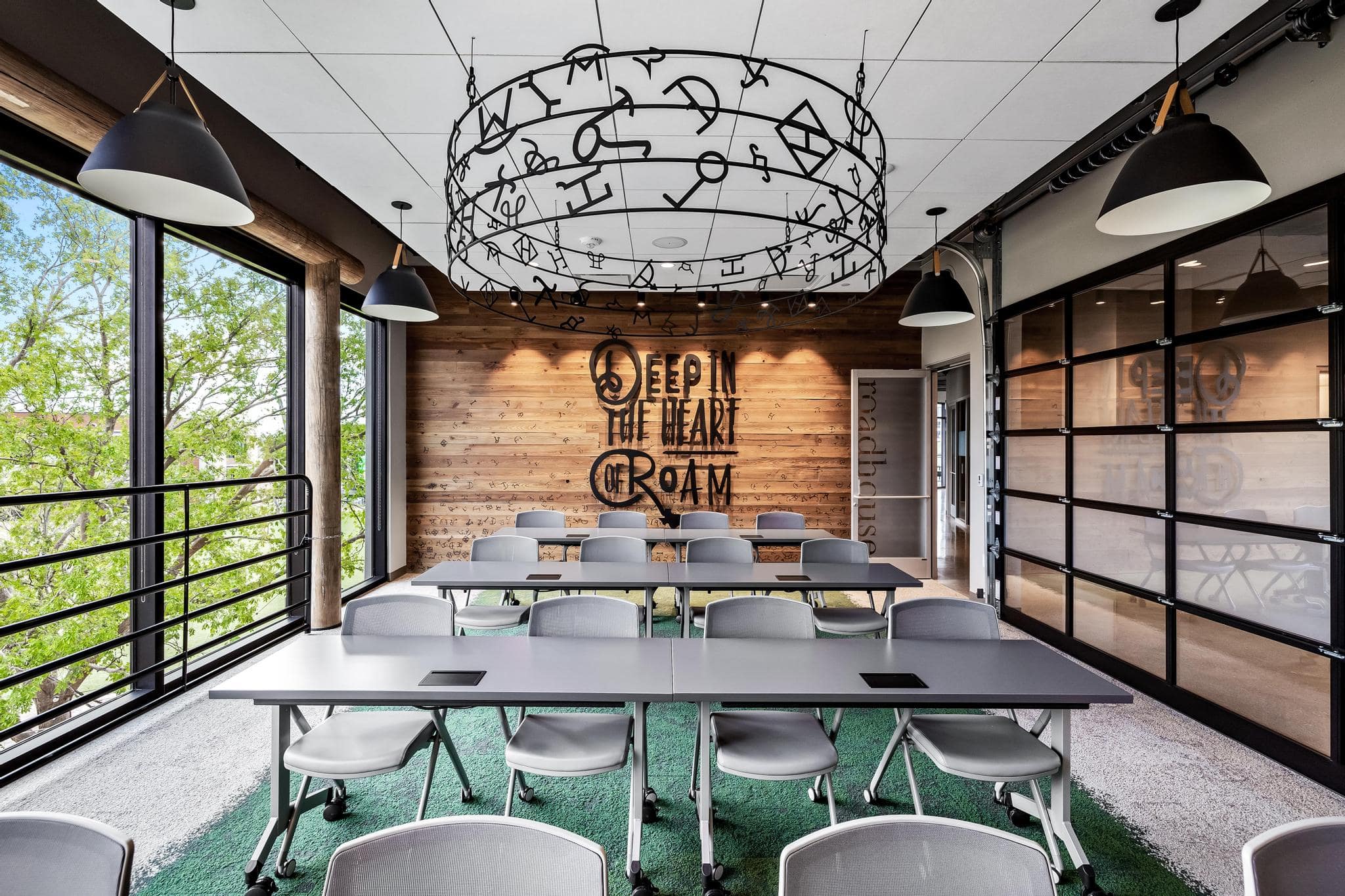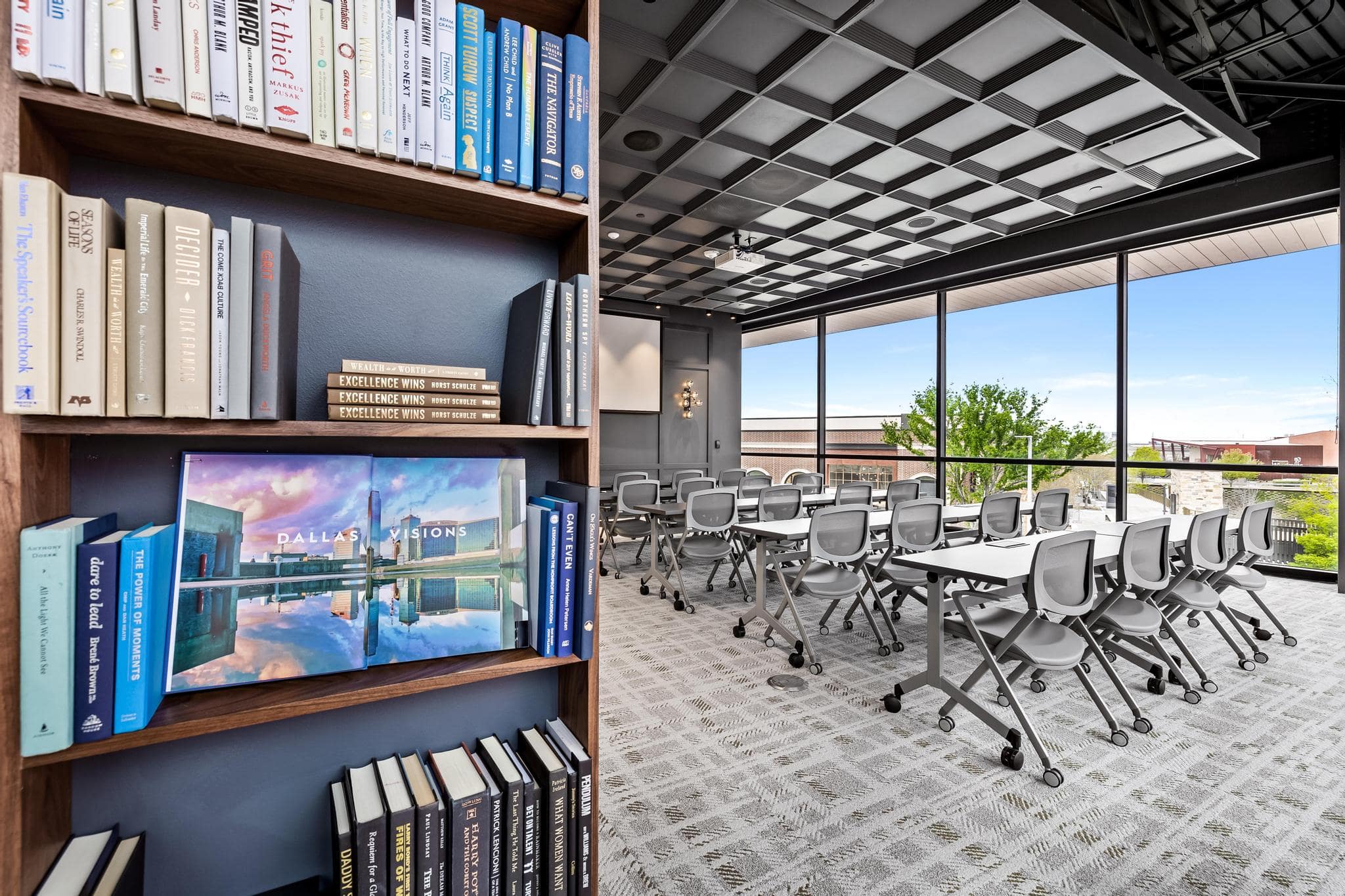 Workplace Offerings For Fort Worth, Dallas, and Frisco Professionals
MONTH-TO-MONTH MEMBERSHIP
Month-to-month flexible memberships help you work productively, meet with clients, and scale your business at Roam's shared office spaces. Order your favorite drink from the coffee bar and choose from a variety of work environments for a productive and inspiring work day. All-location access, monthly meeting room hours, and full-service amenities offer a one-stop-shop workspace for professionals, remote workers, and business owners in North Dallas.
MEETING SPACE & EVENT SPACE
From unique design concepts and complimentary A/V to full-service catering, hospitable onsite support, and ample natural light, our luxury meeting spaces and conference rooms offer everything you'll need for a productive and engaging offsite meeting. Learn more about Roam's all-inclusive meeting experience when you browse our meeting rooms, sample catering menus, and add-on enhancement packages.
PRIVATE OFFICE SPACE
Enjoy the flexible space and amenities included in a Roam membership with the perks and privacy of dedicated office space! Each office includes unlimited drip coffee, 24/7 access, custodial services, optional furnishings, mailing services, and more. Whether you need a private workspace or a new team gathering spot, we've got just the solution you're looking for in North Dallas. 
DEDICATED DESKS
Need a little more consistency than the typical coworking hot desk? Roam's private desks offer a productive personal hideaway for remote professionals. Furnished with a plush chair and optional standing desk, this flexible, month-to-month 1-person office solution includes free coffee, monthly meeting room hours, mailing services, access to Roam's inspiring shared workspace environments, and more.
DAY PASS
Purchase a Day Pass for $50 and experience a new kind of workday in Roam's inspiring and innovative shared workspace. Perfect for remote workers looking for a physical space to spend a day outside of their home office. With your Day Pass, gain access to business class Wi-Fi and Roam's first come, first serve open-plan workspace. Consider this your membership test run - we think you'll like it!
See What Our Members Are Saying
"Roam is wonderful! I came in from out of town and needed a workspace for the day. The environment itself is just remarkable. They have just about any possible workspace you could need! There is open space and private space. I personally spent the day in one of their booths and it was perfect! The staff is also just remarkable and will help you with whatever you need. If you need a space to work, Roam is it! I will definitely be working with them again!" - Annalise Sansouci
"Roam has been providing space for one of my client's meetings. They are detail-oriented, with a professional and friendly staff that makes my job super easy. They handle all of the onsite details and the meeting room is large and filled with light. My clients and I love it here!" - Alicia Gilbert
"Roam makes hosting our offsite meetings an absolute breeze! They handle EVERYTHING - AV hookups, managing caterers, making sure we all have our favorite coffee and soft drinks, and having a snack just when we get our first-afternoon tummy rumbles! As an OA responsible for making awesome meetings happen for great teams of people, I am so glad I can count on Roam! The staff at Roam Perimeter Center is the BEST!" - Melissa Davis
"The staff is A+. They know everyone by name and ask us how we are doing. There are also so many options for businesses of all sizes, from hot desks to full offices. The cafe is also stocked with plenty of goods to get you through the work day." - Joshua Fu
"While our team will only be at roam temporarily, it has been a breathe of fresh air. The space at Roam is extremely clean and very well laid out. The energy of all the self-starters motivates our team to have very productive days. Highly recommend Roam for a great work space." - Evan Halliday
"Roam is wonderful! I came in from out of town and needed a workspace for the day. The environment itself is just remarkable. They have just about any possible workspace you could need! There is open space and private space. I personally spent the day in one of their booths and it was perfect! " - Annalise Sansouci
Grandscape Parking Garage (Free)

Highway 121, Grandscape Boulevard
5752 Grandscape Boulevard
Suite 225
The Colony, Texas 75056
972.366.5580
Monday to Friday, 8am to 6pm
After hours access is available
Roam is proud to serve as a high-end space provider across major cities in Texas and Georgia. Visit our Grandscape location and see for yourself.
In the heart of The Colony, Texas, Roam resides in Grandscape, one of the most unexpected shopping, dining, and entertainment experiences around. Just off Highway 121 on Grandscape Boulevard, Roam's entrance is located directly across from the Puttery, in between The Escape Room and Jugo. Ample free parking is available throughout Grandscape.