Two Roam Members Create an Award Winning Ad Campaign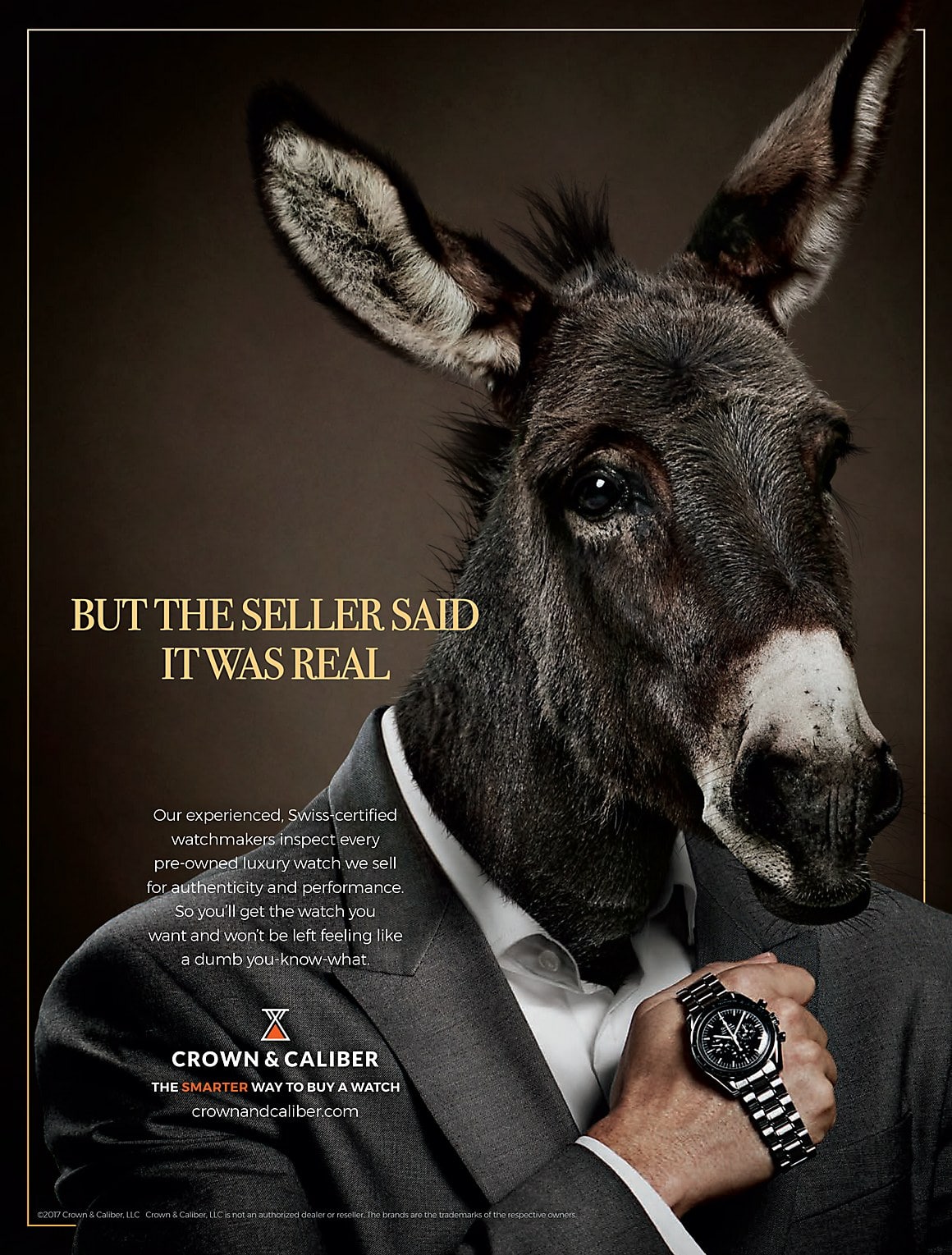 What do you get when you combine pre-owned luxury watches with a donkey named King Kong? Creative genius—and an award-winning ad campaign. Congratulations to Barber Warren (formerly Drum Worldwide) for their upcoming feature in the June 2018 edition of Communication Arts magazine. This print ad campaign for Crown & Caliber has received much deserved praise for Barber Warren's skillful execution of personifying consumer fears—such as overpaying and buying a fake product through the use of animal heads on human bodies. We can't help but have a 'proud mom moment' to see two Atlanta-based businesses that are both Roam members come together and create something powerful. Get a taste of the campaign by viewing their online feature and keep your eye out for the unveiling of the print publication this summer.
Two Influential Atlanta Brands
Barber Warren. In the midst of a recent re-brand, Barber Warren is a local ad agency in its fifth year of business serving brands that include Coca Cola, Southern Proper and EPEC Golf. "We are a uniquely modeled agency, and Roam fits our model really well," explains Partner and Creative Director Bob Warren. Recognizing that many traditional agencies were in trouble for offering themselves as experts in everything, Barber Warren decided they would keep content and strategy at their core and develop partnerships with freelancers of other expertise. This allows the client to get "the level of expertise they deserve without paying the extra overhead they don't need," Warren said. He joined the Roam community 4 years ago as an alternative solution to his home office. As Warren would put it, "[Roam] keeps me sane! It's a way to meet all kinds of people, and keep in touch with the outside world…It gives you a better work-life balance, and there are fewer distractions at Roam then when I was at home."
Crown & Caliber. Established in 2014 in Atlanta, Georgia, Crown & Caliber provides "a uniquely better way to buy and sell the right watch at the right price with the right experience," explains Chief Marketing Officer Jason Allen. Consider this online business like the Carmax of pre-owned luxury watches. Acknowledging a lack of transparency in a market with high dollar transactions, Crown & Caliber developed a solution that brings honesty and trust back into the equation paired with a great customer experience. In 2016, after recognizing their need to meet and work outside of the office, Crown & Caliber joined Roam. Serving as "an opportunity to pull away from having to manage the day-to-day of the business and focus on more strategic things," explains Allen, most Fridays are blocked out on the calendar as scheduled "Roam Days." Removing themselves from the office enables more strategic conversations and empowers their team to build confidence in making decisions.
Where It All Began
The partnership originated in 2016 when Barber Warren (then Drum Worldwide) was hired to create a brand beat for Crown & Caliber. As described by Warren, a brand beat is a "long term brand strategy and communication strategy that includes a brand personality statement and an adaptation of a style guide." Knowing Warren's team had a keen understanding of their brand, Allen called Bob back in 2017 when Crown & Caliber was ready to develop a brand awareness campaign. He wanted to create something that would stand out amongst the other predictable watch ads and knew Barber Warren to be established, good at creative direction and likeminded in their values. "We knew that we needed to stand out, and we knew that we needed to convey trust in a different kind of way," expressed Allen. And Barber Warren was quick to rise to the occasion.
Cue the Donkey
A luxury watch advertisement featuring animals was not a love at first sight experience for the Crown & Caliber team—and understandably so. At face value, there didn't seem to be much correlation between a donkey and a high-end fashion accessory. However, as the animals began to grow on Allen and his team, they decided to present the top three campaign options to the entire company. They knew it was the right fit when one of the head watchmakers commented, "That animal thing shows who we really are. We're fun, not pretentious. And that's the one we outta go for." Warren describes one of his highlights of the project as, "Watching the faces of Jason and his people when we first presented the idea. And then watching them slowly fall in love with it."
Every campaign involves its own unique set of challenges, and there was no exception for pulling off this project known by Crown & Caliber as the Trust Campaign. Stock images were available for all of the animals personifying consumer fears except the donkey. A full day was dedicated to pulling off this photoshoot featuring donkey celebrity, King Kong, and his traveling companion, Badonkadonk. And let the record show that CMO Jason Allen debuted his modeling career as the body of the donkey in the final advertisement. While his moment in front of the camera was unexpected, Allen embraced the opportunity and commented, "hey, it's a small business and we're just trying to cut costs."
A Job Well Done
Crown & Caliber officially launched this campaign in January 2018, but began to saturate the market in April 2018 with advertisements on a watch forum site, Pandora and a feature in Men's Journal. The team continues to eagerly await their feature in Communication Arts magazine this summer. The biggest highlight for Allen has been the influx of positive feedback regarding their willingness to think outside of the box and try something risky and different. "It wasn't a contract, it was a true partnership," explained Allen as he described working with Barber Warren. "The advantage of leaning on someone like [Barber Warren] is that we are in this [business] every single day. And [Barber Warren] was able to step way and tell us that we didn't understand the value we actually bring to the customer." With their fresh perspective and creative skillset, Barber Warren was able to bring those values to life and develop an award-winning campaign that Crown & Caliber can leverage for the months ahead. Marketing never sleeps, so be on the lookout as Allen has hopes to launch a new campaign in 2019. "I will definitely be going back to Bob to get that rolling," expressed Allen, "they are at the top of the list."