How to Hold Effective One-on-One Meetings
One-on-one meetings are a common tactic used by successful leaders. Through frequent check-ins, businesses can improve employee performance, boost productivity, build team loyalty, and strengthen relationships between managers and their direct reports.
It's no secret that good communication is necessary for proper management; however, maintaining an open dialogue is not always easy. One-on-one meetings provide organizations with a unique opportunity to discuss concerns, exchange feedback, and get to know employees on a personal level. According to Quantum Workplace, 86 percent of highly-engaged organizations perform one-on-one meetings between employees and managers.
Successful one-on-one meetings require some prep work and a solid strategy for bringing up specific issues and establishing long-term goals. Check out these tips for holding effective one-on-one meetings.
How Often Should You Have One-on-One Conversations?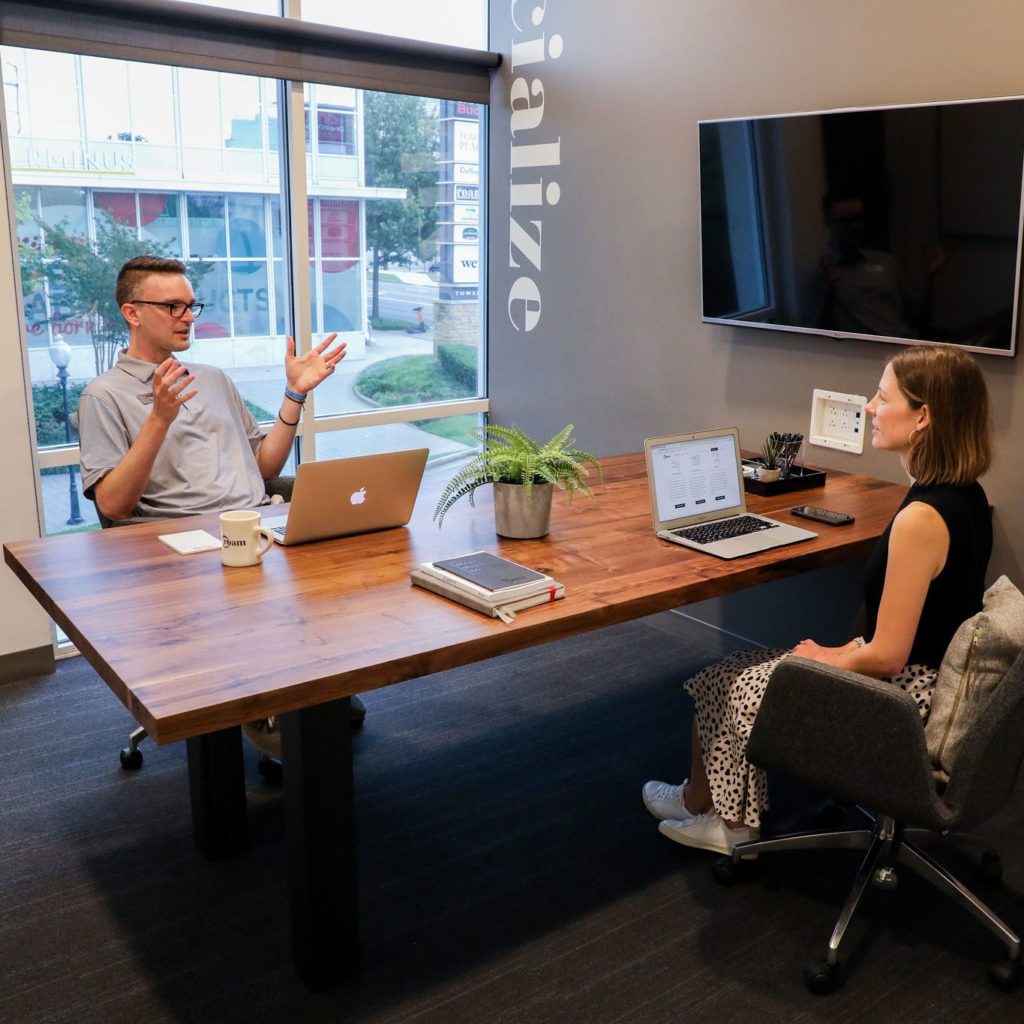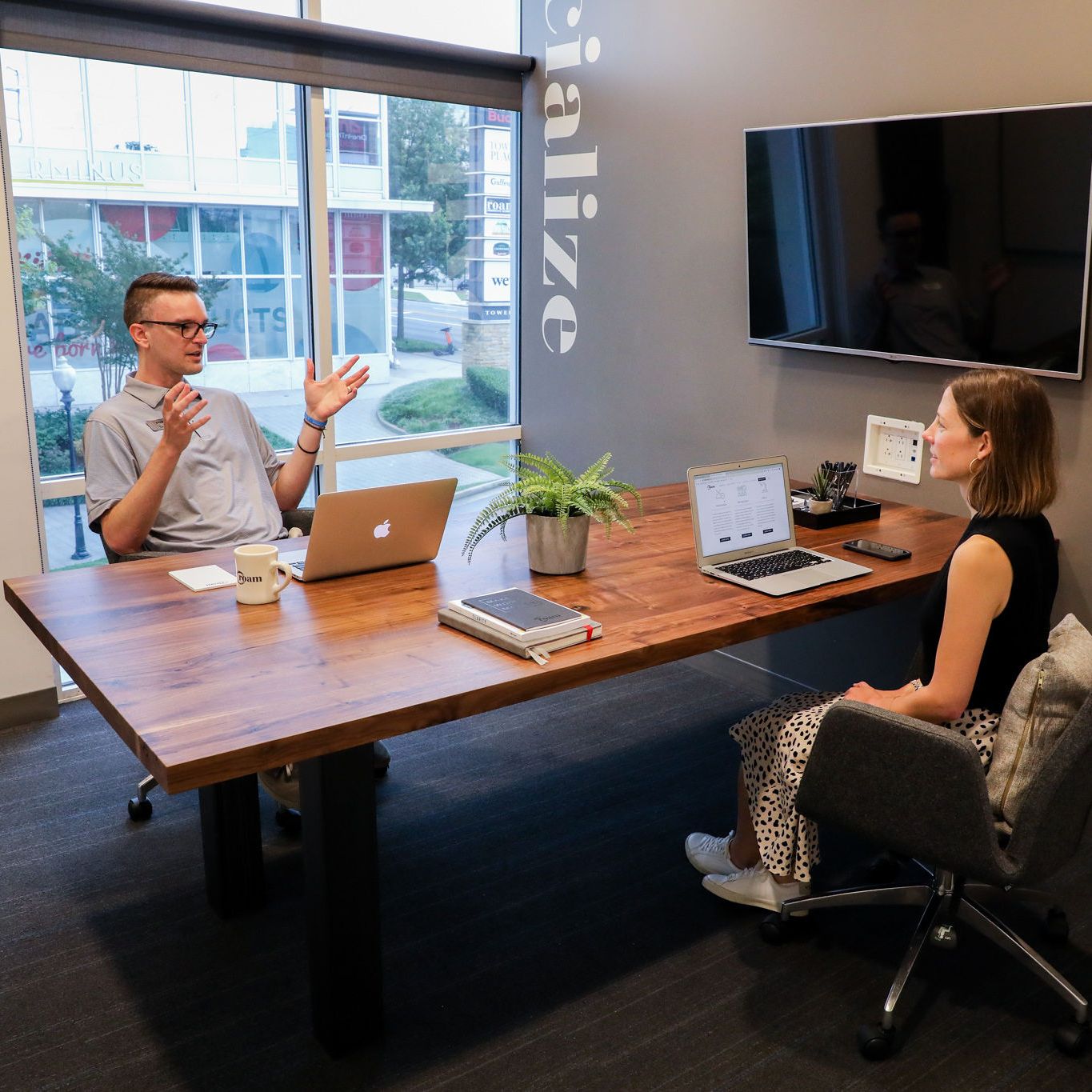 A reoccurring meeting can be a powerful tool to help managers measure their team's performance and provide constructive feedback. However, it can be challenging to determine how often these conversations should occur. Most organizations do not have the time or need to schedule daily meetings. Instead, one-on-one meetings should occur on a weekly or bi-weekly basis and last no more than 30 minutes.
It's not uncommon for managers to suffer from meeting overload. When this happens, having fewer meetings is not always the answer. Instead, focus on having more productive meetings. It's important to look at the bigger picture and benefits a weekly meeting could have for you and your employees. It's the perfect opportunity to talk through pressing issues and show workers they are valued.
There are several factors to consider when establishing a one-on-one schedule:
Type of meeting. Are you requesting a status update, exchanging feedback, or checking in with your employees on a personal level? Consider how often you will need to meet to fulfill this purpose.
Number of employees. It may not be feasible to have meetings every week if you have many direct reports. Take this into consideration when creating a meeting schedule.
New employees. It can take time for new employees to adjust. It's beneficial to meet with new employees more frequently to ensure that you are establishing trust and good communication.
Before Your 1:1 Meeting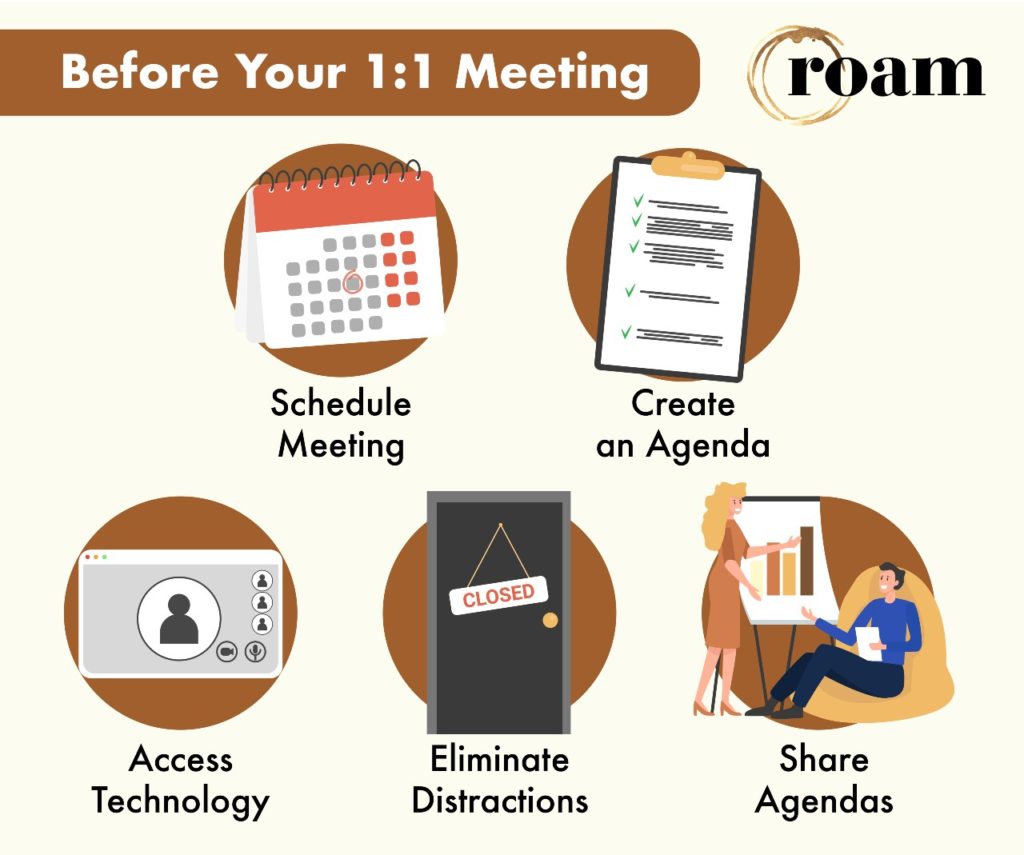 The purpose of a one-on-one meeting can differ for each business, department, and individual. Generally, the goal is to maintain open conversation and build a stronger relationship. Preparation is one of the most important parts of any weekly check-in. Here are several tips to help prep for your next regular meeting with a direct report:
1. Schedule Standing Meetings
Having dedicated time in your work schedule to conduct meetings is key to effective communication. Schedule them on your calendar as a repeating event and try your best not to cancel them. Having these one-on-ones written down can also prevent you from forgetting about an important meeting which can be frustrating to employees.
2. Create an Agenda
A meeting agenda helps one-on-ones go smoothly. This meeting template can be a rough outline of things you'd like to touch on. Simply jot down a list of talking points and ask your team member to do the same prior to the meeting.
3. Eliminate Distractions
Be fully present during your check-ins. You need to be willing to devote time and energy into your employees to create an environment where employees feel valued.
4. Access Technology
Many businesses are continuing remote work or implementing a hybrid schedule. One-on-one meetings can be more complex when a manager and team member are not in the same room. Make sure you have the proper meeting software to video chat with remote employees.
5. Share Agendas
With a shared agenda, managers and employees can prepare for meetings ahead of time by using collaborative software or other technology. A shared agenda should focus on common goals and interests along with a plan of how teams will work to accomplish objectives.
During Your 1:1 Meeting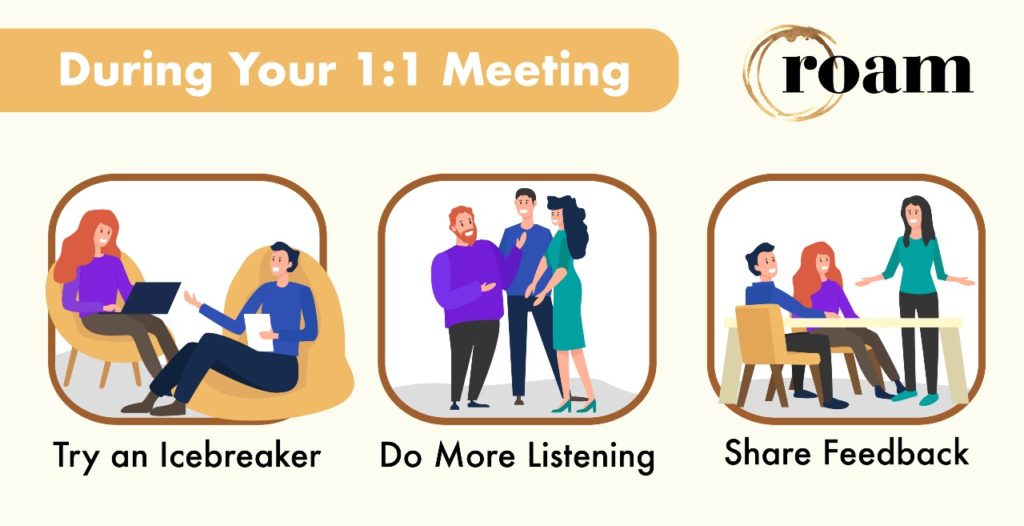 Once the employee has arrived and your one-on-one meeting has begun, focus on creating a comfortable space where your direct report can converse without pressure or intimidation. Here are some tips to implement during your next one-on-one:
1. Try an Icebreaker
Icebreakers are commonly used in both one-on-one and group meetings as they help to break down communication barriers and create a more laid-back atmosphere. Stick with a short, quick icebreaker that takes no more than two to three minutes. Consider asking open-ended questions, such as "What has been your favorite life experience?"
2. Listen More
Managers often lead the conversation during one-on-one meetings as a way to make employees feel more comfortable. However, it's important to give employees time to voice their concerns, thoughts, or opinions during check-ins. Start by bringing up an important topic of discussion and ask your employee their opinion or walk-through potential solutions to a problem.
3. Share Feedback
Some managers give performance reviews at designated times of the year, but people need encouragement and feedback on a regular basis to grow and feel fulfilled. By providing bits of constructive feedback along the way, you can help your team thrive. Avoid feedback that is too harsh and discouraging. Try to frame issues in a positive light and provide a solution.
After Your 1:1 Meeting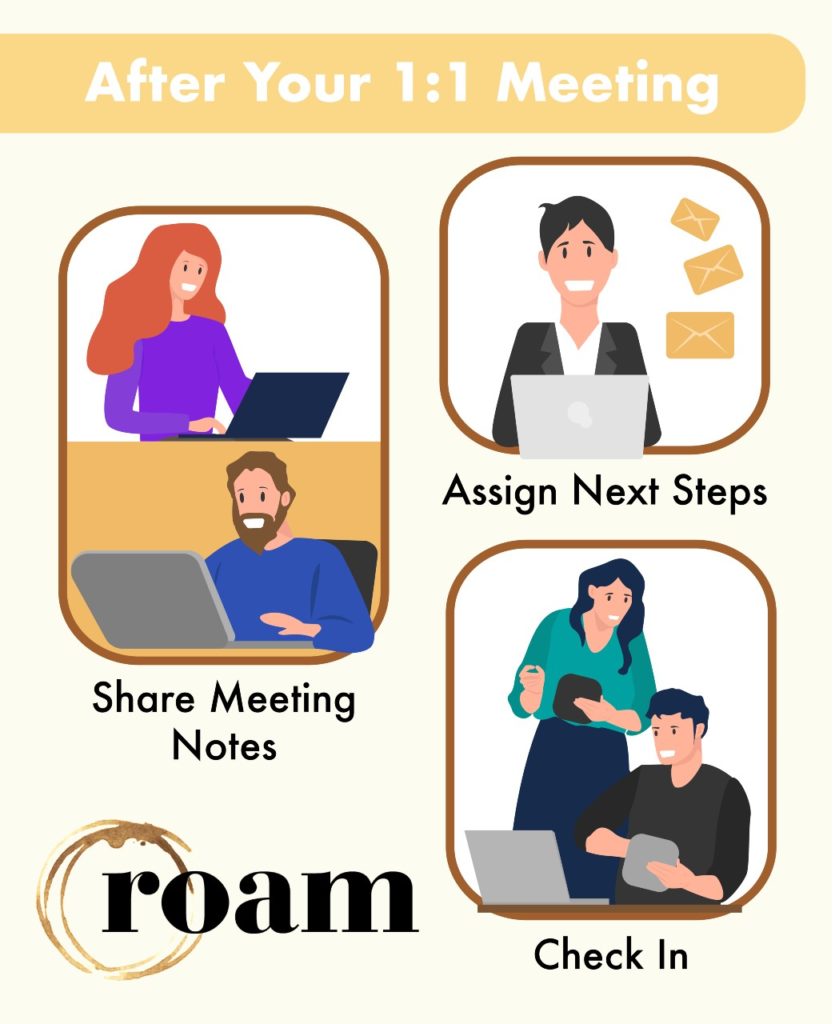 Following up on what you discuss during one-on-ones prevents managers from making empty promises. If you want employees to feel heard and valued, you'll need to check in and make progress as you go. Here are some tips to effectively handle the post-meeting process:
1. Share Meeting Notes
Shared notes help employees and managers take accountability for what was discussed in the meeting. It also gives a reference point for future check-ins so you can revisit the conversation if need be.
2. Assign Next Steps
Goals and objectives are critical to professional development. The best practice is to leave every meeting with a clear understanding of your next steps and your teammates.
3. Check In
Follow up with your direct reports to see how their work is progressing and if they have taken your feedback and made improvements.
Additional Tips for Managers in One-on-One Meetings
Ask the right questions. Ideally, you should ask open-ended questions that require more than a simple "yes" or "no" response. Communication goes both ways, so be sure to answer any questions your employees may have.
Start on a positive note. It can be disheartening for employees to receive negative feedback the moment the meeting begins. Start light and ensure that your team knows they are appreciated.
Work together to problem solve. One-on-one meetings are an excellent environment to collaborate. Listen to what your employees have to say and work together to find viable solutions.
Get out of the office. A change of scenery can make a big difference when it comes to employee engagement and productivity. Consider hosting your one-on-ones in a coworking space like Roam where you can rent a meeting room.
Tips for Employees in One-on-One Meetings
Just like managers, most employees aim to make their one-on-one meetings with their managers as effective as possible. Follow these tips for better one-on-ones:
Get answers to questions. It's normal for employees to have questions about their job position, projects they may be working on, or company policies. Use this time to request clarification about these important topics.
Provide feedback to managers. Feedback should be a two-way road. In addition to receiving feedback, employees can give feedback in a way that is respectful and constructive.
Arrive at the meeting prepared. Maximize the effectiveness of your one-on-one meetings with your manager by coming to these meetings prepared. Have any supporting documents or data you may need to aid your discussions.
Bring up the tough conversations. Employees often feel uncomfortable bringing up sensitive topics in group meetings. One-on-ones provide the perfect opportunity for employees to speak freely about hard subjects.
Rent a Meeting Room at Roam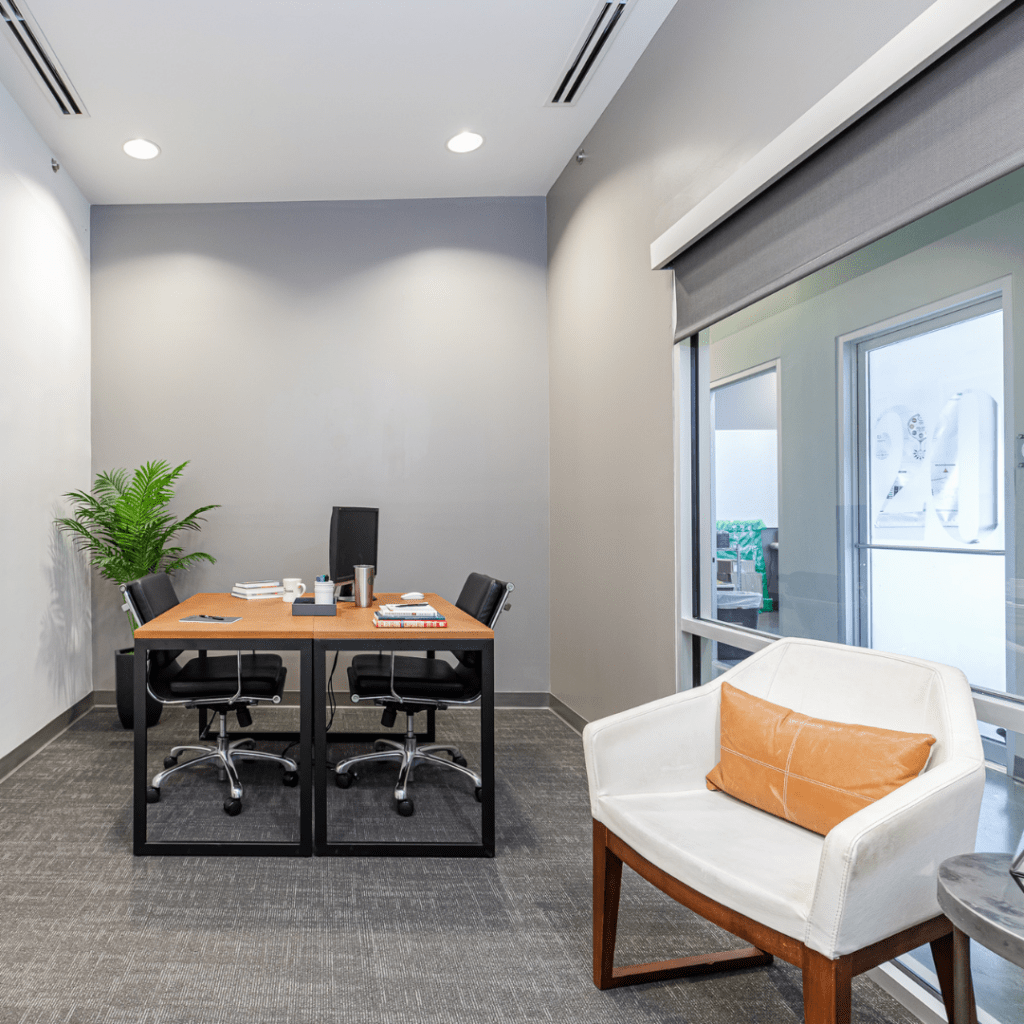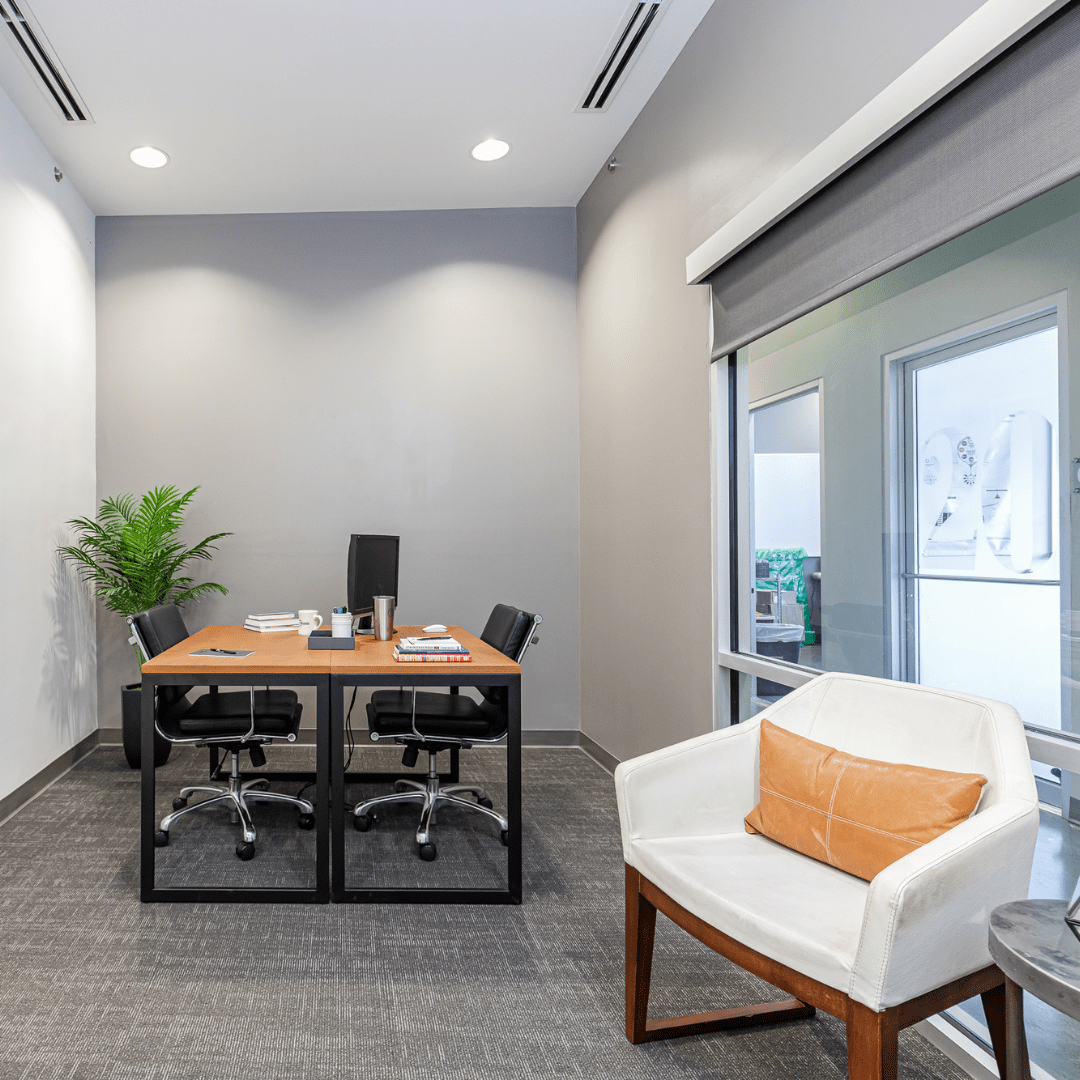 Finding the right environment to host a one-on-one meeting is half the battle. If you're in search of a comprehensive and collaborative work, meet, and office solution, head to Roam.
Roam is a shared workspace environment designed exclusively for working professionals. In addition to coworking spaces crafted to engage and inspire, Roam offers all-inclusive meeting rooms equipped with a wide range of features and amenities.
Book a meeting room at Roam and hold your most effective one-on-one meeting to date.