Four-Day Workweek: Pros and Cons
Companies across the United States are adopting a four-day work week or considering the change. Employee burnout, coupled with safety concerns regarding the pandemic, has many organizations considering a modern-day work schedule that places a greater focus on employee health and wellbeing.
Just 15 percent of employers in the U.S. currently offer a four-day schedule, according to the Society for Human Resource Management. Progressive companies like Kickstarter, Buffer, and Elephant Ventures are just a few of the innovative enterprises that have chosen to transition to a four-day work week from the traditional five days. Still, not all business leaders favor the change.
It makes sense that if the same results can be achieved in fewer days, why not move away from outdated work schedules of the past? Alternative work hours are often favored over the typical 9-to-5 and for good reason. Here we'll cover what a shorter week looks like and the pros and cons of adopting a four-day workweek.
What Is a 4-Day Workweek?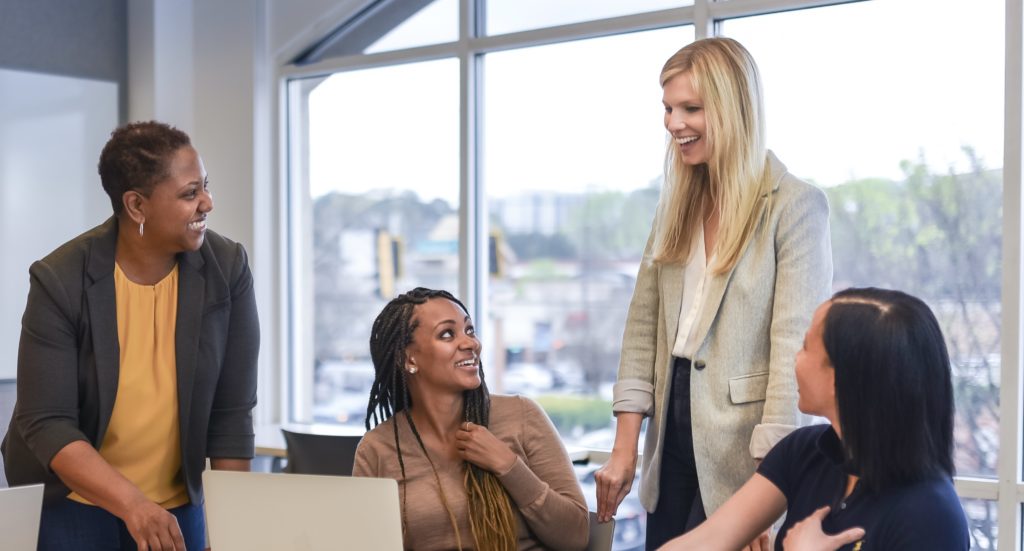 A four-day workweek is generally defined as a 32-hour workweek performed without loss of pay, productivity, or benefits. This type of schedule can vary from company to company. For example, employees may work Monday through Thursday and have Fridays off. Other organizations may allow employees to choose which day of the week they would like to take off.
Companies have some discretion in how their shorter workweek is structured. While a typical five-day workweek is 40 hours, many companies are finding that employees can complete their workload in fewer hours. However, some companies mandate that their workers still meet the 40-hour requirement. In this case, employees would work 10-hour days four days a week. These longer hours can be difficult for some employees to sustain long-term.
Many companies have experimented with the four-day week while documenting their findings. Perpetual Guardian, a New Zealand firm with 240 employees, performed a trial run where employees worked four days a week instead of five but with the same pay. Performance did not suffer, team engagement improved, and staff stress levels lowered by 7 percent. In addition, 78 percent of workers said they could manage a better work-life balance compared to 54 percent pre-trial.
How Many Hours Are We Really Working?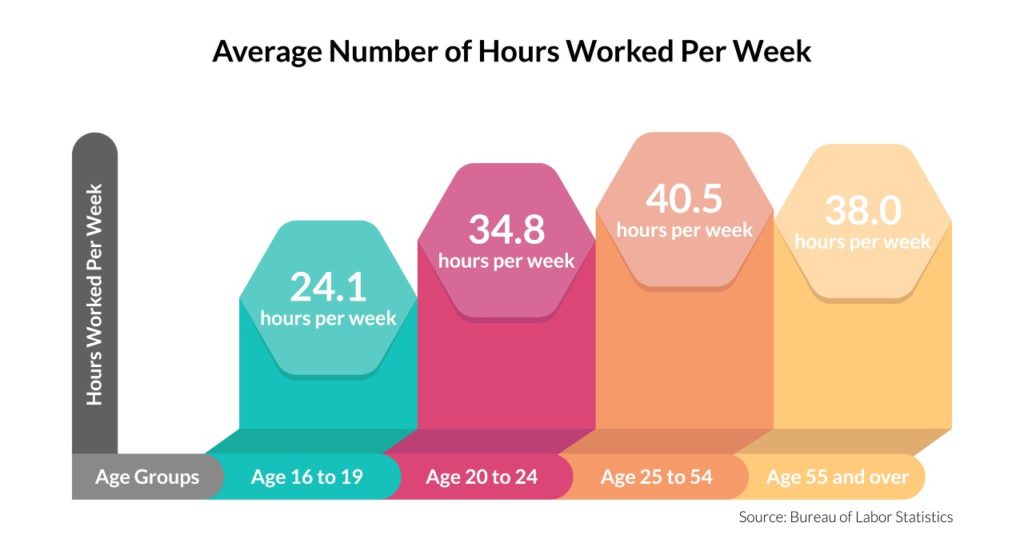 The average American works 34.4 hours per week, according to recent data published by the Bureau of Labor Statistics (BLS). The number of hours worked a week differs among different age groups, genders, marital statuses, and races.
The BLS shows the average number of hours worked per week for employees:
Age 16 to 19 – 24.1 hours/week
Age 20 to 24 – 34.8 hours/week
Age 25 to 54 – 40.5 hours/week
Age 55 and over – 38.0 hours/week
Statistics also show that males work approximately 41.0 hours per week, while females work about 36.4 hours per week. Married men work an average of 4.5 hours more each week than unmarried men, and married women work an average of 1.7 hours more each week than unmarried women. The differences in the hours worked each week by race are slight, with White Americans working 38.9 hours, African Americans working 38.7 hours, and Asian Americans working 38.9 hours.
The typical workweek in the U.S. differs from that of other countries. According to TechRepublic reports, the shortest average workweek of 29 hours is in the Netherlands, followed by a 32-hour average workweek in Denmark. Countries with the highest average number of hours worked include Colombia and Turkey at 48 hours, Mexico at 45 hours, and South Africa at 43 hours per week.
Pros
The four-day workweek is a relatively new concept that has recently gained more attention due to advancements in technology. Small and large companies across industries are experimenting with an extra day off each week, and there are plenty of advantages to be gained.
Greater Work-Life Balance – One of the most apparent benefits of a four-day workweek is more days off each week. The traditional two days off a week means less time for employees to do what they want to do. A three-day weekend gives additional time for visiting with friends and family, performing household chores, and going on brief trips out of town.
Increased Productivity – Research has shown that companies that establish a four-day workweek experience a higher productivity rate than businesses that have five-day workweeks. Sandford University found a clear correlation between productivity and hours worked, revealing that overworked employees are often less productive than employees that work fewer hours.
Cost Savings – Both employers and employees can enjoy cost savings by working one less day a week. By allowing all employees to stay home an extra day, the office would remain closed, leading to lower utility bills. Employees would see cost cuts in gas savings due to fewer hours commuting to work. Some workers would also save money on other expenses, such as coffees and lunches.
Reduced Absenteeism – When employees have fewer work days a week, they are less likely to call out of work. Team members have more time to rest and recover, reducing the number of sick days taken. According to a trial study conducted in Sweden, logging fewer hours at work resulted in better physical and mental health among employees.
Lower Carbon Footprint – A four-day workweek can also positively affect the environment. According to Forbes, shortening the average workweek could reduce employee commute and shrink our carbon footprint. Research shows that by introducing a third weekend day each week, carbon emissions in the U.S. could be reduced by up to 45 million metric tons, more than the total emissions in Vermont and Oregon combined.
Cons
The four-day workweek can offer tremendous benefits to businesses in a wide range of industries. However, there are some downsides to consider before transitioning to a shorter workweek.
Not Suitable for All Businesses – Not every establishment has the means to switch to a different business model. Depending on the type of business, some employers may have concerns that employees will not be able to fulfill their duties in a shortened workweek. Companies that require 24/7 presence may experience scheduling issues if an extra day is lost.
Longer Hours Can Increase Stress – When businesses choose to maintain a 40-hour workweek despite an extra day off, employees are forced to work long 10-hour shifts. These longer days can significantly impact employee health and stress levels. In turn, this could result in disrupted productivity and greater employee turnover.
Reduced Customer Satisfaction – While employees are often in favor of an extra day off each week, many customers find alternative workweeks to be problematic. When a customer experiences an issue during non-work hours, they could face a lengthy wait until employees return to the office. Reduced customer satisfaction can cause financial and reputational harm to a business.
Difficulty with Team Collaboration – Businesses often rely on teams to complete projects on time and within budget. When employees are out of the office more frequently, teams can have trouble completing tasks on schedule. This can occur when employee days off are scattered, making it difficult to find time for the entire team to meet and work.
Recent Developments
While the five-day workweek has been standard for more than a century, the 2020 COVID-19 pandemic has changed how businesses view work schedules. More businesses have gained the confidence to become pioneers in their given industries and adopt more flexible work arrangements for the benefit of their employees and the business.
Several companies will be undergoing trial runs in the upcoming months, including businesses in Spain. Spain recently announced that it will become the first country in the world to trial a four-day workweek with a three-year project that started in September 2021. This trial will include approximately 200 to 400 Spanish companies who will voluntarily take part in the project by reducing the workweek to 32 hours while maintaining employee salaries.
In the U.S., the creative visionaries at Kickstarter have garnered attention by releasing plans to run a four-day workweek trial in 2022. The crowdfunding platform's shortened workweek will impact its 90 employees and aims to help remote workers returning to the office who have become accustomed to flexibility. Social media software company, Buffer, previously implemented a four-day workweek in 2020 with great results, including happier employees and productivity gains.
Strategies to Succeed with a 4-Day Workweek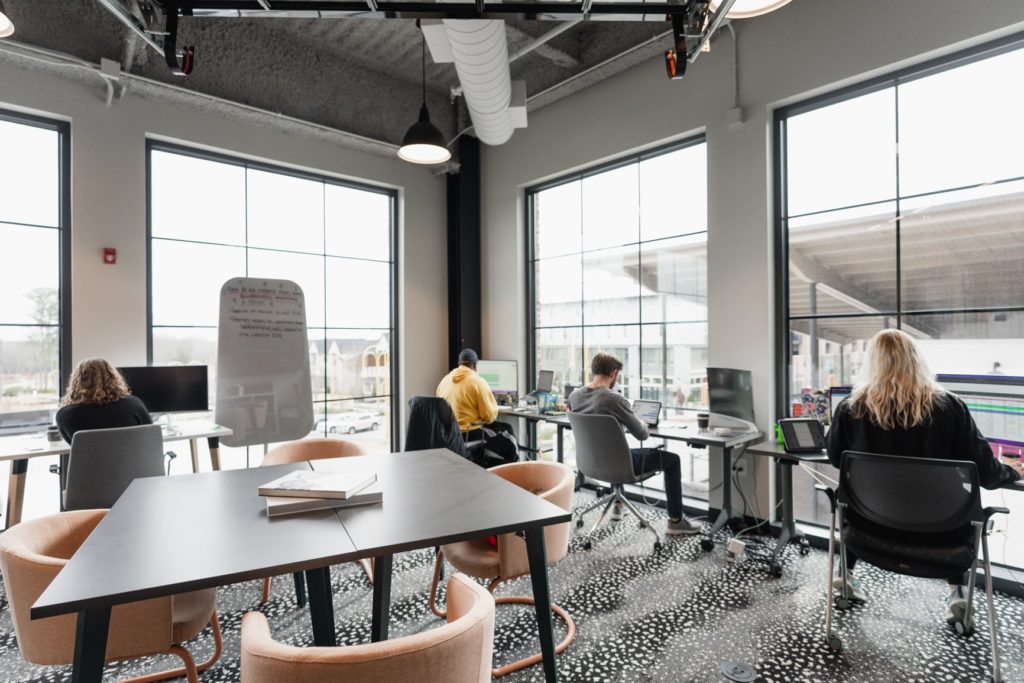 Flexible working arrangements like remote work or a shortened week can be a major perk for prospective and current employees. However, succeeding with a four-day workweek in the long term requires proper planning and commitment. Some strategies to consider implementing to ensure a successful outcome include:
Define clear goals
Increase automation whenever possible
Maintain employee pay
Reevaluate tasks
Measure outcomes, not hours
Understand the needs of stakeholders
Limit in-office social events
Promote creativity
Focus on business continuity
Trust employees
Set short-term goals
Schedule short, infrequent meetings
Minimize disruptions
Request feedback from employees
Companies in both the public and private sectors are making the switch to a four-day work week, giving them more time for leisure without sacrificing the quality of their work. Many businesses have already made investments in the technology needed to implement a shorter workweek, and more are making these changes every day.
Roam provides professionals with convenient coworking spaces and shared work environments that support flexible scheduling. Whether you're a full-time employee currently working remotely or running your own business from home, the coworking and meeting spaces at Roam are specifically designed to engage and inspire. Schedule a tour of the facility or book your room today.