Brain Food: What to Serve for Lunch at Your Next Corporate Event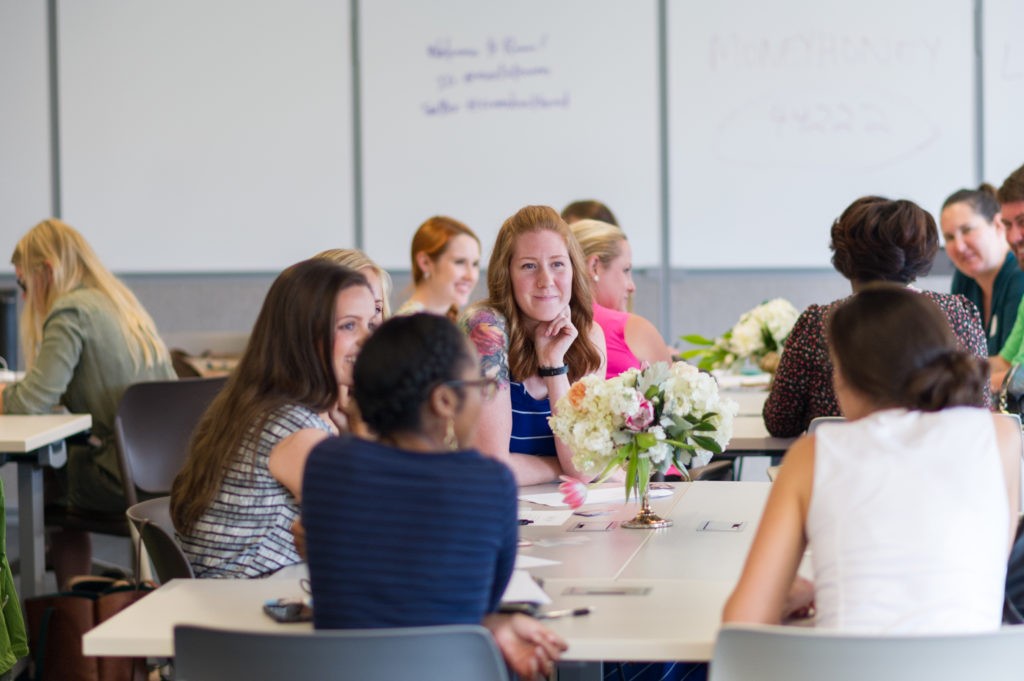 Imagine you're midway through a day-long corporate event. You're absorbing valuable insights, participating in team-building exercises, and then it hits you — that mid-afternoon energy slump. Suddenly, your brain feels like it's slogging through mud, and you find it hard to focus. Could the culprit be the lunch you just had?
A growing body of evidence demonstrates a strong connection between the food we consume and our cognitive performance. Nutrients like omega-3 fatty acids, antioxidants, and complex carbohydrates have been shown to improve brain function, enhancing our ability to focus, make decisions, and retain information. In the context of a corporate event, where every moment is an opportunity for learning and networking, the importance of serving nutritious food can't be overstated.
Making the right food choices is not just a matter of personal well-being; it's a key factor that can dictate the overall success of your event. Poor food choices can lead to decreased energy levels, lower productivity, and a less engaged audience. Conversely, a well-planned, nutritious meal can elevate the entire experience, keeping participants alert, engaged, and ready to contribute.
So where does one turn for a venue that understands the link between good food and successful corporate gatherings? Welcome to Roam. As a leading corporate event venue, we pride ourselves on creating environments that aren't just aesthetically pleasing and functional but also designed to fuel both productivity and well-being. At Roam, we pay close attention to the culinary aspect of your event by partnering with local vendors and catering services who share our commitment to quality.
What Makes a Great Lunch for Corporate Events?
Now that we've established how crucial nutritious food is for cognitive performance and overall event success, let's talk about what goes into making a superb buffet or boxed lunch. After all, you're not just filling bellies; you're fueling minds.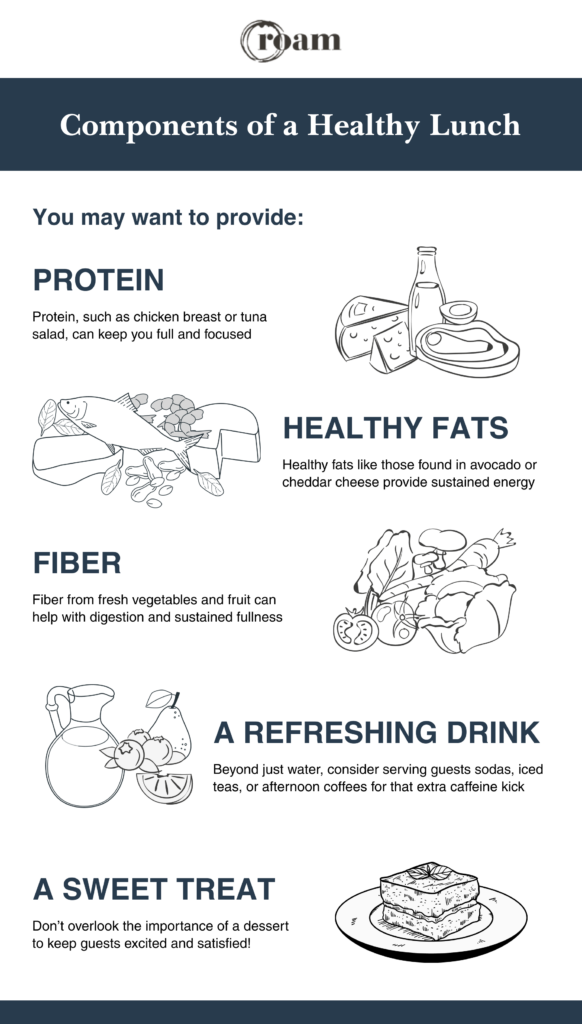 Components of a Healthy Lunch
A satisfying and healthy buffet or box lunch typically includes a balanced mix of protein, healthy fats, and fiber. Protein, such as chicken breast or tuna salad, can keep you full and focused. Healthy fats like those found in avocado or cheddar cheese provide sustained energy, and fiber from fresh vegetables and fruit can help with digestion and sustained fullness.
The Importance of Variety
The phrase "variety is the spice of life" holds particularly true for box lunches. You wouldn't want your attendees to face an endless parade of identical sandwich boxes, would you? Different menu options not only cater to different tastes but also to different dietary needs. Vegan, gluten-free, or dairy-free — accommodating these dietary restrictions with varied menu items is essential for an inclusive experience.
Roam's Expertise in Corporate Lunches
Given our commitment to elevating the corporate event experience, Roam partners with local vendors to offer a broad range of delicious and nutritious lunch ideas. We provide a tailored selection of event buffets and corporate boxed lunches that suit any dietary needs and preferences. The curated selection ranges from green salads to a variety of sandwiches made to delight your tastebuds. For those with a sweet tooth, how about a chocolate chip cookie that's both indulgent and made from wholesome ingredients?
Whether you're hosting birthday parties, a meeting, a seminar, or any corporate function at Roam, rest assured that we've got the food aspect covered. Our expertise in creating nutritious and delicious lunches ensures that you can focus on the meeting agenda, while we take care of keeping your team fueled and focused.
Nutritious and Delicious Lunch Ideas for Cognitive Functioning– Our Recommendations!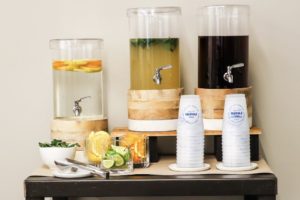 Now that you're familiar with what goes into creating an ideal lunch and why it's important to consider variety and dietary needs, let's dive into some specific buffet and box lunch ideas that don't just satisfy hunger but also fuel the brain.
Sandwiches
Let's start with a classic yet highly customizable option: the sandwich. Packed with lean protein like roast beef or chicken salad, topped with Swiss cheese for added flavor, and layered with crisp, fresh vegetables such as red onion and green pepper, a sandwich can be a hearty, nutritious choice. Add a side of balsamic vinaigrette or honey mustard for a flavor boost that also offers health benefits.
For side dishes, opt for something light yet fulfilling. A fresh fruit cup can be a refreshing and healthy option, while potato chips could serve as a guilty pleasure that's not too overwhelming.
Salads
If sandwiches aren't your thing, how about a delicious Greek Salad? A base of romaine lettuce provides an excellent canvas for toppings like feta cheese, black olives, and chicken or salmon. The key is to offer a variety of salads with differing textures and tastes, each serving as an ideal "brain food."
Fajita Bar
Beyond the go-to sandwiches and salads, we're able to serve up dishes like our Fajita Bar. Choose from succulent grilled chicken or steak, cooked to perfection with onions, tomatoes, and peppers. This main course is beautifully complemented by an array of toppings, including pico de gallo, sour cream, shredded cheese, and lettuce. Each serving comes with two soft flour tortillas, Mexican rice, and your choice of refried, charro, or black beans.
These dishes aren't just made for satisfaction; they are crafted to enhance cognitive function. The complex carbs in our salads, for instance, provide slow-release energy, perfect for long meetings and brainstorming sessions. Our selection of protein options ensures that your team can power through the day without experiencing a dreaded afternoon slump.
The Brain Food Connection
Each of these dishes is carefully curated not just to satiate but to energize and stimulate the brain. Whether it's the vitamin-rich vegetables, the lean protein, or the delicious but mindful dessert options like a chocolate chip cookie, each menu item serves a purpose. At Roam, we deeply consider the cognitive benefits of the food options we provide, making sure your team is not just fed, but intellectually nourished.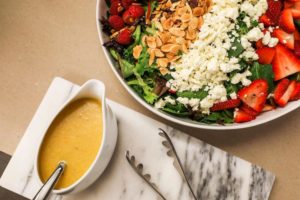 Roam: Your Ideal Partner for Corporate Event Hosting
After discussing the essentials of a great catered lunch and delving into specific menu items that can fuel your cognitive functions, it's crucial to talk about why Roam stands out as an exceptional venue for your corporate events.
Quality Food Through Local Partnerships
We understand that the quality of food can make or break a corporate event. That's why we partner with local vendors to bring you fresh ingredients that turn into unforgettable meals. Whether it's fresh vegetables for a salad, the crisp potato chips for a side, or the choice cuts of chicken for main dishes, we believe in supporting our local community while also serving you the best of the best.
A Comprehensive Service Range
Beyond food, Roam offers a comprehensive range of services that make your corporate event seamless and efficient. With customizable workspace options, complimentary A/V services, and our dedicated on-site hospitality team, we're committed to providing an all-inclusive experience. Our Meeting Coordinators will work closely with you to craft a food and beverage menu tailored to your budget and any dietary restrictions or preferences. So not only do you get quality food but also a venue that adjusts to your specific needs.
Socially Responsible Catering
At Roam, we don't just care about serving excellent meals; we're also committed to responsible business practices. When you order from our catering menu, you're participating in a socially responsible chain. Partnering with Goodr, a sustainable waste management and hunger relief company, we ensure that any surplus food from your event goes to local non-profits supporting those struggling with food insecurity. This way, your corporate event becomes a way to give back to the community.
Roam is not merely a venue but an experience that considers every aspect of your corporate function. When you choose to host your event here, you're opting for a quality, comprehensive service that takes care of everything, down to the last crumb of your favorite chocolate chip cookie. With Roam, you don't just get a space; you get a partner dedicated to making your event a resounding success.
Enhance Your Next Event at Roam with Delicious Meal Options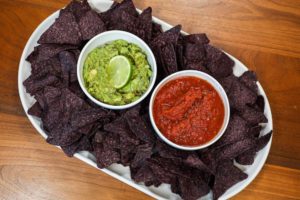 Choosing Roam as the venue for your next corporate event offers you more than just a space; it provides an all-encompassing experience designed for success. Our corporate lunch catering ensures that your guests are not only satisfied but also energized and ready to engage. The meticulous planning and execution by our Meeting Coordinators make the event hassle-free, allowing you to focus on what matters most—your agenda.
Never underestimate the role of a delicious, nutritious lunch in the success of your corporate event. Offering a range of buffets and box lunch ideas that cater to diverse dietary needs and preferences doesn't just show thoughtfulness; it significantly contributes to the overall success and productivity of the event.
So, as you plan your next corporate event, consider Roam not just as a venue but as a partner committed to making your gathering memorable and effective. We encourage you to explore our food options and various services designed to make your event stand out. Hosting your next corporate function at Roam means opting for quality, responsibility, and an unforgettable experience for all your attendees. From the boardroom to the lunch table, make every aspect of your event exceptional.
We look forward to collaborating with you for a successful and memorable corporate event. See you soon at Roam!