Live Graphic Recording
Engage meeting attendees and visualize your content with a live, real-time graphic recording and sketching of your conference, workshop or brainstorming session. Invite a Sketch Effect artist to attend your Roam event and allow them to synthesize your most important ideas, discussions and conversations into a unique, fun and creative artifact to share with colleagues and friends.
Your personal Roam Meeting Coordinator is there to remove the stress of meeting planning and offer easy, innovative solutions for elevating your attendees' experience. With his or her expertise and our partners at The Sketch Effect, offering visual graphic recording at your Roam event only requires 3 easy steps. Learn more in the video below!
Benefits of Sketch Effect
and why your meeting attendees will thank you
Increases engagement and attendee participation

Helps attendees synthesize big ideas and presentations

Aids retention, learning and memory

Infuses meetings and events with fun, energy and inspiration

Enables facilitator and attendees to easily and uniquely share content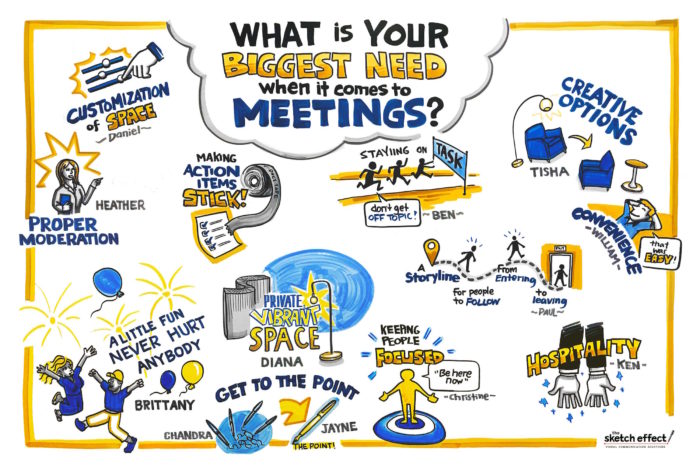 The Roam team has personally benefited from The Sketch Effect and we are eager to share this service as an enhanced offering and benefit to you and your team.
Ready to take your event or meeting to the next level? Connect with your personal Meeting Coordinator today or send us a message at [email protected] and let's get the conversation started. The Sketch Effect is sure to wow your team and have a powerful effect on your upcoming event.