Dunwoody Training Room Rental
Roam Dunwoody spans more than 17,000 square feet and provides professionals with a range of workplace offerings, including coworking spaces, private offices, and meeting spaces. The modern space includes training room rentals designed to enhance productivity, increase efficiency, and introduce staff to new skills, ideas, and knowledge.
From small group training sessions to large training workshops, a designated training space can aid in the growth of an organization and its employees. A training room rental at Roam Dunwoody can be tailored to your unique business needs and includes easy access to tech equipment, catering services, and Roam personal meeting coordinators.
"I love the different rooms that Roam has to offer. The creativity that you have put into your designs is fantastic. It opens the door to more innovation and ideation during our meetings."
Sonya Leathers, Chick-fil-A, Inc.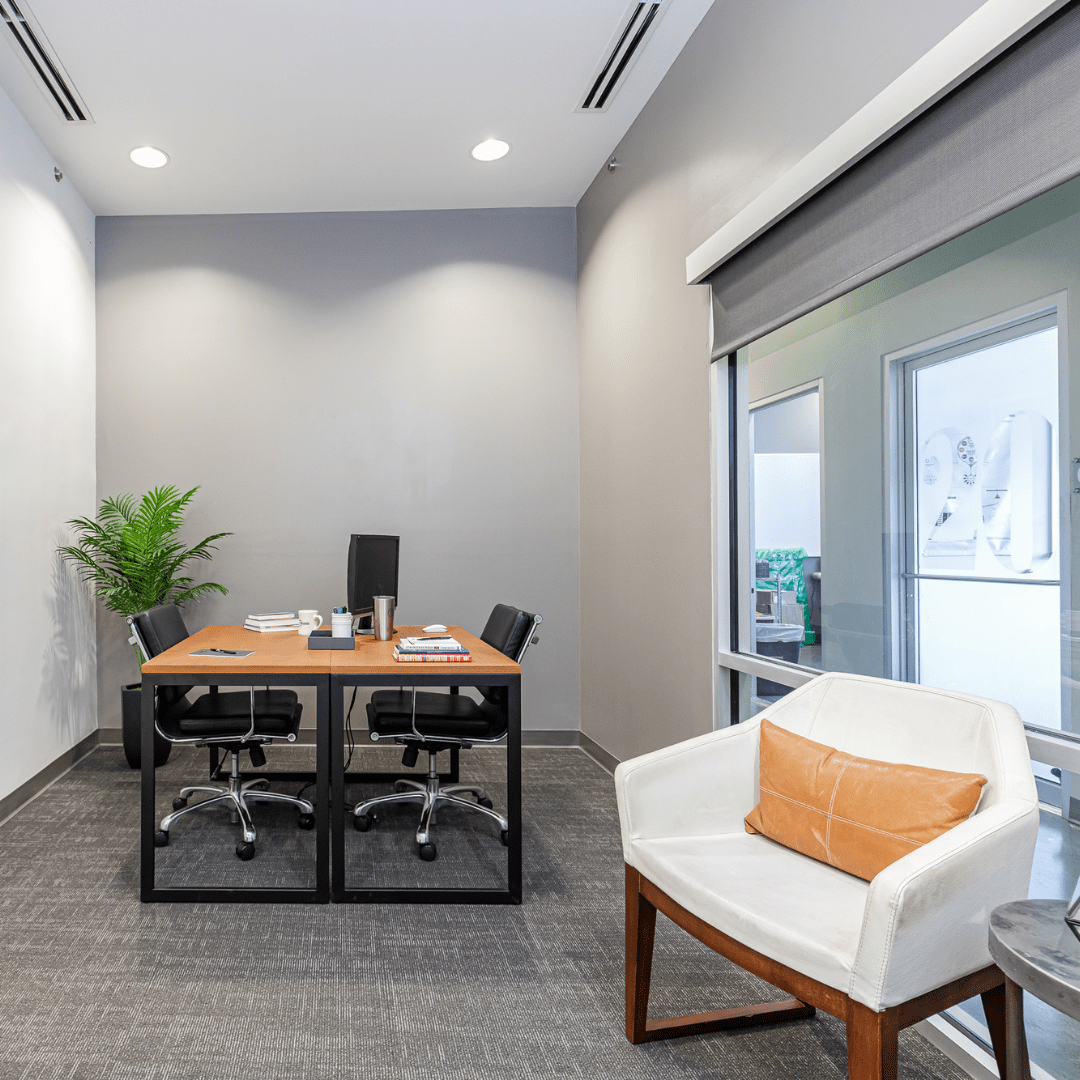 No training session is complete without the proper technology. Roam provides convenient access to tech essentials like high-speed internet, A/V and HD display equipment, conference phones, microphones, lapel microphones, podiums, and Apple TV. Whether you need to make phone calls, complete programs via wireless internet, or host a seminar, your meeting space will have tech amenities available.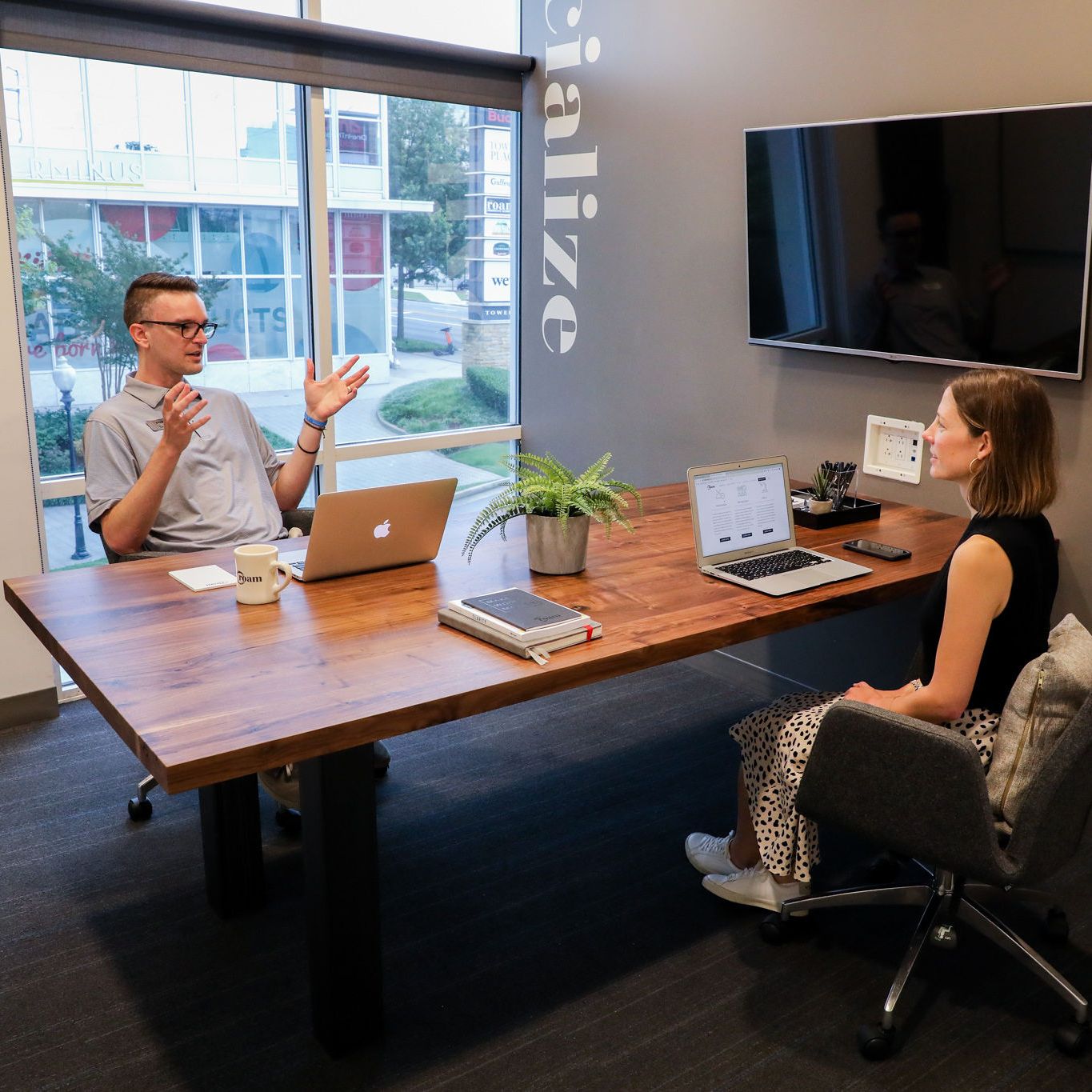 Roam has proudly partnered with local vendors to provide your training class with a range of catering menus for every dietary restriction and occasion. Our catering service meets Roam's strict criteria for excellence and ensures that your team will remain energized and content throughout the day. Choose from a variety of delicious options, from elevated hors d'oeuvres to fresh-made pizzas.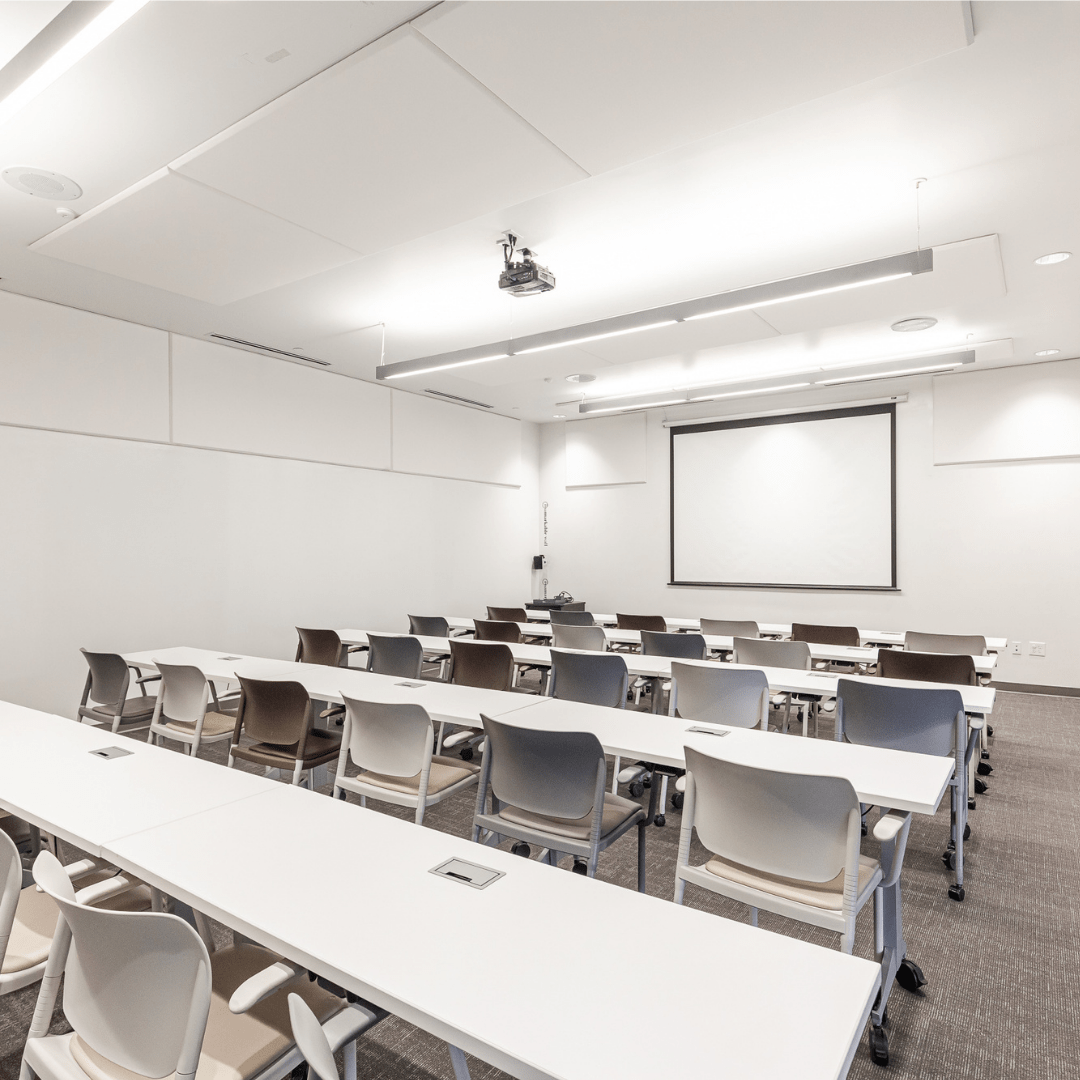 Planning any type of business meeting can be a stressful experience. A meeting at Roam includes a personal meeting coordinator who will prepare your training center for a half day or full day of activities. Roam meeting coordinators will handle all of the time-consuming and tedious tasks involved in training room meetings so that you can focus on more important things.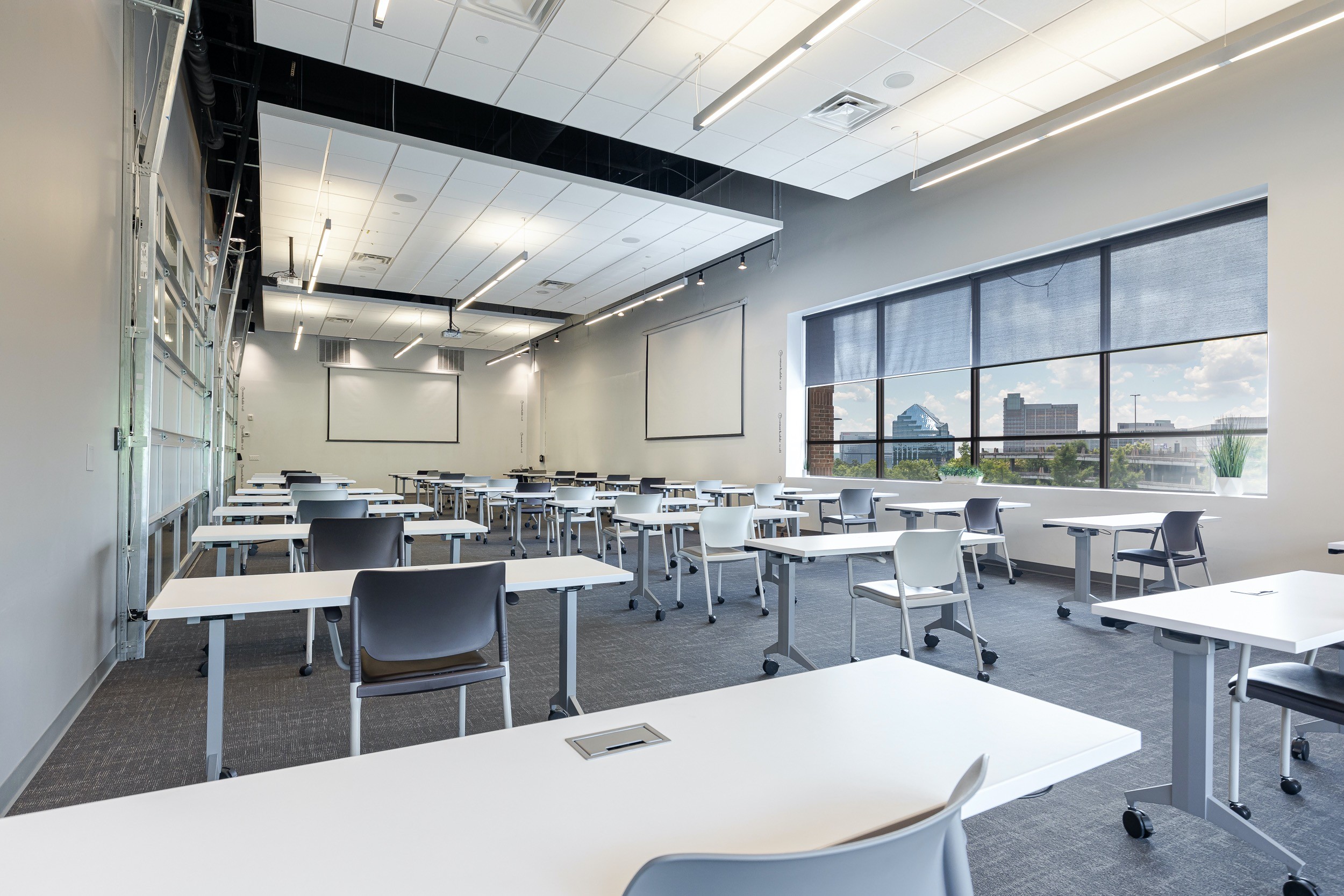 Roam hosts over 10,000 meetings a year on average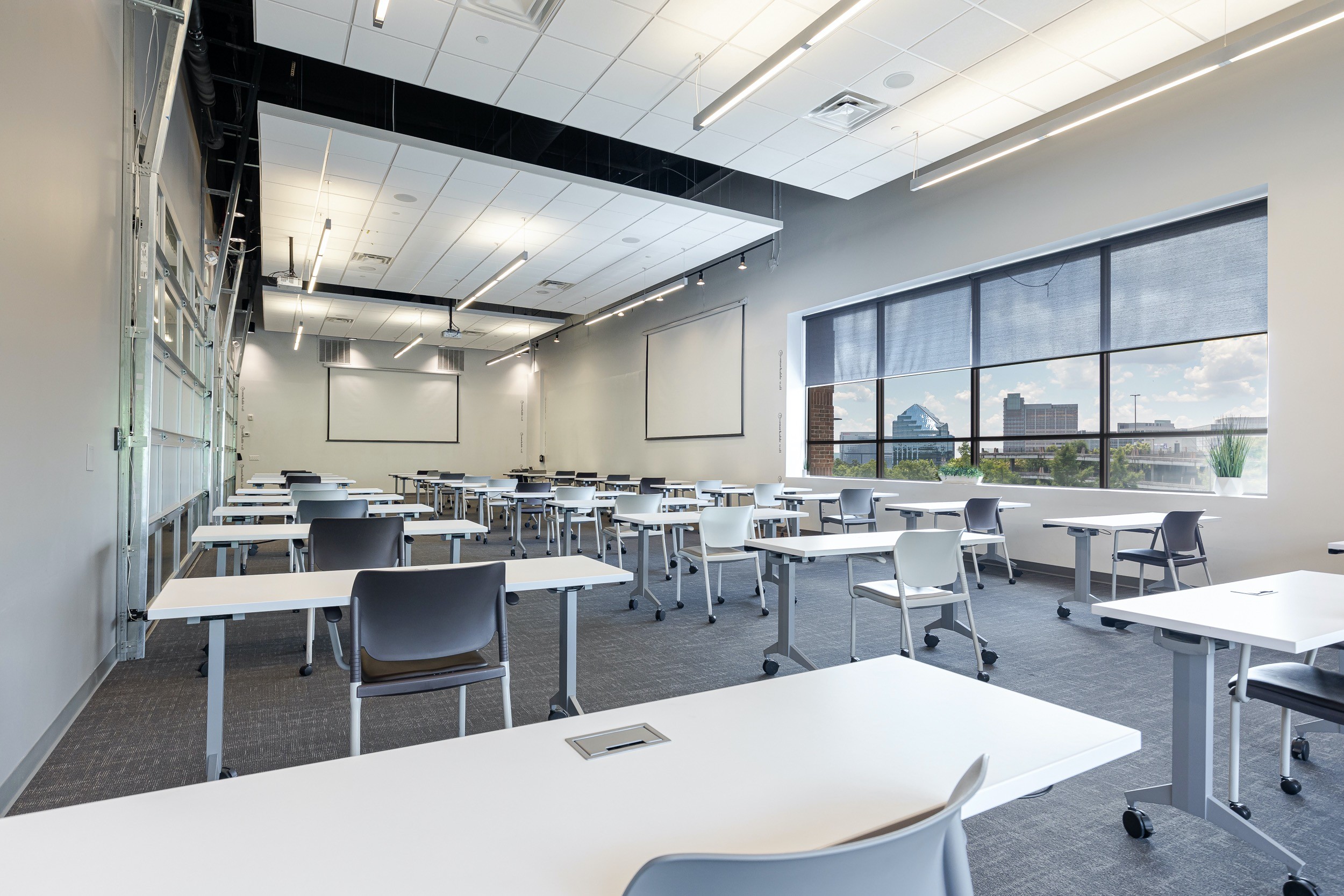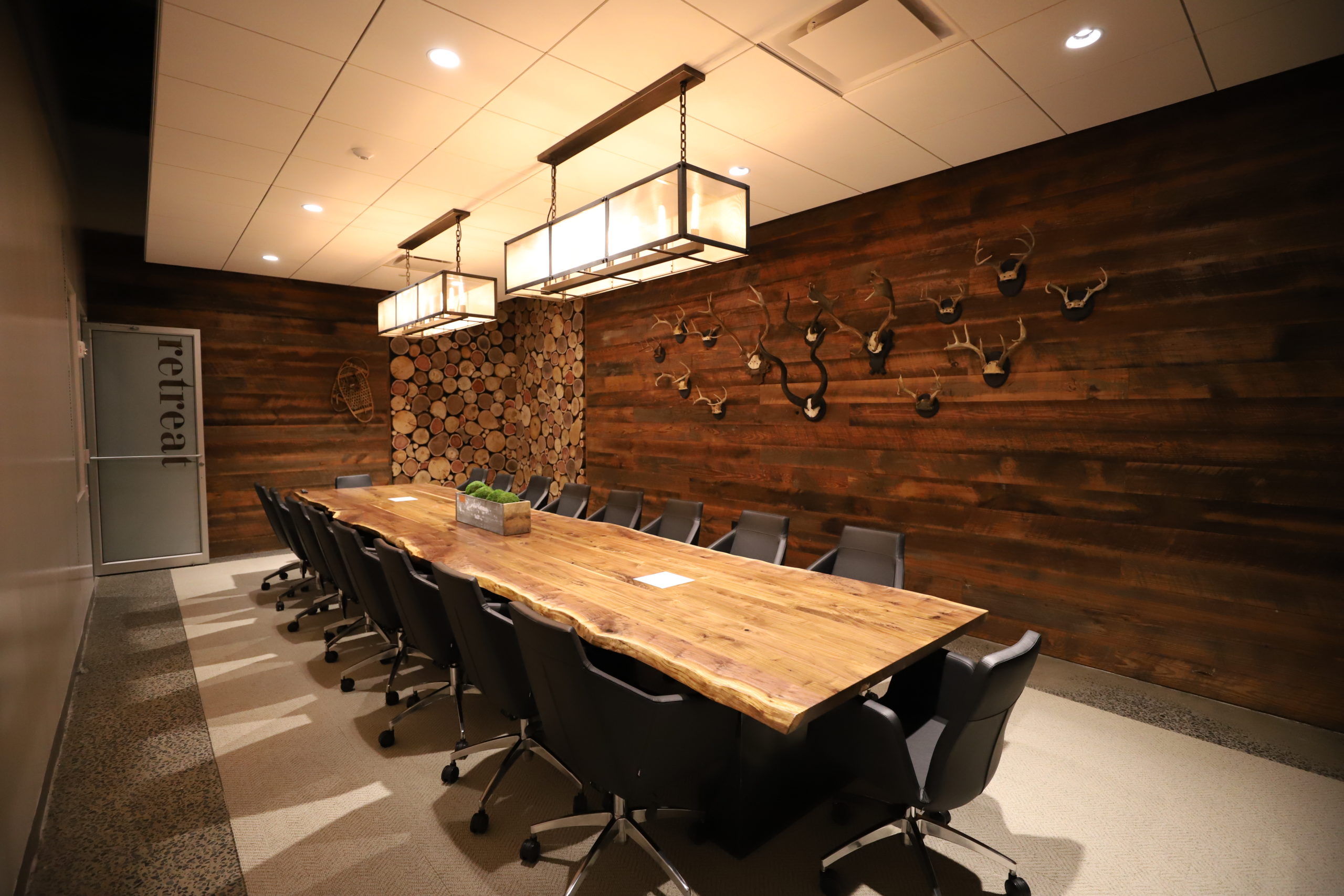 100,000 square feet of work, office and meeting space in Metro Atlanta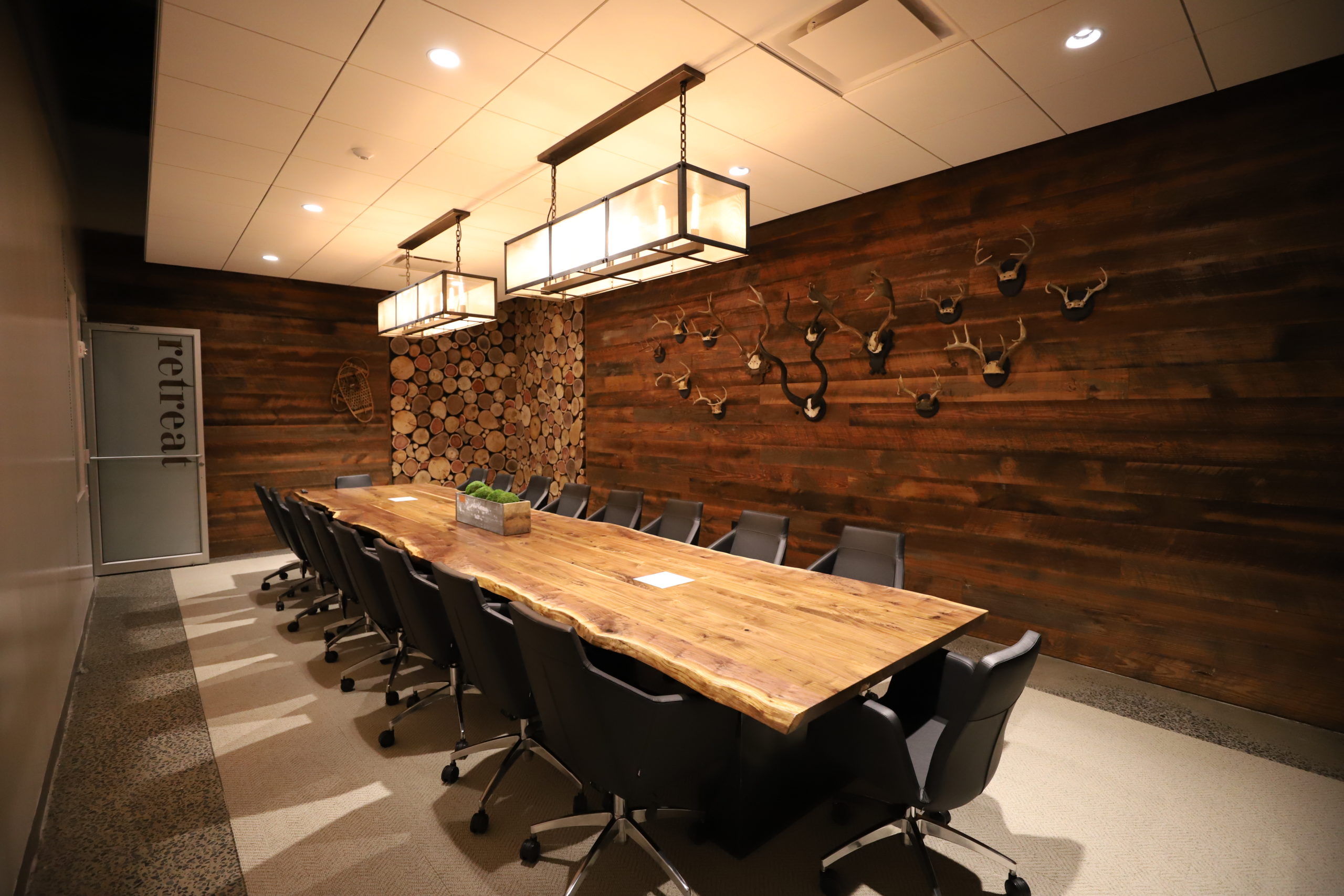 Training Room Rental Benefits
Convenient Location: Roam Dunwoody is conveniently located just outside the Atlanta Perimeter right off of GA-400.
High-Speed Internet: Enjoy business-class wi-fi wireless internet that keeps your team connected.
Free Parking: Roam offers complimentary parking available in front of our workplace for all locations.
A/V and HD Display Equipment: Our A/V and HD display equipment make giving presentations simple and effective.
Administrative Support: Roam provides administrative support to ensure that your meetings and training sessions are as smooth and stress-free as possible.
Roam training room rentals are multi-use spaces that can be used for a variety of purposes, including:
1. Meeting Room
Roam is the easiest way to book a meeting room in Dunwoody. Our convenient location, coupled with our affordable rental fee, ensures that your employee training session or meeting runs smoothly. Ensure that your next meeting is successful by securing a meeting room rental equipped with everything you need to promote productivity and collaboration.
2. Conference Room
Conference room rentals are highly versatile and can be used not only for meetings, but also for focus groups, workshops, team-building events, and other small-group activities. A conference room provides privacy, professional aesthetics, a large space to spread out, and useful amenities, such as internet access and a white board.
3. Interview Room
Renting an interview room in a private and discreet location allows for a comfortable and stress-free interview. Interviewing a potential employee is a serious matter that requires a quiet and professional environment. Roam interview rooms provide business leaders with a large space where they can get to know candidates and choose the right person for the job.
4. Board Room
Roam is the perfect backdrop for your next board room meeting. Our spacious rental facility allows business leaders to gather in a professional space and impress with their next pitch, idea, or project. Choose to elevate your board room experience with curated packages, catering services, or other add-on packages.
5. Classroom
Does your team require a classroom or meeting space to enhance their learning and promote collaboration? Rent a classroom at Roam where employees can learn in a comfortable and productive environment. Classrooms are equipped with everything necessary for effective teaching, such as high-speed internet and A/V and HD display equipment.
1155 Mt Vernon Hwy NE
Suite 800 (2nd Floor)
Atlanta, GA 30338
770.648.2921
Monday - Friday, 8am - 6pm
Rubbing shoulders with the King and Queen towers just outside the Perimeter, Roam Dunwoody is easily accessed from anywhere in the city.
Roam Dunwoody is situated just off GA-400 and the Sandy Springs MARTA station at the intersection of Mt Vernon Highway NE and Perimeter Center W in the Perimeter Point Shopping Center. Complimentary parking is available in front of the building. Roam Dunwoody is located on the 2nd floor and is accessible by stairs or elevator.
Perimeter Pointe Shopping Center

Georgia 400; Mt Vernon Highway NE and Perimeter Center W

Sandy Springs MARTA Station, Red Line