What is a Shared Office Space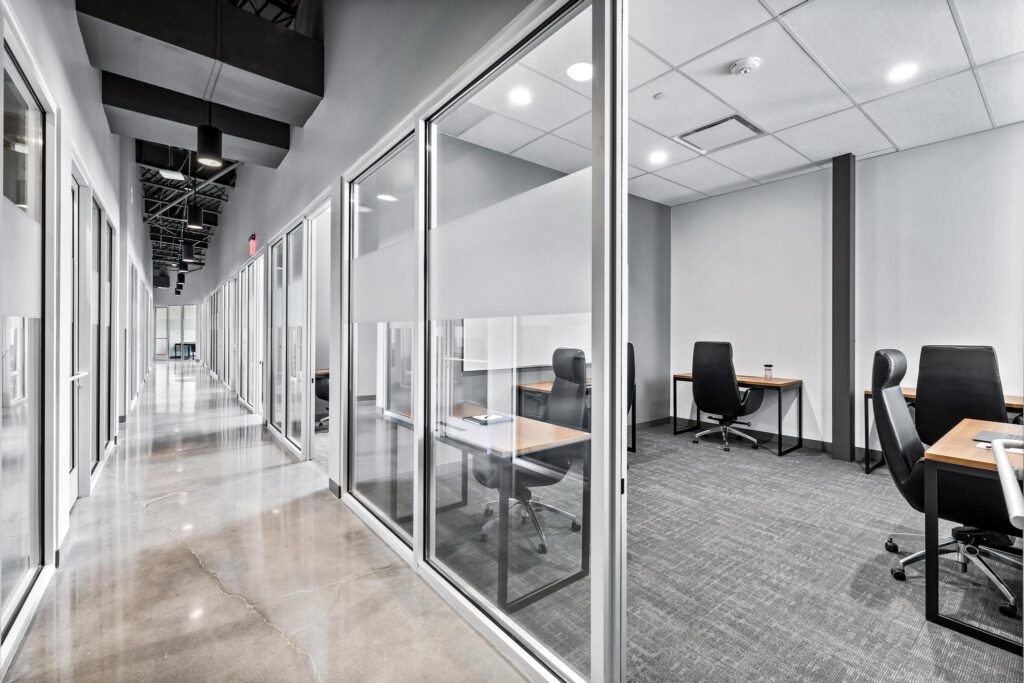 Coworking has increased steadily over the last few years, from an estimated 1.74 million members in 2017 to over 5.1 million in 2022, according to the Global Coworking Unconference Conference (GCUC). More companies are shifting from traditional office space to a shared work environment, resulting in key benefits like increased productivity, cost-efficiency, greater flexibility, and collaboration opportunities.
A shared office space, otherwise known as a coworking space, is a shared work environment that may include a combination of offices, meeting rooms, dedicated desks, virtual offices, and shared space. Common users of the office-sharing concept include small business owners, startups, remote workers, freelancers, gig workers, and consultants.
Benefits of Shared Office Spaces
For business leaders looking for a new space to work without a long-term commitment, a shared workspace is a practical and innovative option at an affordable price. Some of the biggest benefits of shared office spaces include:
Cost Savings – A shared office space can save businesses a lot of money compared to traditional office leases due to affordable monthly price plans and no overhead costs. Workers can choose a membership or office that best suits their needs and budget.
Flexibility – Shared offices offer a flexible workspace with a variety of desk and office layouts that workers can reserve based on their unique work requirements. Month-to-month terms and a variety of officing solutions equip professionals to grow and scale their business with ease.
Opportunities – Coworking spaces are social environments where workers can network, offer support, and make meaningful connections.
Amenities – Shared office spaces can boost productivity by providing workers with access to a wide range of professional amenities, such as high-speed internet, onsite printing, mailing services, and conference room rentals.
Types of Shared Office Spaces
Whether you're a small company just starting out or an established corporation, your team can benefit from a shared workspace. The most common types of shared office spaces include:
1. Coworking Spaces
A coworking space is a professional-style shared work environment in which members pay a monthly fee to use the shared space. While every coworking space is unique, the general concept of a coworking space allows professionals to share an open office layout at a lower cost than what they would pay for a traditional office lease.
There are also other unique differences. For example, a traditional office is made up of employees from a single organization, while a coworking space invites professionals from many different companies to work amongst one another. This creates a diverse culture that fosters productivity, creativity, and collaboration.
2. Executive Suites
An executive suite is a type of arrangement in which a business rents a space within a larger office building and shares resources, such as conference rooms, lobbies, and reception areas. This arrangement appeals to many professionals as they are able to rent only the amount of office space they need and gain access to shared common areas.
Executive suites can provide growing businesses with a professional image, whether you're a small business owner or a Fortune 500 company. They are also fully scalable, allowing businesses to add additional offices as the business grows. Executive suites also offer access to conference rooms where teams can enjoy a collaborative workspace.
3. Serviced Offices
A serviced office, also known as a business center, is a fully equipped office space that operates on a pay-as-you-go basis. These offices are often used as an alternative to conventional office spaces and allow businesses to rent out single office spaces or entire floors.
Serviced offices are often favored for their flexible, short-term leases and cost-effectiveness. This type of office arrangement also provides businesses with access to all of the facilities they need to run a business, such as networking spaces, meeting rooms, and reception services. With prime real estate locations across the United States, businesses also have a choice of where to establish a base.
4. Sublet Offices
Subletting is a unique office arrangement in which a primary tenant rents space from a landlord and then subleases the office space to subtenants. The subtenants then pay rent to the primary tenant, who is responsible for paying the entire rent to the landlord.
There are several advantages to subletting office space, such as cost savings. It can be more cost-effective to sublet an office rather than lease or rent an entire office space. Subletting also gives workers a secure workspace on a temporary or short-term basis, which can be especially useful if the business is in transition.
5. Dedicated Desks
A dedicated desk refers to a desk that is rented by a specific individual. These desks are generally rented long-term, meaning they are not booked for a single day. Having a dedicated desk allows the user to leave their supplies on the desk for use the next work day.
Dedicated desks are the ideal work environment for one person. These fully furnished, individual workspaces give workers month-to-month flexibility, as well as access to great amenities, such as a mailbox and monthly meeting room hours. A dedicated desk workspace includes a desk and chair for a turnkey work environment.
6. Virtual Offices
A virtual office provides businesses with convenient office-related services without the overhead of administrative staff and a long lease. Most virtual offices are focused on business mailing services. This allows companies to maintain a physical commercial mailing address without a physical office space to help them maintain a professional image whether they work nearby, out of state, or fully remote.
Virtual offices are unique because companies that use them do not exist in any specific location. However, the emergence of messaging services and videoconferencing tools has allowed many businesses to maintain a virtual office without having to travel to a physical commercial building each day.
How Shared Office Spaces Work
A shared office space refers to an open workspace where workers from multiple teams or businesses come together to share a professional work environment. Shared offices allow workers to essentially split the cost of a larger space and enjoy a beautiful workspace equipped with highly sought-after features and amenities. This arrangement is the perfect fit for entrepreneurs, small teams, freelancers, remote employees, and corporations looking to downsize their corporate footprint
With shared office space, workers can choose from several membership options and pricing models. At Roam, memberships range from our Basic package which offers members all location access and meeting room hours, to our Premier package which offers these perks, in addition to guest access, unlimited drip coffee, digital advertising, mailbox, and more.
Shared office environments also provide members with access to a range of great amenities and workplace features. Roam members have access to business class Wi-Fi, onsite printing services, unlimited access to all Roam workplaces, all equipment needed for A/V and HD display, access to first-come, first-service work environments, a full-service onsite coffee bar, and the ability to book on-demand meeting rooms through Roam's online booking system.
Having a safe and secure place to work is important to remote workers. Roam strives to eliminate security concerns by providing members with lockable, fully customizable workspaces. Access control is also a top priority; therefore, Roam has implemented a Guest Access Policy that enables members to host up to two guests in the coworking area for up to two hours at a time. Guests must first be registered in the member portal and are limited to one visit per week.
Choosing the Right Shared Office Space
Shared office spaces can be a budget-friendly option for businesses of all sizes. However, there are some factors you'll want to keep in mind when choosing a space that will accommodate your company's needs. First, consider the location of the shared office. Ideally, the location should be close to most team members and in a convenient location for meeting clients. Also, consider accessibility when choosing a location to ensure that clients can easily find you.
Next, consider the office environment and atmosphere. It's no surprise that the community and atmosphere in an office can have a direct impact on employee productivity and morale. Choose an office space that is quiet and has a professional feel.
Another factor to consider when choosing a shared office space is the features and amenities offered to members. An office space is more than just a room with a permanent desk. It should be a collaborative space where team members can work productively and have access to the items they need, such as high-speed internet, printers, and coffee stations. At Roam, members also have access to services designed to help grow their business, such as virtual assistance services.
Finally, you'll want to review pricing options before choosing a shared office space, this is especially important for startups or small businesses with limited budgets. Choose a membership option that meets the needs of your organization without breaking the bank. Fortunately, shared office spaces can be scaled, meaning you can rent more or less space as needed to accommodate your team.
Flexible Shared Office Spaces at Roam
Roam offers professionals the ultimate work, meet, and office solution. With locations in Atlanta, GA, and Dallas, TX, professionals can experience a better way to work by gaining exclusive access to private office spaces, coworking spaces, meeting rooms, and more.
Businesses that choose a shared office space can enjoy a range of key benefits, from noticeable cost savings and flexible leasing options to networking opportunities and access to premier amenities. Contact Roam today to learn more or to schedule a tour of our shared office spaces.