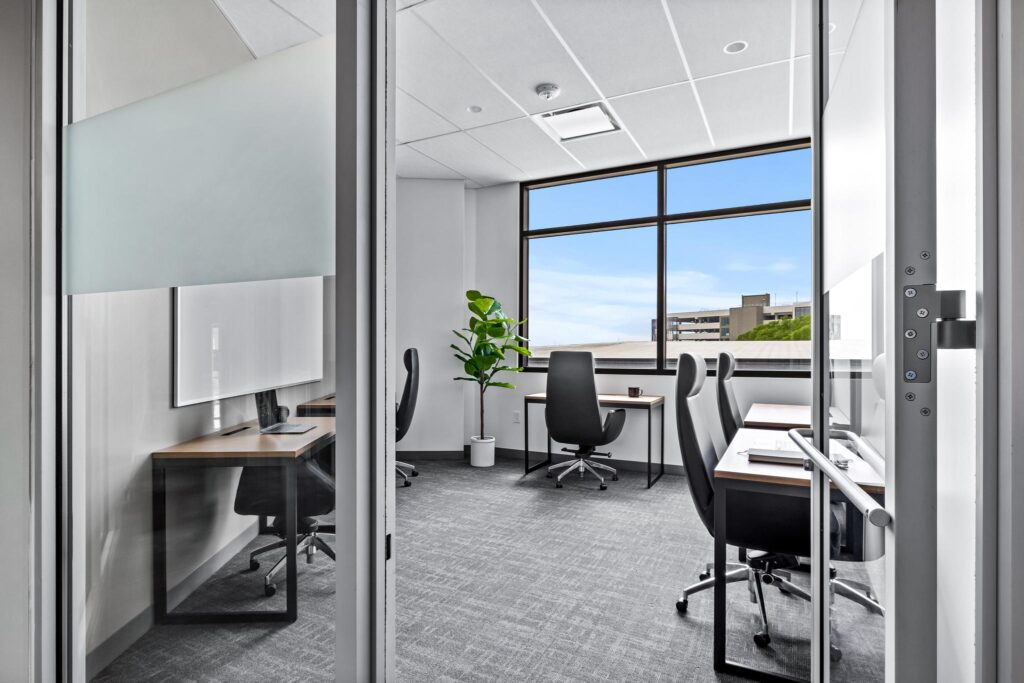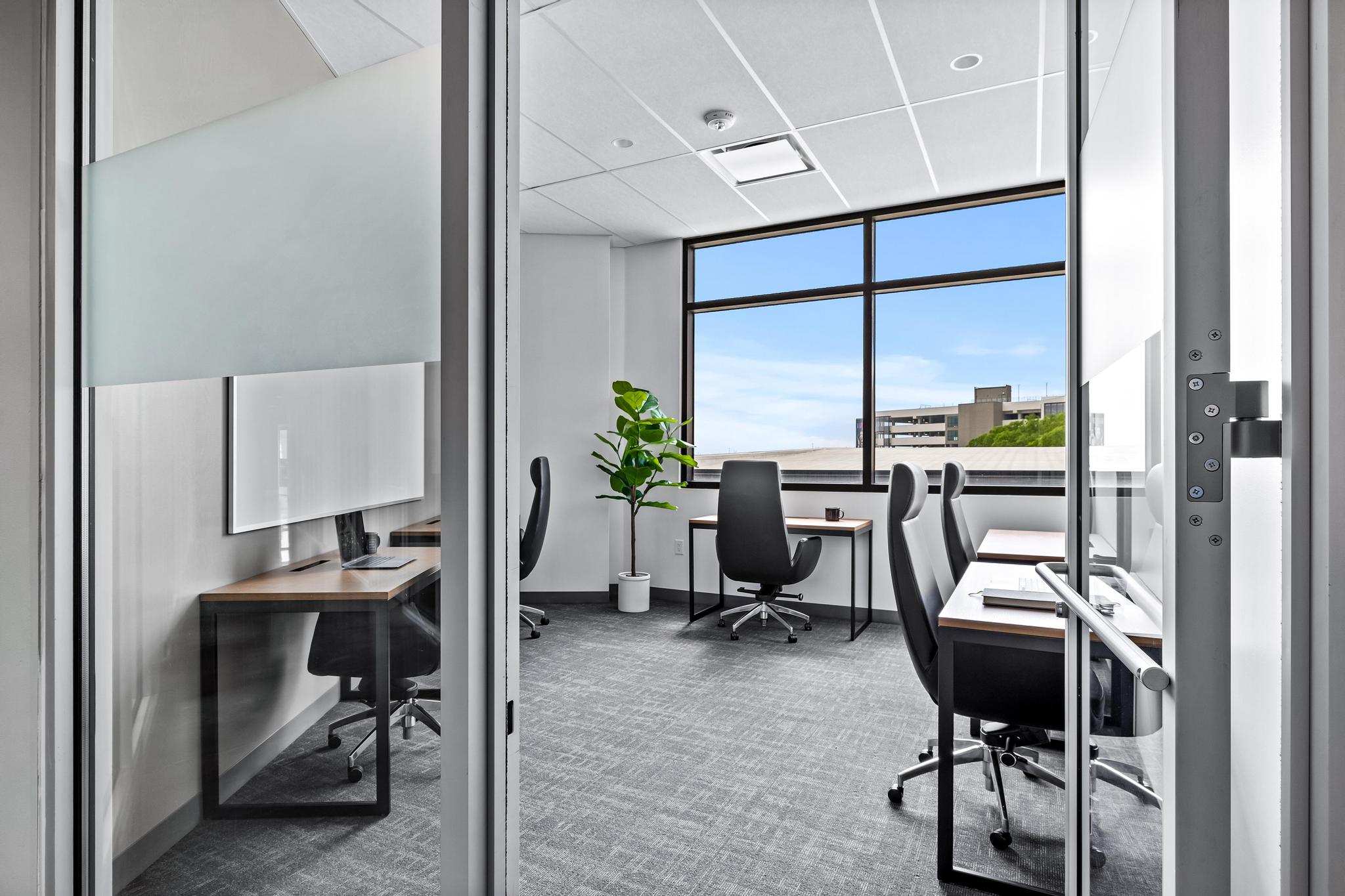 A flex office, also known as a flexible office or shared workspace, is a type of office space that provides businesses and individuals with flexible and adaptable workspace solutions. These spaces offer a range of amenities and services, such as shared workspaces, private offices, meeting rooms, and virtual offices, that can be rented on a short-term or long-term basis.
Flex offices are designed to meet the needs of a wide range of businesses and individuals, from freelancers and startups to large corporations looking to establish a satellite office or accommodate a mobile workforce. Flex offices are becoming increasingly popular due to their affordability, flexibility, and the ability to offer a collaborative work environment.
Characteristics of a Flex Office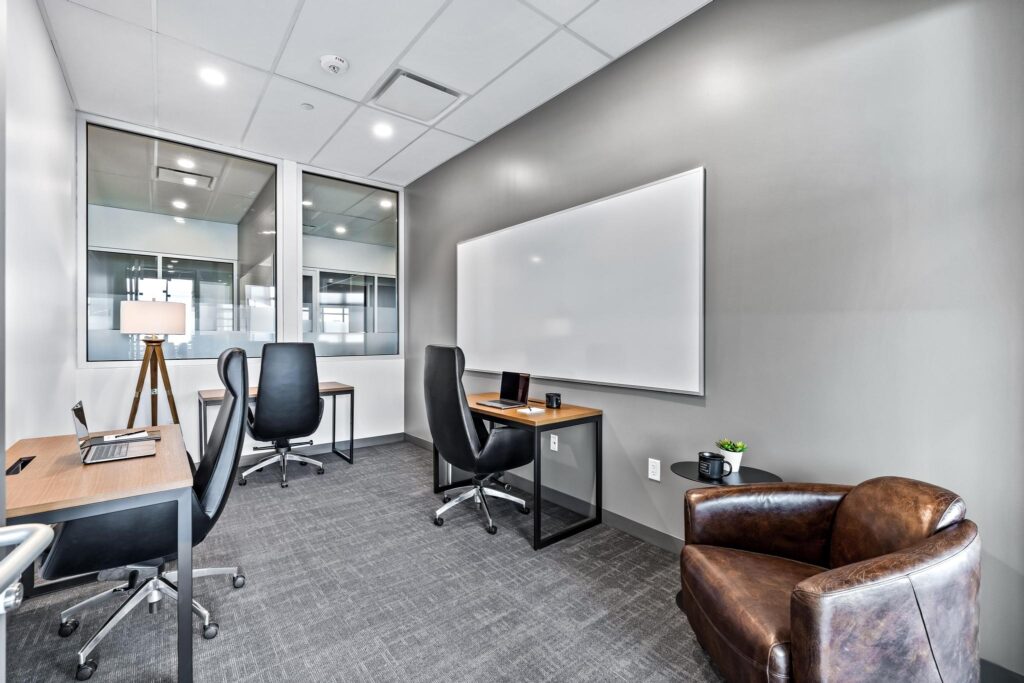 Flexible and Adaptable Workspaces
Work environments have changed drastically over the last several decades from small cubicles where employees worked independently to open-plan layouts that foster communication and collaboration.
Flex offices allow for custom workspace configurations, equipment, and services to fit the needs of each individual person. This adaptability means businesses can easily scale up or down depending on their needs, allowing for greater agility and flexibility.
Shared Spaces and Amenities
Flex office spaces typically offer a range of amenities, such as meeting rooms, common areas and high-speed internet access. These amenities can help businesses operate more efficiently and effectively.
Technology-Driven Infrastructure
Professionals have access to equipment like LED screens and projectors, whiteboards, HD display, conference phones, webcams, and access to business-class Wi-Fi.
Service-Based Support
Service-based support is a critical aspect of flex offices that enables businesses to focus on their core operations while delegating administrative and facility management tasks to a dedicated team of professionals. This support can include front desk services, mail handling, IT support, cleaning services, security, and more.
The service-based support is designed to be flexible and scalable, allowing businesses to adjust their service needs based on their changing requirements. This type of support is particularly valuable to startups and small businesses that may not have the resources to manage these services on their own.
Benefits of a Flex Office
Flex offices offer several benefits to businesses including:
Cost-effective – With flexible space, businesses only pay for the amount of space they need. Traditional office leases often have high rental rates or real estate costs that can make it difficult for a business to grow financially. A flexible workspace enables businesses to cut costs and easily scale up or down on short notice.
Promotes collaboration and innovation – Even in a hybrid work arrangement, businesses are presented with certain challenges, such as how to gather employees in one place. A flex space promotes collaboration between team members which can spark creativity and innovation.
Provides a better work-life balance – Many modern employees seek greater flexibility at work. A flex office can provide employees with a better work-life balance by allowing their work schedule to adapt to their changing needs at home.
Increases productivity and efficiency – For many entrepreneurs and businesses, a flexible office space creates a more structured and productive work environment where workers can focus on important projects.
Attracts and retains top talent – Attracting and retaining top talent is no easy feat, especially in today's competitive market. Offering job applicants and existing employees the opportunity to achieve more flexibility in their work environment can be a major incentive.
Types of Flex Office Spaces
1. Coworking Spaces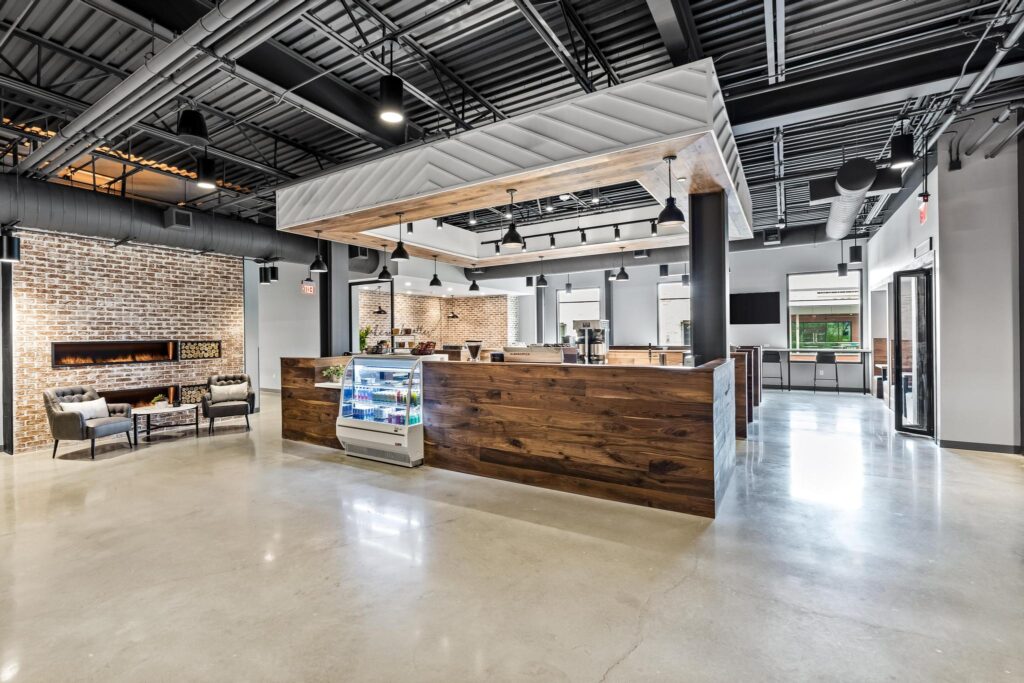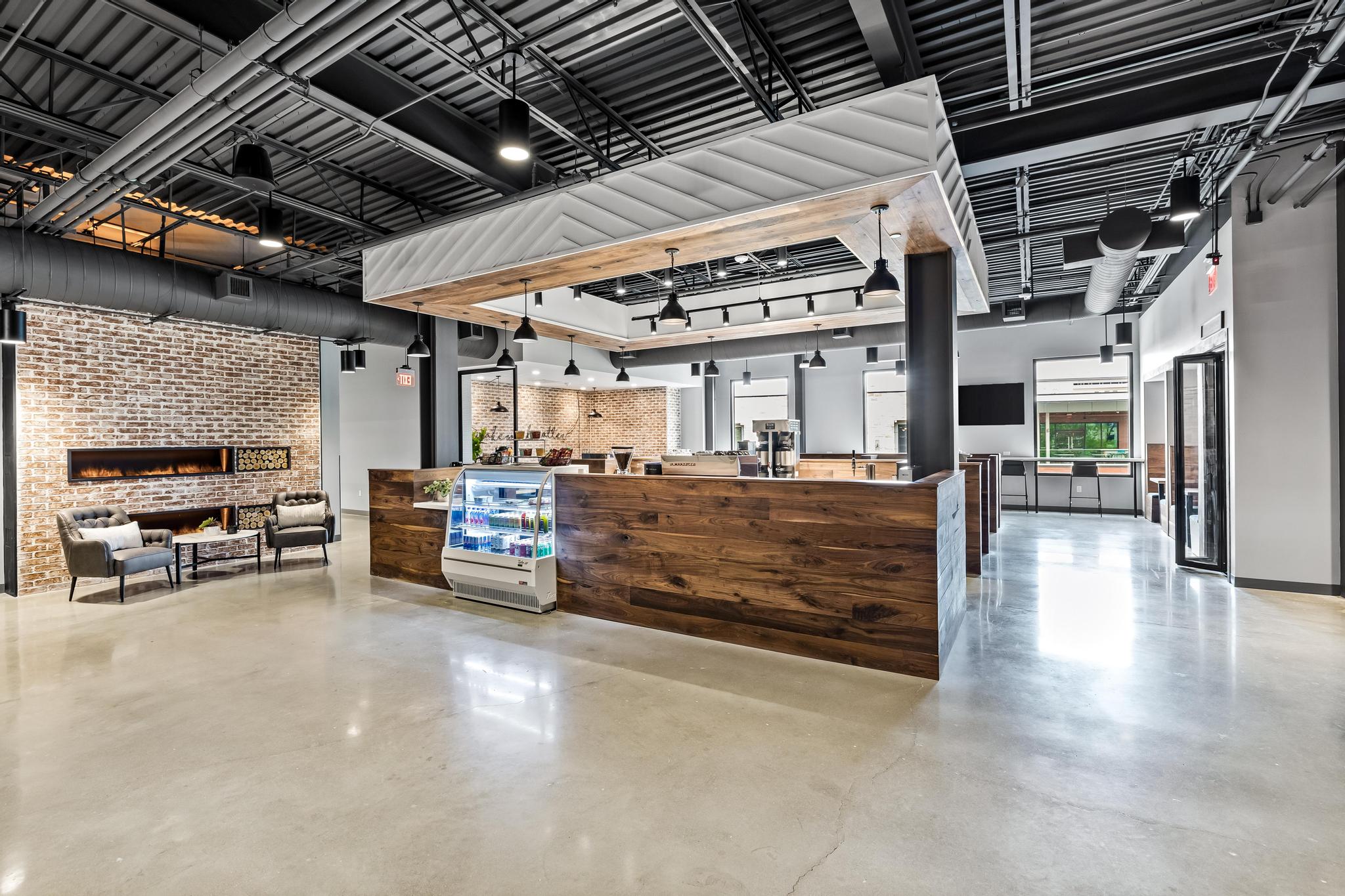 Coworking spaces is a shared workspace where professionals from different companies work in a common space. Shared workspaces typically offer a variety of work arrangements, such as a private office space, dedicated desk, or shared desk area. These work environments also provide amenities like coffee and printing services.
Roam coworking spaces provide members with access to private areas where they can host meetings, brainstorming sessions, presentations, and more. Conference rooms can accommodate two or over 200 people and are equipped with complimentary A/V, full-service catering, and other personalized business services.
2. Business Centers
A business center is a fully-equipped facility that provides a variety of office services and amenities to support businesses of different sizes and types. Business centers are typically located in central business districts and offer furnished offices, meeting rooms, conference facilities, and other administrative support services.
They are designed to provide businesses with a professional environment without the need for a long-term lease commitment or significant upfront investment. Business centers are particularly popular among startups, small businesses, and remote workers who need a flexible workspace with access to essential office resources. They can also offer networking opportunities with other businesses and professionals who use the space.
3. Virtual Offices
A virtual office is a popular component of a flexible workspace in which businesses are given a combination of space, technology, and services. With a virtual office, professionals are provided with a business address and a place to receive mail. They also have access to physical office space and meeting rooms without having to commit to a long-term office lease.
Virtual offices deliver members a dynamic workspace within commercial real estate while still enabling professionals to work where they want. Having a business postal address can help an up-and-coming entrepreneur or small business appear more professional, and premium services allow workers to maximize their productivity.
4. Hybrid Flex Spaces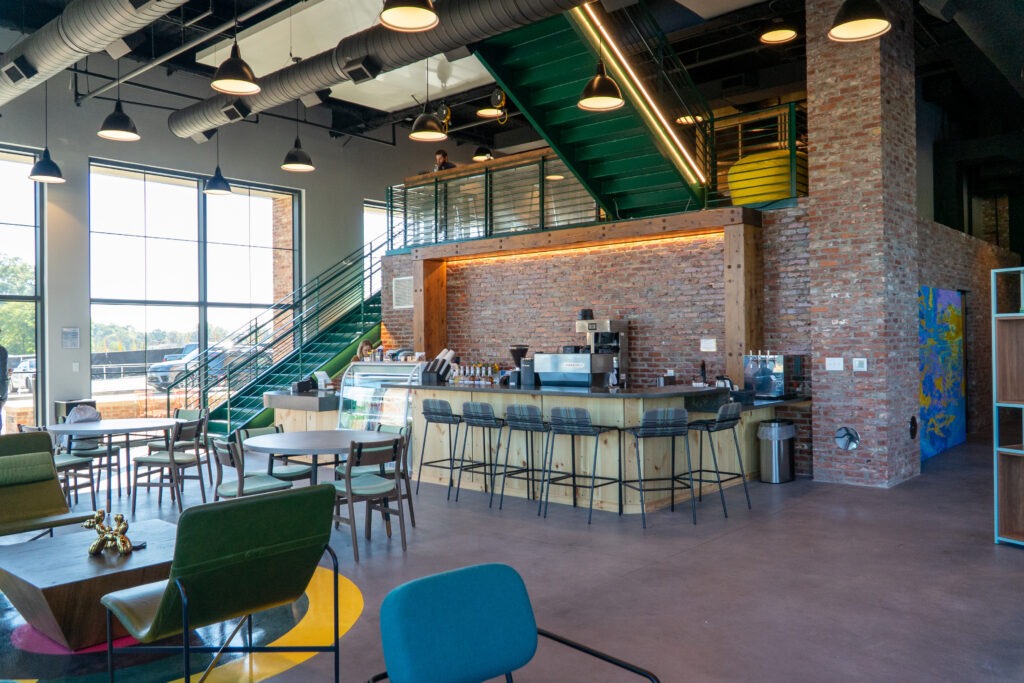 A hybrid flex space is a type of office space that combines the elements of both traditional and flexible office spaces. This type of office space typically includes private offices, shared workspaces, meeting rooms, and other amenities that are common in both traditional and flexible office spaces.
Hybrid flex spaces have grown significantly in popularity over the last few years. As more companies choose to let their employees work outside the office, hybrid offices enable these workers to continue being productive in a professional environment.
Hybrid flex spaces deliver the flexibility that modern companies need to adapt to the changing business landscape. With a hybrid office, companies can accommodate both in-office and remote workers. A hybrid space provides individuals and teams with the right space and tools to do their best work.
Challenges of a Flex Office
Security and Privacy
Security and privacy are always a concern for businesses, especially those who frequently work with sensitive information. Fortunately, there are some solutions to this problem. Choosing a private office or dedicated desk allows businesses to gain access to a private, lockable space that they can access round-the-clock.
Control and Autonomy
Unlike a traditional office lease in which a business has total control over the ongoings within the commercial building, a flex office is shared, meaning no one member has complete control. Workspaces are available on a first-come, first-serve basis; however, there are many workspaces to choose from and plenty of room for everyone.
Communication and Collaboration
Flex workspaces can pose certain challenges in terms of communication and collaboration. In a flex work environment, not all team members may be present, which can make it difficult to bring everyone together. An effective solution is to host regular meetings in a conference room and require all team members to be present.
Cultural and Organizational Differences
People of all different backgrounds, skill levels, and industries can be found in a coworking space. Professionals entering a flex space need to be understanding of these cultural and organizational differences. This allows all members to feel comfortable and productive in their work environment.
Future of Flex Offices
Rise of Remote Work and Distributed Teams
With the significant rise of remote work, distributed teams are quickly becoming the norm. In fact, the Bureau of Labor Statistics suggests that 73 percent of all teams will have remote workers by 2028.
Remote work has proven to be a powerful tool to boost job satisfaction and enhance employee work-life balance and mental health. When employees are given the freedom to communicate and collaborate from anywhere, they have more opportunities for a flexible lifestyle.
Integration of AI and IoT
Emerging technologies in flex offices are changing the way that businesses work. Artificial intelligence (AI) and machine learning technologies are expected to play a key role in the flexible workspace industry. These tools are already being used behind the scenes to automate administrative tasks and interpret data.
The Internet of Things (IoT), which is made up of a growing network of connected devices, is also expected to be used as part of a broader building management strategy, such as monitoring workspace conditions.
Focus on Wellness and Sustainability
Flex offices are increasingly adopting sustainable and wellness-focused practices to create workspaces that support the physical and mental well-being of employees and the environment. These practices can take many forms, such as offering on-site fitness centers, healthy snacks, and energy-efficient lighting. By focusing on wellness and sustainability, businesses can enhance their reputation, improve employee productivity and engagement, and reduce costs. As the demand for flexible office solutions continues to grow, we can expect even more innovation in this area, leading to healthier, more sustainable workspaces for all.
Roam Offers a Comprehensive Work, Meet, and Office Solution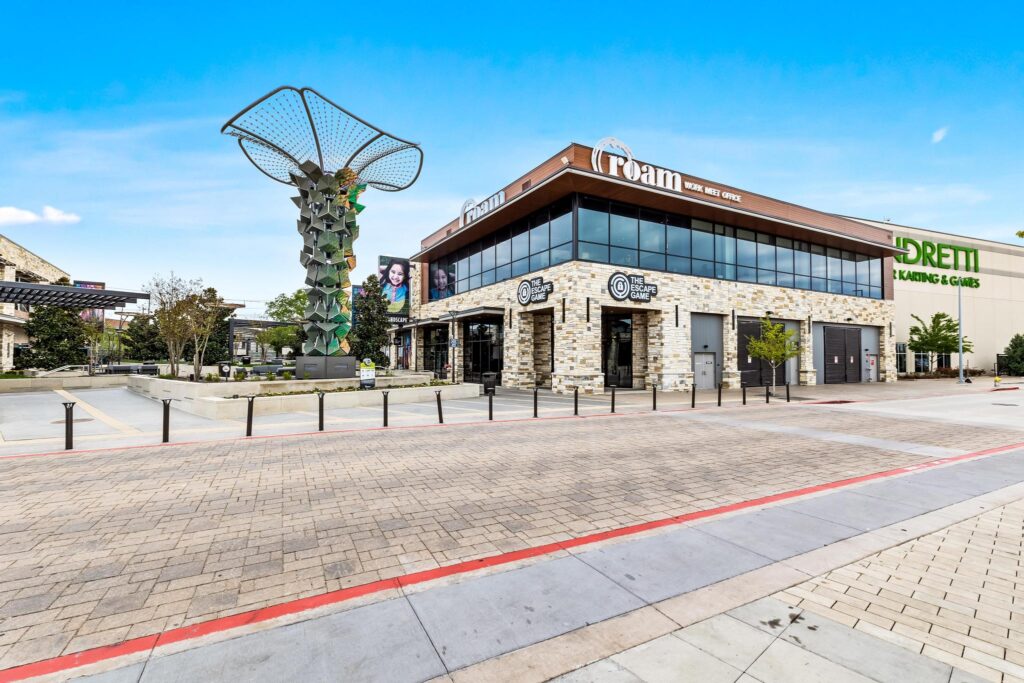 Roam offers members a better way to work remotely with monthly, flexible memberships and access to safe, professional workspaces. To learn more about this work, meet, and office solution, contact Roam today.