Tips for Planning Your Corporate Holiday Party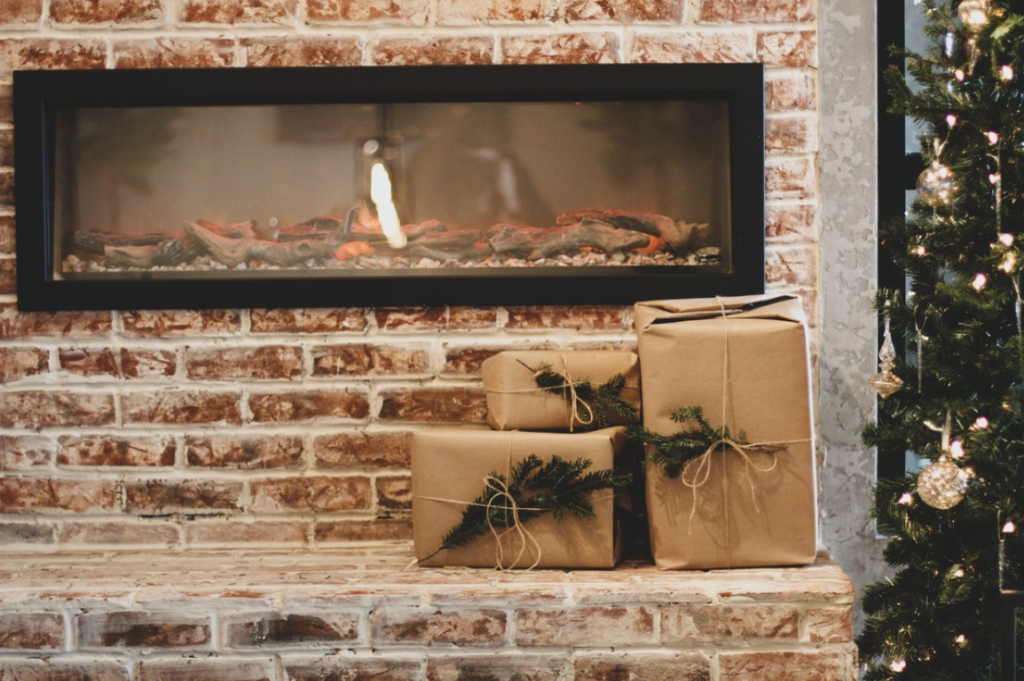 The holiday season is fast approaching and with it, the anticipation of spreading holiday cheer and spirit throughout your team. The season brings a sense of camaraderie, creating opportunities to bond, celebrate the year's achievements, and show appreciation for hard work. At the heart of these celebrations is your company's holiday party – a symbol of fun, thankfulness, and the festive atmosphere that surrounds the Christmas season.
Unfortunately, organizing a successful and memorable company Christmas party can be a daunting task. From choosing the right venue to deciding on the food and entertainment, the sheer amount of decisions can seem overwhelming. This is where Roam can help. With an established reputation for hosting engaging and creative events, we offer unique, inclusive meeting spaces to help companies throughout Atlanta and Dallas stage the perfect company holiday party. So, whether you are hosting an intimate gathering or a grand celebration for 200, our team is on hand to make the planning process easy and stress-free.
As we guide you through practical and innovative tips for planning your company holiday party, it's essential to remember that the goal of such festivities is not just to mark the end of a year. Instead, it's an opportunity to reward your team members for their hard work, build stronger bonds within different departments, and wrap up the year on a high note enveloped in the holiday spirit.
Theme and Location: Deciding on the Perfect Christmas Party Exchange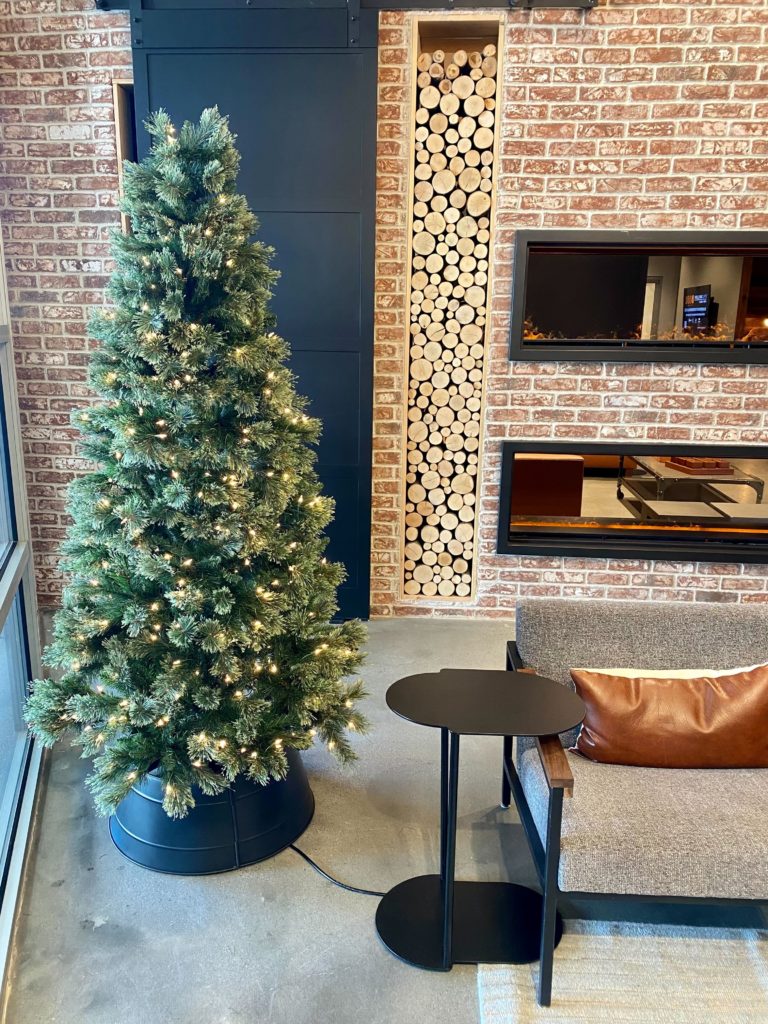 Every great party begins with a theme. It helps set the tone for the entire event and guides your decorations, attire, food, and even the games. Different themes can cultivate different vibes, from comical with an Ugly Sweater Contest, heartwarming with a Secret Santa Gift Exchange, or interactive such as a Christmas-themed scavenger hunt. Each of these themes provides an opportunity for your team members to interact in smaller groups, fostering a friendly competition within the corporate event.
Now, with a theme in place, it's time to think about the venue. At Roam, we offer versatile locations throughout Atlanta and Dallas. Each space can be tailored to match your theme, transforming it into a world of festive decorations topped with a Christmas tree. From magical twinkling fairy lights to the aroma of pine and cinnamon, every Roam location becomes a mini winter wonderland, transporting your team into the festive season in full swing.
We understand that some companies with remote teams across the country might prefer to host a virtual Christmas party or a hybrid model. Virtual holiday parties are not only a reasonable alternative, but they also allow for a unique way to include remote teams. Drawing inspiration from our extensive experience in organizing remote team-building activities, a virtual Christmas party led by Roam doesn't just mimic the in-person experience – it creates a shared experience that employees will remember fondly.
Ultimately, whether in-person, virtual, or a combination of both, your venue should carry the ambiance of Christmas time and foster a festive atmosphere consistent with your theme.
Entertainment and Games: Keeping the Holiday Spirit High
Once your theme and venue are locked down, it's time to focus on entertainment and games. Important components in any company Christmas party, are fundamental in spreading the holiday cheer and engaging and connecting team members.
At Roam, our experience in event organization lends itself to suggesting an array of exciting and engaging games and activities. Looking to embark on a festive team-building adventure? Why not try a murder mystery game? Engaging, suspenseful, and thrilling, it promises to keep your team on the edge of their seats. The murder mystery game works perfectly for any setting – in-person, or virtual, enhancing team spirit while ensuring laughs all around.
If you're aiming for a lighter and more casual vibe, consider a photo booth session, equipped with Santa hats, oversized candy canes, and ugly sweaters. Not only does it inject fun into the office holiday party, but it also leaves everyone with quirky keepsakes, definitely Christmas card-ready!
Music is another great addition to the company Christmas party. Whether it's a live band playing jazzy Christmas Carols or a curated Spotify playlist featuring the best of festive tunes, capturing that Christmas spirit is essential. In a virtual setting? Have a shared playlist everyone can contribute to, making it a truly inclusive and personalized experience.
And here's a thought for those looking to add a unique touch to their festivities – the 'Make Your Own' cocktail or hot cocoa bar could be the perfect way to spread holiday cheer and enthusiasm. It gives team members the chance to mingle or to interact virtually while being creative and indulging in delicious drinks, a win-win situation!
Roam has been at the forefront of organizing immersive and engaging company holiday parties throughout the years. Our expertise in coordinating both physical and virtual experiences ensures that regardless of your company's needs and preferences, we can design an event that excites and fulfills at every level.
Food and Beverages: Fitting for the Festive Season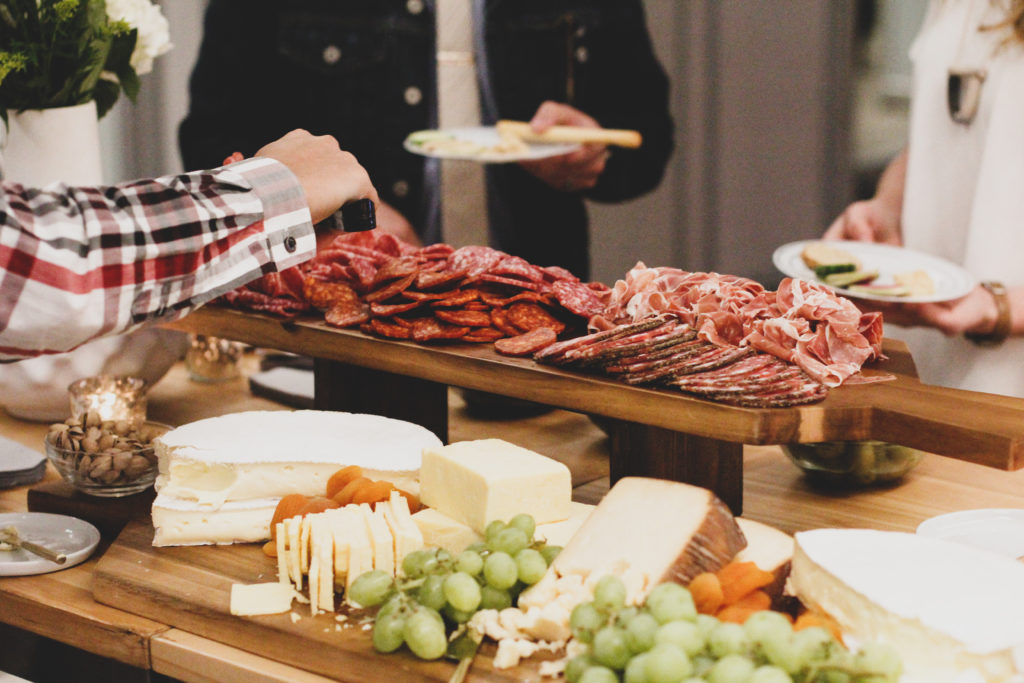 No company Christmas party is complete without a spread of delectable food and beverages that perfectly encapsulate the festive season. Great food and drink aren't just delicious—they also bring people together, spark conversations, and often become a talking point in themselves!
At Roam, we understand the role food and drinks play in creating a truly unforgettable Christmas party experience. Our catering services offer a wide range of options—from an elevated hot cocoa bar perfect for the chilly winter season to our delectable holiday happy hour and charcuterie package—there's something for everyone. If you want to keep your employees hooked throughout the event, how about including seasonal hors d'oeuvres from A Seasonal Affair, one of our premium catering partners in Atlanta?
To elevate the experience, consider a plated or chef-attended dinner. Having a chef in attendance not only ensures freshly prepared food but also adds an element of charm and sophistication to your event.
If you're hosting a virtual Christmas party, don't worry. We've got you covered. You can consider arranging a virtual wine-tasting session where wine can be delivered to each team member's doorstep! Alternatively, virtual hot cocoa bars can be a big hit too with kits delivered to your team members, combining the best of the party feels with the cozy comfort of home. 
Finally, no holiday season is complete without themed cocktails. From warm, spiced toddies to icy martinis, our custom cocktails (we recommend Crantinis or a bubbly bar) can add the right amount of festive cheer to your event. For virtual attendees, consider sending out cocktail kits and hosting a virtual mixology class—it's interactive, fun, and results in delicious drinks!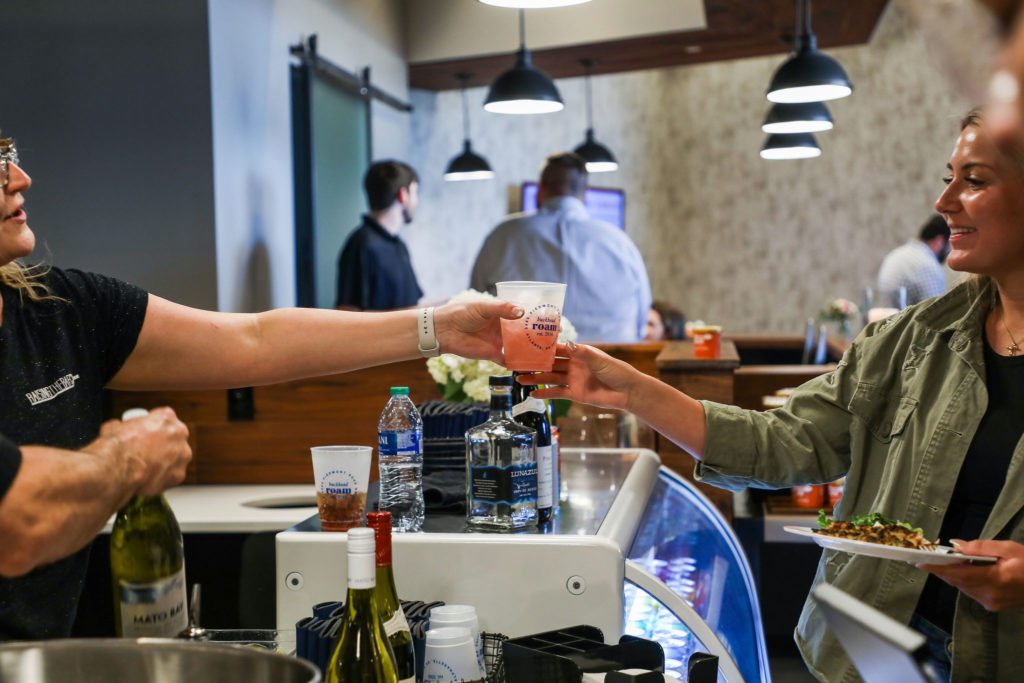 At Roam, we understand that food and beverages play a big role in setting the tone for your company's Christmas party. No matter your event, our team is well-prepared to deliver an out-of-the-ordinary, delightful dining experience for all your team members.
Special Touches: Making the Party Memorable
Special touches are what separate a good party from a great party. It's those little thoughtful gestures and décor features that make your team members feel special, repay them for their hard work, and have them reminiscing about the party long after the Christmas season has passed.
Think branded cups and napkins – these show attention to detail while subtly reiterating your company's identity. You can also consider custom-branded gifts such as logo cookies or koozies that double up as a keepsake, reminding employees of the merry time they had at their office Christmas party.
One charming idea to consider – how about a holiday floral package that your team members can take home and decorate their space with? Or a fun array of gift cards, a universally loved gift. These are just some of the ways you can make the company Christmas party more than just an event.
Don't forget about festive decorations either! At Roam, we offer a customized holiday party décor package that can transform our coworking space into a cozy winter wonderland. Imagine your team walking into a space decked out in twinkling lights, with Christmas trees at every corner and Christmas carols playing softly in the background. It's the perfect space for your team members to relax, don their Santa hats and ugly sweaters, and enjoy the festive atmosphere.
Moreover, for a seamless, stress-free experience, our devoted team is always ready to help with all aspects, whether it's coordinating with vendors or preparing the venue. We assure you that every detail – small or big – is handled proficiently and meticulously.
At Roam, we aim to encapsulate the shared experience of the festive season in a single memorable night, something your entire team can cherish. So let us help you create a company holiday party that stands out in the memories of your employees, a party that they rave about and eagerly anticipate each Christmas season!
This blog was reviewed by Roam's very own:
Summer Heaney – Roam Meeting Coordinator
---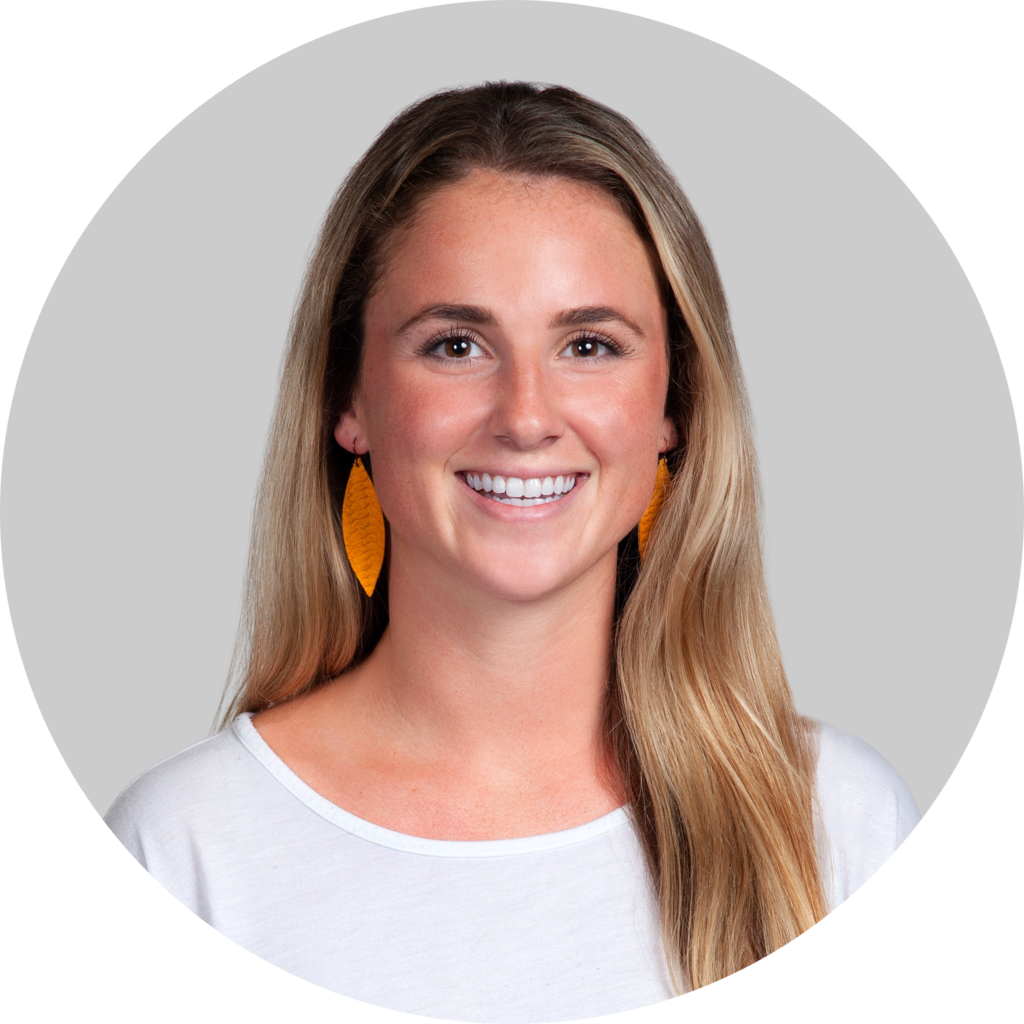 Summer has been a Meeting Coordinator for 3 years and is an expert in assisting companies in planning events at Roam year-round. "I love being the liaison between our clients, our vendors, and our field teams. It is so fun to get the opportunity to curate a relationship with each different area of the business and help those relationships turn into intertwined partnerships! Nothing is better than a happy client that just had a successful meeting hosted by our incredible vendors + ops teams." Plan your next event at Roam with Summer!