Temporary Office Space: Is It Right for Your Business?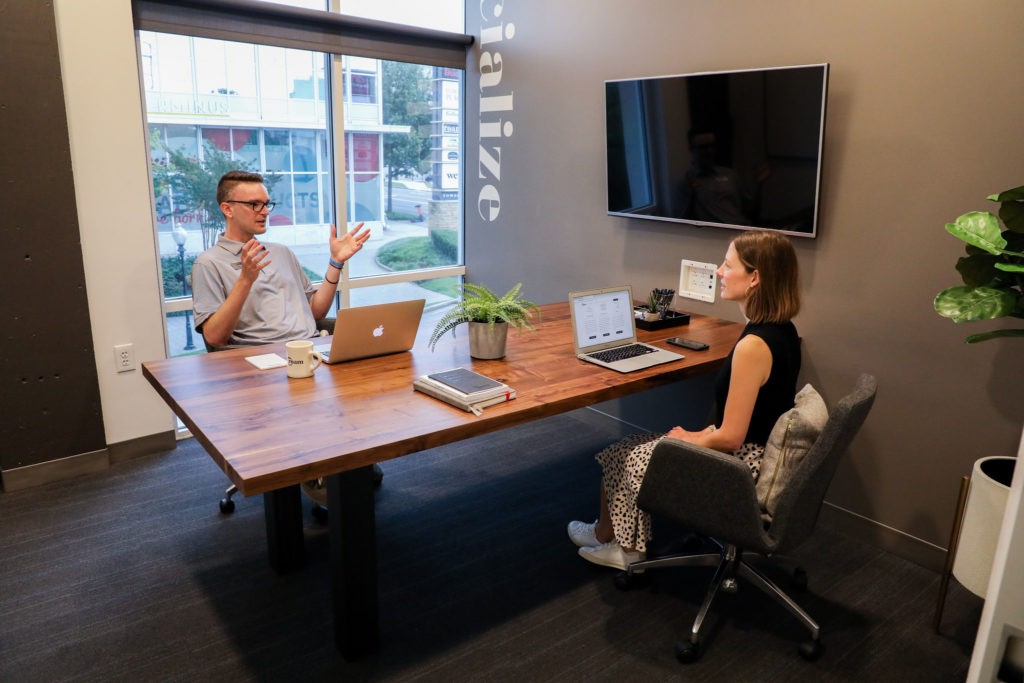 Businesses across the U.S. are turning away from traditional office leases in favor of temporary office spaces. Temporary office space is a workspace leased for a shorter period with more flexible terms than traditional office space. Short-term leases offer entrepreneurs, startups, small businesses, and established companies flexibility and convenience without needing a long-term contract.
What Is Temporary Office Space?
Temporary office space is a fully functional workspace used on a short-term basis. Depending on where you choose to work, you may have the option to use the temporary space by the hour, day, or for an extended length of time.
At Roam, we offer both short-term and long-term lease agreements and month-to-month rental options to meet the unique needs of every business owner.
Is Temporary Office Space Right for Your Business?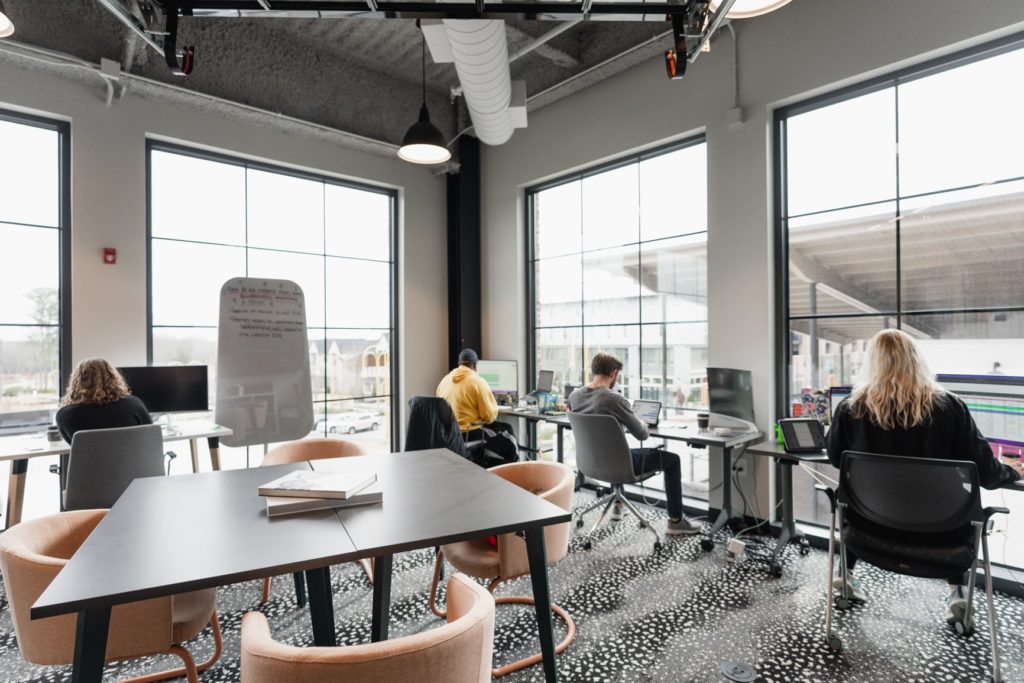 There are many reasons why modern businesses turn to temporary office spaces. For some, it's a short-term solution when renovating a home office or other traditional office space. A temporary office rental may also be preferred by businesses that have outgrown their traditional office space, are just starting their small business, or need to maintain a virtual office while away from home.
Some entities that could benefit from a temporary workspace include:
1. Startups
Cash-strapped startups are often drawn to temporary office spaces that allow them to better control their finances and opt out of the long-term commitment of a permanent office. While startups do not always need a physical location, they can benefit from access to meeting spaces, a space to work a couple of days a week, and other professional amenities.
2. Freelancers
Today, nearly one-third of America's workforce freelances part-time or full-time. Working in a home office can often be disruptive, while working in a temporary workplace can create an environment that inspires creativity and productivity. A temporary office is also the perfect solution for freelancers that want to put a commercial address on their business cards and website.
3. Small Businesses
Being locked in an expensive long-term lease can be a major burden for small businesses looking to downsize or expand. For an affordable rental fee, a small business can benefit from a flexible workspace that offers privacy, professional amenities, and more.
4. Remote Teams
Remote team members are often drawn to temporary office spaces as they offer the amenities and conveniences they need to be successful. Temporary office spaces are often open round-the-clock and provide members with greater stability and routine. Additionally, most offices have multiple locations where team members can have access to different workspaces around the city.
5. Entrepreneurs
Entrepreneurs are naturally creative and require the right environment to maximize their productivity. When growing their business, entrepreneurs can benefit from having a cost-effective and temporary building space that allows for business development, social interaction, and convenient amenities, such as business-class internet, guest access, and digital advertising.
6. Corporations
Larger businesses can also benefit from temporary office space. Many corporations now use these flexible workspaces to give employees a break from the office that may be full of distractions. A temporary office space is also ideal for corporations that require overflow space or have partners or workers coming in from out of town. Most temporary offices have meeting space that corporations of all sizes can use for their weekly or monthly meetings.
Benefits of Temporary Office Space
Temporary office spaces are growing in popularity nationwide, and it's no secret why. Whether a business is looking for a day office where employees can work full-time or need a private space to meet with clients, temporary office space is the perfect solution.
Some of the top benefits of renting a temporary office space include:
Cost-Effective – Temporary office spaces can be cost-effective as they can come fully furnished and offer everything that a business needs to start working right away.
Flexible Lease Terms – Flexible lease terms are a major perk of renting temporary office spaces. These spaces can be rented on a month-to-month basis, giving businesses greater flexibility as they grow.
Professional Environment – Every business wants to maintain a professional image and the right environment can make all the difference. Temporary office spaces can help business owners project professionalism.
Networking Opportunities – Having a coworking membership with a private office space opens endless networking opportunities. Connect with other professionals in a community-oriented atmosphere.
Convenient Location – Having a temporary office in a convenient location can make it easy to get to work and start being productive. At Roam, we offer convenient locations in Atlanta, Georgia, and Dallas, Texas.
Reduced Administrative Burden – Establishing a new office can be a costly and time-consuming endeavor, especially when it comes to administrative tasks. Using temporary office space can greatly reduce this administrative burden.
Improved Productivity – Maintaining productivity in loud or disruptive environments can sometimes be difficult. With temporary office spaces, business owners can enjoy a quiet, professional environment that fosters hard work.
Factors to Consider When Choosing a Temporary Office Space
You'll want to consider several things when choosing temporary office space, such as the needs of your employees and clients. The office space should be easily accessible and offer the amenities and features you're looking for in a flexible workspace.
Other factors to consider when choosing a temporary office space include:
Lease Terms
Review the terms of the temporary office lease before making a decision. At Roam, we offer both short-term and long-term lease options to meet the unique needs of your business. With our flexible terms, you can rent private office space for as long as you need. Roam's lease terms can vary based on location.
Amenities
Choose a temporary office space with all the amenities you need to succeed. Roam offers a full range of amenities and workplace features, such as business class wi-fi, private, lockable storage space with round-the-clock access, bookable meeting rooms, free, unlimited access to all Roam workplaces, and a full-service onsite coffee bar that brews Counter Culture Coffee and serves a variety of snacks and lite bites.
Services
Access to convenient services in a temporary office space can save business owners time and money. At Roam, you'll have access to onsite printing services, meaning you don't have to purchase or maintain extra equipment. Private office spaces also come with a mailbox, allowing you to maintain a commercial mailing address where your business mail can be securely sent.
Temporary Office Space at Roam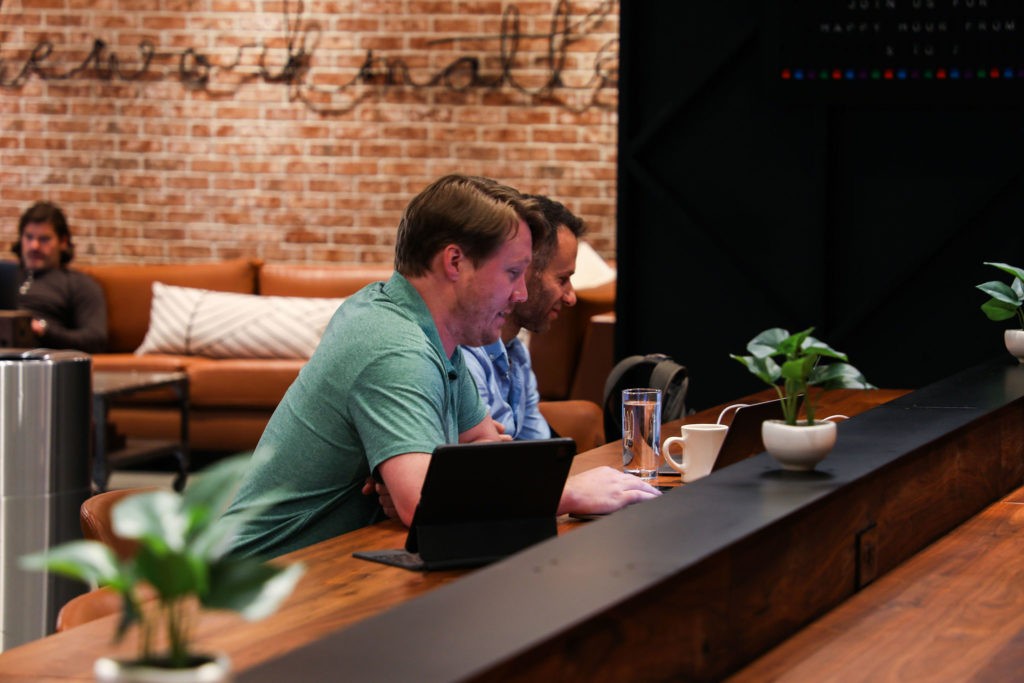 Roam's office space rentals offer businesses the privacy of a dedicated office with the flexibility and perks of membership. If you're looking for a new office, our office space rentals enable businesses to book professional workspaces on flexible terms. Whether you need an office suite as an entrepreneur or remote worker or want to bring your entire team to a new location, our temporary office spaces can accommodate growing teams and offer a fully-customizable workplace solution.
Some of our temporary office spaces available at Roam include:
1. Open-Space Coworking Space
Provide employees access to a safe and inspiring work environment with Roam's open-space coworking spaces. These convenient locations offer reliable wi-fi, onsite staff, and many other perks. Coworking spaces also inspire creativity and reveal networking opportunities with other like-minded professionals.
2. Dedicated Desks
At Roam, we offer dedicated desks to professionals that wish to work productivity from the privacy of an individual, fully furnished workspace. Along with month-to-month flexibility, having a dedicated desk is a great way to maximize your productivity and meet important deadlines. Our dedicated desk rentals include a chair, desk, and professional turn-key workspace designed for one person. This option also comes with other perks, such as all-location access, 20 meeting room hours, and digital advertising.
3. Private Office Space
Enjoy the convenience of a private office without the constraints of high overhead costs and a long-term lease. Private office options can be found in a variety of sizes to accommodate growing teams. While Roam offices generally are not fully furnished, we offer this as an extra service for interested businesses.
4. Conference Rooms
A private office rental at Roam comes with 20 meeting room hours with the option to book more. Whether you are hosting a meeting for two or 200 people, our conference room solutions are designed to alleviate the stress of meeting planning by providing a creative and professional meeting space where your team can accomplish your goals. Our conference rooms are suitable for company gatherings, large workshops, training sessions, and much more.
Roam offers modern professionals a comprehensive work, meet, and office solution. If you're searching for flexible office space that offers both short-term and long-term lease agreements with an array of amenities, Roam has just what you need. Book a room at Roam or schedule a tour to discover how Roam can help your team effectively work and collaborate.