It Takes a Village to Raise… An Entrepreneur
As parent to two young children, a phrase that has become commonplace in my everyday life is "it takes a village…". Usually it's spoken conspiratorially by a member of my neighborhood parent squad as we feed each others' kids spaghetti, applaud a random act of sharing, or hastily remove the stray choking hazard from the restaurant floor. I've come to believe that parenting is more effective– and much more fun– as a team sport. Over time the village mentality has extended to my work life, making each day more fulfilling and also more productive.
Through my organization, Break Into Business, I have made it my mission to raise up the next generation of entrepreneurs in Atlanta. My team and I coach an inspiring group of students age 9-14 as they launch real businesses all over the city. Since 2013 our small army of entrepreneurs has launched well over 150 businesses, earning thousands of dollars in profit and donating over 10% to charity. The faster that Break Into Business grows, the more that I have become reliant on the village that has sprung up around us to make this vision a reality. I'm grateful for the many ways that our community has poured into Break Into Business. Here are the ways they've made an impact (and hopefully this will inspire you to get involved with the entrepreneurs and small biz owners in your community):
Inviting Us In
If you stopped by Roam on a hot summer day this past July, you may have noticed that the average age of the entrepreneurs huddled over laptops had significantly decreased. For the past 3 years, some of the entrepreneurial hot spots in the city (such as Roam, Atlanta Tech Village, Chick-fil-A's Hatch Incubator, ATDC and Ponce City Market) have welcomed our crew into their world. Our venue partners play a critical role in bringing Break Into Business to life. Spending time in these spaces opens our students' eyes to the possibility of working in community as an entrepreneur, supporting one another during the ups and downs. They are able to visualize an exciting end goal to their time in school, providing renewed motivation to persevere through that math homework. In return, they lend a contagious amount of energy and enthusiasm to everyone with whom they come in contact.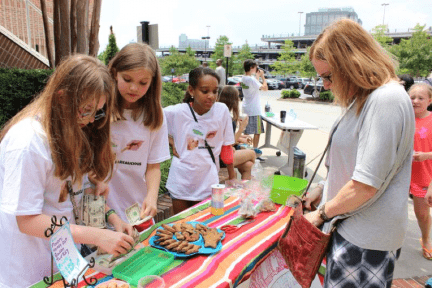 Coaching and Critiquing
With shaky hands clutching product samples and poster boards, our young entrepreneurs bravely pitch their businesses to local entrepreneurs and executives in hopes of scoring an investment. We encourage our "Sharks" to be honest and open – encouraging the strengths that they see in each business and questioning the weaknesses. Our entrepreneurs learn to think on their feet, answering tough questions and graciously accepting feedback. Each February we host a large-scale event called "The Final Pitch" where $1500 is invested into six promising businesses. Some judges go even further – Peyton Day can be seen hosting brainstorming sessions at Roam with the founder of GrandStories. Dana Spinola signed a deal with "Curious Kathryn" to sell her hand-poured candles at Fab'rik (shop here). There is no doubt that this type of experience will change the trajectory of an 11 year old's life.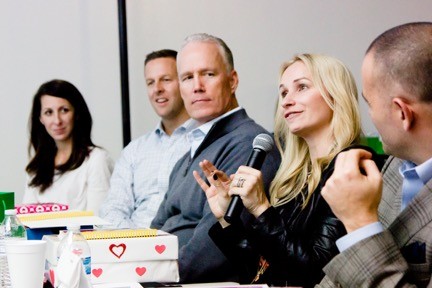 Saying "Yes"
If you are one of the thousands(!) of Atlantans who has been approached by a Break Into Business entrepreneur to take a market research survey, accept a flyer or listen to a well-rehearsed sales pitch: THANK YOU! Every time I witness one of these interactions I am filled with hope and appreciation for the general goodness of our city. The impact of Break Into Business is a culmination of these many gestures. We have had friends and partners say "yes" in very big ways as well – sponsoring scholarships and supplies so that every aspiring entrepreneur is able to to take part.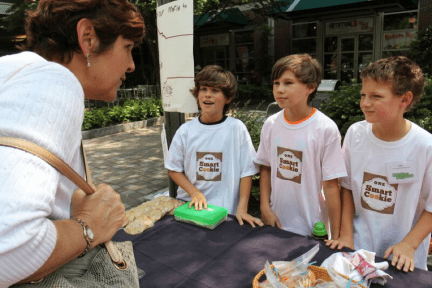 Imagine a world where every student in Atlanta has a chance to experience the thrill of making their first sale before they enter high school – how different could our city look 20 years from now? In 2017 we will continue to grow as we take steps toward that goal. Ready to join our village? We'd love to have you!
Follow along with our adventures on Instagram/FB @breakintobusiness or reach out to [email protected]