Roam Internship Experience: Shaping the Next Generation of Leaders
To kick off the recruiting phase of our 2017 Internship Experience, we wanted to provide testimonials of individuals involved in our internship program. Our hope is that these experiences will help interested students gain insight into why working for Roam is beneficial to their future careers.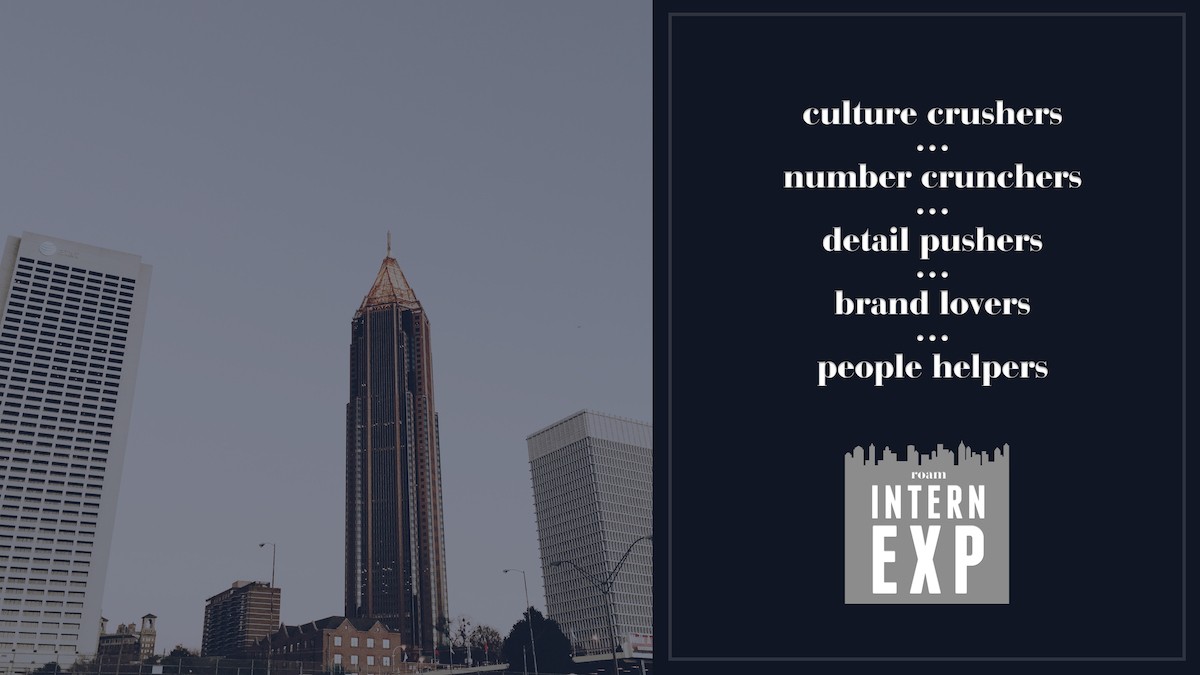 Mollie Maner, Internship Experience Coordinator
There are many internship programs out there, but from the start Roam's desire was to create far more than a program – we wanted to create an experience. To be more than just another internship program, we knew we needed to start with our mission. The Roam Internship Experience desires to be "an incubator for success that shapes the next generation of leaders and creates new value for Roam's invested community."
That mission drives everything we plan for the Internship Experience. We recognize that when a college student chooses to spend their summer with us, they're making an investment. Our intent is to invest right back into them. We won't be dishing out busy work. We have created projects that will stretch our interns, giving them professional experience and ultimately creating value for Roam's members, guests, large room clients, and staff. Our interns leave their mark on Roam as a whole, but it doesn't stop there. We believe that our interns will be future leaders who can impact the way the world does business. All summer long, our interns will walk through a curriculum of personal and professional development by way of regular meetings with Roam's own leadership development coach. Our interns experience Roam's culture and operation up-close, but we also give them the opportunity to learn from other corporations, exposing them to what we believe to be some of the best industry leaders in Atlanta. While working for Roam is fun (and believe me, it is) we wanted to add another layer to the Roam Internship Experience. Through out the summer our interns will get to experience a number of fun activities around the city that we plan for them in advance.
I could keep talking about how much I love our program but the bottom line is that our internship is truly an experience. From real-world work environments, to personal and professional development, to fun outings around Atlanta, our interns will have a meaningful and impactful summer that betters Roam as well as themselves.
Madison Jones, 2016 Company Culture & Engagement Intern
My Roam Internship Experience was one that had a profound impact on me. Honestly, as I reflect back, it is very difficult to pinpoint just one memorable moment out of the many I experienced. Every opportunity I had during my Internship Experience, from the field trips, weekly self-development meetings, working with Right on Pointe, setting up catering, and everything in between, helped me to learn more about myself and where my passions lie.
One of the key impacts the Roam Internship Experience had on me was the continual example of joyful service and the impact this can have on your surroundings. During our internship we had the opportunity to study corporate culture. This included Roam's culture as well as the environment of companies such as Chick-fil-A, Porsche and Pure Taqueria. We were also given articles that helped expand our understanding of how a company culture can impact not only the employees, but the consumer as well. Being given the opportunity to help serve the Roam community gave me the hands-on experience to see how even doing the simplest of tasks with a positive and humble attitude can bring joy to those around you.
What surprised me though is how much I gained in return. The Roam Internship Experience helped me realize that my passion lies in customer service and the continual creation of a positive company culture. This is a lesson that will go with me as I start my career in the near future. If done right, it can have a positive impact on those around me.
We have five internships available for summer 2017. Check out our Roam Internship Experience page at meetatroam.com/internship for more information and see how to get connected with our program. Application deadline is Friday, April 14.