Meet Assistant General Manager, Josh Kelly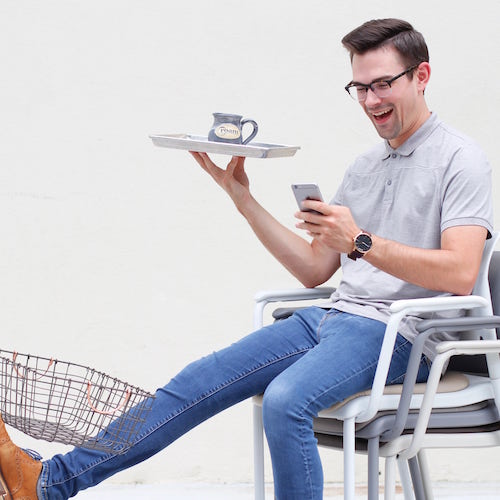 Born in Albuquerque, New Mexico, Josh lived in Iowa and Kansas before landing in Metro Atlanta in 2001. After graduating from Milton High School, Josh spent two years at Samford University and then transferred to Kennesaw State University where he graduated with a degree in Organizational Communication. Josh made his move to Roam in 2016 where he started as a part-time Operations Assistant. Josh was promoted to full-time Operations Lead after four shorts months and has served in his current role as Assistant General Manager for a year. Josh is passionate about strategic thinking, personal and professional development and creating environments for people to connect. When he's not executing hospitality experiences at Roam, you'll find Josh at a brewery, coffee shop, hiking or watching The Office with his wife, Katie, and their golden retriever pup, Samson.
You were recently nominated for Roam's annual Impact Award. How do you see impact lived out at work?
Personally, I strive to make an impact by serving others in a way that exceeds their expectations. When it comes to our members and guests, I try to create a meeting experience that stands apart from the rest—one that is fun, inspiring and makes them feel valued on an individual level. People expect meetings to be mundane and predictable, but my desire is to help redefine work as enjoyable and consisting of memorable moments. After all, we spend most of our lives at work! When it comes to my team and those I am responsible for, I try to lead by example—never expecting any of my team members to do anything I wouldn't personally do myself. I put my heart into my work because I care about the outcome and I want to see people's lives positively influenced. I strive to create a work environment that my team enjoys, where they feel safe and where we can trust one another. We aren't just coworkers, we are friends. 
I see Roam's impact lived out in our teams and our spaces. Work is inevitable and often referred to as a "necessary evil," but Roam's mission is to renew and inspire work and our teams are equipped to accomplish this mission because of the culture that exists here. Each Roam team member believes that work should be enjoyable- we enjoy our work and we want others to as well! So when members and guests come to Roam, we want them to know that we've thought about them and we've worked to create a space that they would love to come to. 
Since this Q&A, Josh was named the recipient of Roam's 2018 Impact Award. Congratulations Josh!
At Roam, we seek to build a team culture that is built on trust, fun and servant leadership. Why do you think servant leadership is so crucial?
Trust, fun and servant leadership fuel one another. I think it could be argued that servant leadership initiates a cyclical process between the three. Servant leadership reveals to others that you're willing to put their needs, tasks and responsibilities ahead of your own. It's a very vulnerable position to be in because you are risking your own responsibilities and tasks to ensure that someone else is able to complete theirs. When team members see that you're willing to set aside what you're doing to help them, it builds a deep-rooted trust. Over time, this trust allows you to open up and results in a fun place to work because it's not competition based. If the team succeeds, they succeed together. If they fail, they fail together. Eventually, everyone on the team is approaching their work from a servant leader perspective. 
What about your role as Assistant General Manager is most life-giving to you?
The Assistant General Manager position is really a catch-all position. I love the ability to be involved in every aspect of the business and to learn how to lead successful and thriving teams as a result. The AGM position is a unique opportunity to grow as a leader and learn business acumen. I enjoy being able to work with our leadership team in strategically thinking through our systems, processes and brand standards. I love digging deep into the way we do things here at Roam in order to discover new and potentially more effective and efficient ways to live out our hospitality model to better serve our members and guests. 
Healthy, thriving teams are important to you. What, besides our culture, do you think contributes a successful team at Roam?
Personal leadership and accountability. We have a team that cares for one another and serves one another, but there's also a level of personal responsibility that is required to maintain one's own physical, emotional, mental and even spiritual health. Each of our team members has a level of self awareness that allows them to lead themselves wisely. Roam employees care deeply for others. And in order to care for others, we understand that we must also care for ourselves. If we are not personally leading ourselves wisely, it can result in burnout. When we are not caring for ourselves, we become drained resulting in an inability to give of ourselves. Our team members all have a high level of integrity and standard of self-discipline. We want the best for ourselves and for others, and we know that in order to lead others well, we must first lead ourselves well. It's not always perfect, but self-care directly affects our ability to be successful because it bleeds over into our care for others— and that's why we work here.  
If you could open a Roam location anywhere is the world, where would it be? 
Charlotte, North Carolina OR anywhere in Colorado (Go Broncos!)
You've been with us at Roam for the past two years. Do you have a favorite memory from your time here?
I don't know that I can narrow it down to one specific favorite moment. It's a culmination of a lot of moments and memories. I love this place and I love my team— I consider them some of my closest friends. The things we go through on a daily basis bring us closer together. We've created a bond to the point where I care about each of my team members personally as well as professionally. I know the moments that tend to stand out the most are the moments where we are all in sync, operating efficiently and able to do unexpected things for the members and guests utilizing our spaces. Sometimes those moments are happy celebrations for big achievements and milestones, and other times they involve coming alongside a member during a difficult time in their life. The days when my team is actively working together to do something special for a guest and rallied around making a difference in someone's day— those are the moments I value above all.