Often times business is conducted in a silo devoid of opportunities for engagement and collaboration. Odds are, you have experienced this in the past or you may even be experiencing it right now. But if you've been to Roam, you know we believe it doesn't have to be this way. Our vision is to renew and inspire the way the world does business. We aim to encourage a culture of coworking in its truest sense—before it became an entrepreneurial buzz word. Roam is a place designed to foster collaboration and purposeful work.
In each of our workplaces, Roam has worked to create physical environments that embody our four states of being: focus, learn, collaborate and socialize. In light of today's ever changing digital landscape, Roam has recognized a need to push past the ordinary by creating a way for members to experience these principles virtually. To bridge this gap, our team is developing a platform that allows members to experience Roam remotely. Our workplace walls will no longer confine your ability to connect with others, work productively and grow your business. With great excitement, we are proud to announce Roam's new digital ventures.
network
Network is a business-oriented social network where members can connect, share interesting articles and updates, learn about other businesses in our community, and stay up-to-date with happenings here at Roam. Network will be available to members June 1st.
marketplace
Marketplace is a platform where members can buy, sell and exchange services within the Roam community. It's a place to market your needs as well as your skills and services. Marketplace will be available to members late summer.
university
University is a place to develop your personal and professional skills by participating in online courses from top universities such as Harvard, Stanford, and MIT. All courses are complimentary to members, and by following an education track, you can earn a microdegree in Business Entrepreneurship. University will be available to members this fall.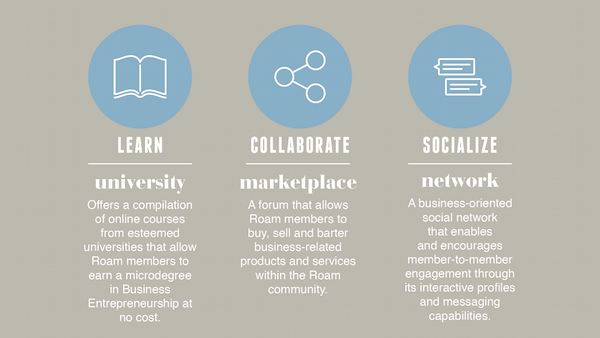 The Roam team looks forward to the launch of Network, the first of these digital platforms, on June 1st in hopes that it will expand your professional network and establish meaningful relationships outside of our workplace walls.